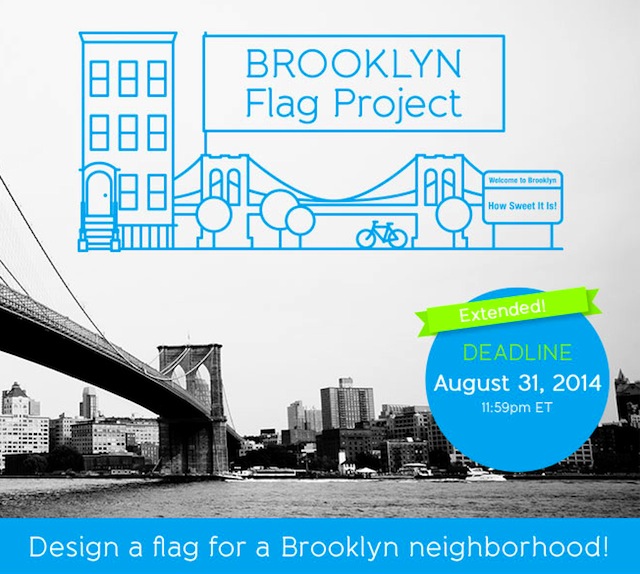 For those who love Brooklyn (and this likely means you), a map of the borough is like symbol of devotion. Scan the totes at any farmer's market, study the walls of your friends' Brooklyn apartments, and you'll stumble on a map of Brooklyn at some point.
But what about Brooklyn flags? Does an official Brooklyn flag even exist? (Don't worry, we had to Wikipedia it too. It contains the motto "Eendraght Maeckt Maght"—Dutch for, "in unity there's strength"—and it depicts a robed woman holding something called a fasces.)
Let's be honest—this is not the Brooklyn you know. The Brooklyn you know contains more color than a woman in a robe with a Dutch motto. Your Brooklyn looks like the water towers you see from your rooftop, the community garden you pass by on your way to work, the boys hanging out on your block. We'd like to see this Brooklyn of yours, if you would be so inclined to enter it into Brooklyn Flag Project.
Together with Uncommon Goods, we're asking you to design a flag that represents the Brooklyn neighborhood you love and know inside out, and enter it in our contest by August 31. The panel of judges (including our own EIC Annaliese Griffin, Marty Markowitz and Tina Roth Eisenberg of Swiss Miss) will decide on the finalists in mid-September, and the public—you!—will decide the Grand Prize Winner. That person, along with the runners up, will receive cash prizes and royalties, but this isn't just about winning. It's about seeing what kinds of flags Brooklynites, past and present, create to show their hometown love.
We're hoping the Brooklyn Flag Project inspires even those who don't normally enter design contests to create a neighborhood crest. (And if you've got a design in mind but don't plan on entering, shoot us a line, we'd still love to see it and showcase it on our site.) Those who do enter, however, could one day see their flag hanging on apartment walls in Brooklyn and beyond. Just don't hang it on the Brooklyn Bridge, the authorities are on to that location.
Intrigued? Read more about the contest here.
Photo credit: Martin