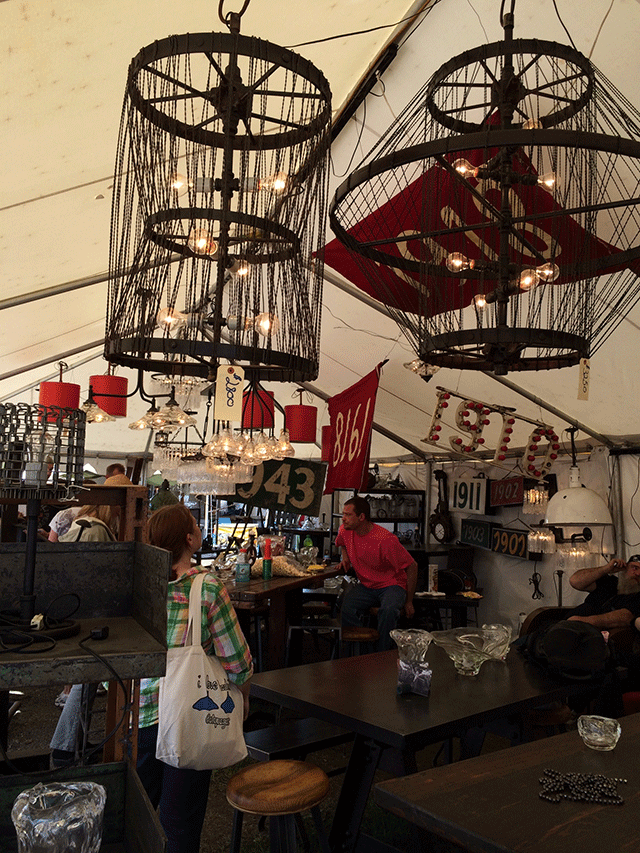 Growing up in the middle of the world's longest yard sale, which takes place one weekend every August—it actually starts today and runs through Aug. 10—and stretches nearly 700 miles along U.S. Route 127 from just north of Addison, Michigan south to Gadsden, Alabama, meant that every summer I'd find myself recruited by my dad to haul old furniture out of our barn so it could sit by the side of the road to be ogled by an endless line of flat-bed trucks, U-Haul vans and RVs that seemed to inch by like an infinite line of fire ants.
Some kids sold lemonade. I sold second-hand bedroom sets. None seemed particularly impressive until I mentioned it to Harry Rosenblum, co-founder of The Brooklyn Kitchen, and an avid antiquer, who was already familiar with the interstate sale.
"Things like that," he said, "it's a mecca, someday I need to make the pilgrimage."
Sweating under the summer sun haggling over the price of a kitchen hutch never struck me as much of a spiritual awakening, but to hear him equate the experience to a trip to the holy land made sense seeing as how we'd spent the previous half-hour discussing his personal passion for second-hand stuff. "My father is a collector of many things," he explained. "From the time that I could walk, I was following my dad around flea markets and going to garage sales. Then I worked in an antique store when I was a teenager, and I have bought and sold antiques over the years in various forms ranging from it being my livelihood to it just being a hobby and a side source of income."
I got in touch with Rosenblum in the hopes that he might have some advice about antiquing on the East Coast, having always heard there were remarkable places to rummage if you just knew where to look.
Flea markets here in New York City have always struck me as insanely inflated, price wise, but the advice I've gleaned over the years in regards to more remote markets had always been too vague to actually follow—admiring an art deco diamond ring only to be told it was unearthed in this amazing place "somewhere in Pennsylvania," didn't give me much to go on. Hence my reaching out to Rosenblum, who is a bit of a bon vivant when it comes to old stuff of all kinds.
The first piece of advice he offered was this: "The thing about the antique business, if you're out to look for things that you just happen to like, that's different than looking for things that you can get a good deal on to resale."
Figuring out what type of antiquer you are is the first step he says. "I would say that if you're looking for a specific thing, let's say what you really want is an old piece of furniture for your apartment, I would go to a large, well-known antiques fair."
To that end, Rosenblum recommends taking a trip to Brimfield in Massachusetts, a huge fair which will hold its final antique show of the season from Sept. 2–7.
"It's a cross between a flea market and an antique show, so really at that point you're almost buying stuff kind of at the top of the market," he says. "You're buying things from dealers who bought the things and brought them there to sell because they need someone to show up who would want to buy say, a Danish modern couch, or an 1850s kitchen cabinet. That kind of thing. Butcher blocks, stuff like that. However, you're certainly getting a better deal than you would pay if you were to go and buy that thing from say White on White Furniture in Tribeca."
Maybe though, you just want to see what kind of weird stuff is out there in the world. "If you're going more for just, 'I want to go to the flea market,' a real deal, people emptying out their garage and opening up the back of their trunk, flea market, where you're going to find everything from used hammers to maybe finding a Danish modern couch, but you never know, there are a couple," says Rosenblum.
If you're willing to wake up at the crack of dawn and drive to Connecticut to spend the day at the Elephant's Trunk in New Milford, which takes place Sundays only (weather permitting) through November, it comes highly recommended.
"The owner is a curmudgeon, as you might imagine from someone who runs a business that exists from 4am to 10am on Sunday morning," he says. "The Elephant's Trunk is a real flea market in the sense that there are guys there who are selling brand new packages of socks and T-shirts and Chinese-made wrenches and screwdrivers, and then there are people who are there with real antiques. It's super hardcore. I've seen some really interesting stuff there. One of the most interesting things I ever saw, a number of years ago I was there on the opening day of the season, and there was a guy who had a human skeleton."
Prickly purveyors and pre-dawn wake up calls aside, Rosenblum says the experience is still well worth it—he himself makes the trip once or twice a year—though, if you want to antique but aren't so keen about the cost of renting a car or the early morning road trip, he says, there's a simple way to stay in the city and still share in the experience.
"Obviously like everything in New York," he says, "Craigslist is a great and a terrible resource for these sorts of things."
If you've ever tried to buy anything on Craigslist, you know how much of a rabbithole it can be. One tactic that works, but may take patience, is to search for a specific item. After writing an article about mid-century modern furniture, Annaliese Griffin, BB editor-in-chief, decided she wanted to buy a particular Heywood Wakefield dresser. There were plenty to choose from on eBay, but starting at double what she wanted to pay. "I searched a few times a week on Craigslist for close to six months, and then I found exactly what I was looking for, at the price I wanted to pay," she says. "The gentleman selling it was moving to Colombia–for love he told me–and so he was a motivated seller with a lot of beautiful furniture for sale at very good prices."
You can also use Craigslist to find sales taking place in the city. To help weed out the treasure from the trash, Rosenblum says, "I would search for estate sale instead of garage sale because if someone's having a garage sale or a yard sale, more than likely it's just crap that they don't want that's clogging up their garage. Usually, when people call it an estate sale, it means they're selling everything that someone owned, so either someone passed away and everything is for sale, and really, if you're looking for interesting stuff, that's where you want to go."
Looking for a second opinion on second-hand shopping, I went to see Genevieve Platt, owner of the boutique Feliz in Fort Greene. Since opening her shop four years ago, Platt has gained a reputation for having a great eye. She fills her houseware-and-gift shop with fair-trade finds from places like India and Morocco, as well as local goods and vintage items found during trips to New England—Platt is originally from Massachusetts. It's from her I learn that just like not all rectangles are squares, not all old stuff is actually antique.
"I never buy antiques because I believe by definition, for something to be antique, it should be 100 years old or more," she says. "It's debatable, but I'm just not in that market. The kinds of things I look for are vintage."
Generally speaking, the age range of a vintage item is thought to be something created between 1915 and 1994 (something crafted less than 100 years ago but more than 20). "It's crazy because, if it's from the '80s, I don't think it's vintage because I'm from the '80s," Platt says (a point any of us born or raised in the era can lament)," but people who are very young who shop now would call that vintage."
Platt's second piece of advice is to expand your search to include a broader swath of second-hand sources like Salvation Armies and old junk shops. "Sometimes you can find really beautiful things there," she says.
No matter where you decide to root around, Platt says the most important thing is to get a basic knowledge of furniture and decorative objects that interest you before you go. "To know the difference between mid-century modern and shaker," she says. "Just a basic knowledge of the different styles and eras of design and materials can really help you a lot."
Your search engine, Platt says, is a great source for gleaning such information. "If you narrow down what periods and styles of furniture you like," she says, "when you go into a place that's full of stuff, you can more easily weed out what you don't want. You can walk into a Brimfield, which is so overwhelming because there are thousands and thousands of pieces of furniture and tablewares, and just knowing 'I'm really looking for mid-century modern with a mixture of some French country style,' or whatever will allow you to hone in on what you really want."
Rosenblum and Platt left me with quite an antique education, but by in large, the biggest takeaway being that second-hand shopping is, at the end of the day, a game of chance—like the proverbial box of chocolate Forrest Gump tried to feed us—you never know what you're going to get; however, there are certainly things you can do to hedge your bets.
"All of it takes energy," Platt says. "It's hard to believe, but antiquing takes mental energy, and when you can narrow the field down and eliminate a lot of the stuff right away, it makes it a lot easier and a lot less work."