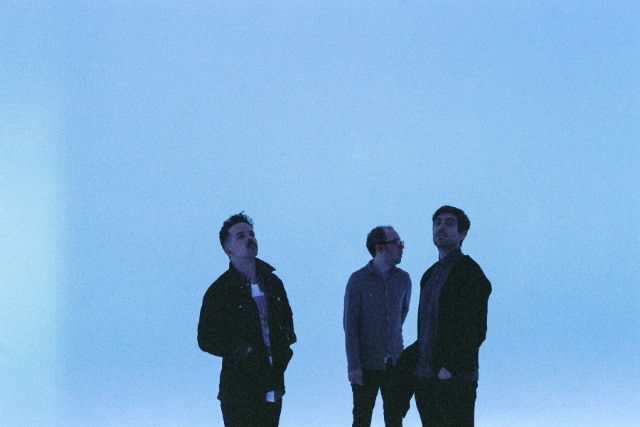 There's a tendency in many bands to push the same sound over and over again without ever breaking any new ground. Brooklyn indie electronic-rock band Bear in Heaven is the exception to that rule. Since their 2007 debut, Red Bloom of the Boom, the group has continued to progress stylistically with each record, from experimental beginnings to something more accessible, and even danceable.
"The culture in the band is never to repeat," says the band's guitarist/bassist Adam Wills. "Or repeat what we like and get rid of what we don't and always try to make different music. Our personal tastes in music are extremely varied, so we're always just squeezing in little influences and ideas and trying to push the envelope in some scenarios. In Red Bloom of the Boom, we were pushing envelopes structurally…and now we're experimenting with a little bit more reigned in song lengths and actually throwing in choruses. And that's experimental to us. So don't ever repeat yourself, that's our kind of unspoken motto, I guess. "
Sticking to the "never repeat" mantra, Bear in Heaven–Wills, singer/keyboardist Jon Philpot, and drummer Jason Nazary, all of whom are originally from Atlanta–employed a moodier tone on their latest album, Time Is Over One Day Old, rather than revisiting the danceably brash sound of the last one, I Love You, It's Cool.
The first single off of Time Is Over One Day Old is the driving and anthemic "Time in Between," which was also the first song that the band wrote for the record. "That song originally sounded like a Tom Petty song (laughs) before the guitars got in there," says Wills. "That was a good one to set the tone for the rest of the writing of the record, that was super super muscular heavy in-your-face kind of track that lets everybody knows that it's a different record from the previous one." Another great song off the album is the lush, "They Dream," which Wills is also quite fond of. "It's my favorite song," he says. "It's certainly my favorite one to play live".
The band is currently on tour that includes two homecoming shows in New York. Asked what it's like to carry over their ornate and textured music from record to the stage, Wills says that the sound is twice as big. "We really put a lot of effort into our live shows and it takes a lot of technical hurdles to pull it off. We put on a good live show, we put a lot of work into it. It's just whatever the record sounds like but you get enveloped in it in a way that you can't by listening to the record at home or on the headphones. It's a different pace."
According to Wills, there's no time for writing new music while on tour. "The best thing you can gain from it is the experience. For instance, we had the day off yesterday and so we were able to spend the day at my father's farm in lower Alabama. At the end of the night, we laid underneath the stars and drank wine. For us, we're trying to live and that's such a big part of the music–gaining inspiration for lyrics and music versus writing, which is definitely part of the process."
Bear In Heaven will perform on Sept. 16 at the Bowery Ballroom, 6 Delancey St., Manhattan, 8pm, $15/$17; and on Sept. 17 at Music Hall of Williamsburg, 66 N. 6th St., Brooklyn, 8pm, $15/$17. The group's new album, Time Is Over One Day Old, is out now.