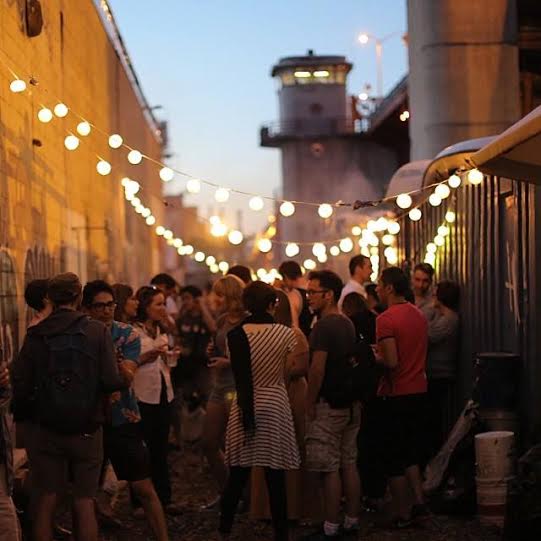 Last week meteorologists predicted record snowfalls this year—up to 50 times the amount we saw last winter! Sure the story was a spoof, but it's just a reminder to enjoy the sunshine while it lasts. Here's how to make the last few days of summer count.
We took a break from Funny Story in August, but our monthly storytelling event at Brooklyn Brewery with Tom Shillue is back on Thursday and let's just say that Tom seems to have spent his summer convincing every glorious weirdo he met to be on this month's show. Four stories and a beer goes for just $10—we dare you to find more entertainment for less money anywhere, and this won't even give you a rash. On the pricier end of things, the ladies of The Meat Hook are hosting brunch at Brooklyn Grange on Sunday. If you haven't been up on the rooftop farm in the Navy Yard this is your chance—it's one of the most spectacular views in all of New York. Expect to wined and dined to total excess and don't think of it as brunch, think of it as an experience. 
Sunday also looks like it will be a beautiful day for the People's Climate March, when 100,000 people are expected to take to the streets in Manhattan to demand that world leaders curb carbon emissions, in anticipation of a historic U.N. Climate Summit.  
Here are seven other ways to spend a memorable, sunny week in New York. 
Thursday, Sept. 18: You've probably already taken at least one photo today, or you will soon, of your lunch, your cat, your child or a scene you can't resist sharing. Smartphones have made us all amateur photographers, and that's why Photoville is so relevant to us now. For the next two weeks, this pop-up photography festival takes residence in Brooklyn Bridge Park, with exhibits inside of shipping containers posing as galleries, and free programming like five nights of live storytelling and films under the stars with our friends Narratively, inside the Smorgasburg beer garden.
Friday, Sept. 19: It's been 20 years since Christopher Wallace, better known to us as Biggie Smalls, released Ready to Die, the album that would make him a hip-hop legend just three years before his murder at the age of 24. Tonight, as part of a series at BAM celebrating hip-hop magazine, The Source, and the artists they made famous, you can catch the biopic of his short, but bigger than your average life, Notorious. Stay past the credits and head upstairs to see some amazing lady emcees, like Roxanne Shanté, whose song  "Roxanne's Revenge" is a rap classic that sparked dozens of riffs (one of which I couldn't stop singing in the fourth grade). If you're not feeling old-school, Michael Che, one our favorite comics and the new co-host of Weekend Update on SNL, will be at The Bell House performing in "A Night of Cutie-Pies." It's one of the few, not-yet-sold-out shows during the Eugene Mirman Comedy Festival, so get a ticket quick.  
Saturday, Sept. 20: There is something exhilarating about canoeing Brooklyn's historically polluted waterways. No really. Once you put aside your fear of falling in and becoming radioactive (a thrill in and of itself), it feels amazing to paddle a tiny vessel around the city. One organization making these maritime excursions possible is the North Brooklyn Boat Club, which is reclaiming the Brooklyn waterfront through environmental education and giving the public a way to access Newtown Creek and the East River. Help them carry out their mandate, without getting wet at their 3rd Annual Rock the Pulaski benefit, likely your last official BBQ of the summer. It's just $5 for live bands, food, beers and booze from Brooklyn Brewery and New York Distilling Company.
Sunday, Sept. 21: Waiting for the Brooklyn Book Festival to unveil its line up each year is like waiting for Santa Claus as a kid. What gifts will this year bring? you wonder, as you check the site obsessively. Last week, the panels were finally revealed, and as usual, you will have to bring in a stunt double to attend every reading and discussion you would like to see. A few of the highlights: a panel with Francine Prose, Paul Auster and Joyce Carol Oates discussing the real-life inspiration for their characters; Bob Sagat, John Leguizamo, and Susie Essman talking about putting their funny stories on page, a feminist-focused discussion with authors Roxanne Gay, Jennifer Baumgardner and more, and a panel with writers whose work delves into the magical realm, including Lev Grossman.
Monday, Sept. 22: Last month Wyatt Cenac, most familiar from his time on The Daily Show, celebrated his one-year anniversary at Littlefield, where he hosts an evening of comedy most Monday nights (or finds an excellent stand-up to take his place). He's been keeping busy in other ways—Netflix is set to premiere a comedy special called "Wyatt | Brooklyn" on Oct. 21, when he'll promptly go on a month-long tour to support it. See him before he leaves; this Monday he's invited Nore Davis, Michelle Biloon, and John Roy, who interviews other comics about their high school experience for his podcast, "Don't Ever Change." Tickets are $5 in advance. 
Tuesday, Sept. 23: Your days of cocktailing outdoors are dwindling, and Huckleberry Bar has one of the sweetest backyards to sip a drink in. Tuesday nights, their happy hour—$3 off signature cocktails, $2 off draft beer, wine by the glass and well drinks—lasts all day and night, so you don't have to rush to work through their three-page-long, seasonal cocktail list, where nearly every drink includes some delicious housemade syrup and exotic bitters.
Wednesday, Sept. 24:  We're still three weeks away from pre-season NBA games, so the Brooklyn Nets' home stadium is available for The Black Keys to headline a show with Cage the Elephant tonight. The Ohioans are playing a lot of the hits from their previous albums on this tour, so you'll get their full, blues-rock repertoire. Tickets start at $45.—Alexander Jordan 
Want to write about events for us? Get in touch.