It's not just high-profile albums that are dropping this fall–there are more than a few memoirs from and biographies of musicians coming out this fall. We've tallied 16 and counting here.
With the success of critically-acclaimed books by Patti Smith and Keith Richards, there have been plenty of recent tomes from from and about artists detailing insider knowledge of the music biz, sharing their struggles with personal obstacles, and dishing on other celebrities. But these works aren't just lurid tell-alls, they also offer enlightening–even poignant–insight into the professional and personal lives of musicians.
From rockers to rappers to jazz heads, here's a roundup of some of the notable music books coming out this fall, as well as a playlist inspired by the titles, and the musicians behind them.
The Youngs: The Brothers Who Built AC/DC
By Jesse Fink
St. Martin's Press
This book is not so much a biography of the perennially popular Australian hard rock band, but an analytical and critical take on how AC/DC got to where it is. Specifically, it's the story of the Young brothers: guitarists Angus and Malcolm Young, and producer/mentor George, all of whom who played a crucial role in the development of AC/DC from the mid-'70s onward.  It's clear from the text that Fink is a fan–especially when he makes strong arguments about the importance of old songs like "It's a Long Way to the Top (If You Wanna Rock and Roll)." Yet he is objective enough to take an unflinching look at certain aspects of AC/DC, especially the Youngs' reluctance to talk to the press and how they've treated past collaborators. Amid a spate of tomes already written about the group, this one provides an alternate take on a familiar story.
Lenny Kravitz
by Lenny Kravitz (with Anthony DeCurtis, Pharrell Williams and Marla Hamburg Kennedy)
Rizzoli
September
Twenty-five years ago Lenny Kravitz released his debut record, Let Love Rule. Since then, this rock and soul artist has gone on to a hugely successful music career that has yielded brain0invading hits including "Are You Gonna Go My Way," "It Ain't Over 'Til Its Over," and "Fly Away." Kravitz has also found fame as an actor in The Hunger Games, Precious, and The Butler and become a style icon whose appearance is a blend of sophistication and edge. This new book features 250 images of the artist with accompanying text by Rolling Stone's Anthony DeCurtis, singer Pharrell Williams, and art dealer Marla Hamburg Kennedy.
Chris Stein/Negative: Me, Blondie and the Advent of Punk
By Chris Stein
Rizzoli
September
Along with the iconic Debbie Harry, Chris Stein is the driving force behind the influential '70s punk/New Wave group Blondie. In addition to his talents as a guitarist and songwriter for the group, Stein is an accomplished photographer, as demonstrated in this new book. It not only features photos of Blondie throughout the '70s to mid-80s, but also captures the mood and feel of New York City in throes of the punk rock scene defined by landmarks such as CBGB and the Mudd Club. The book also includes photos Stein took of city scene-sters like Basiquat, Richard Hell and Stephen Sprouse as well as fellow bands such as the Ramones, the New York Dolls, and Siouxie and the Banshees.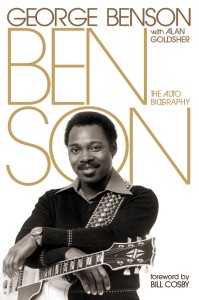 Benson: The Autobiography
By George Benson with Alan Goldsher
Da Capo
September
Unless you're Miles Davis, John Coltrane or Herbie Hancock, not many jazz artists have the ability to cross over to mainstream audiences. Grammy-winning guitarist George Benson is one of those exceptions and his career culminated in the 1976 classic album Breezin'. A fine singer as well, Benson scored pop and R&B hits with songs like "Turn Your Love Around," "On Broadway," and "This Masquerade." Now his story is told in this memoir, which details not only his musical accomplishments, but also aspects of his personal life, grappling with the stress of touring, domestic violence and illnesses within his family.
Rocks: My Life In and Out of Aerosmith
By Joe Perry with David Ritz
Simon & Schuster
October
Similar to the Rolling Stones' Mick Jagger and Keith Richards, an important part of the four-decades-plus career of Aerosmith has to do with the chemistry between a singer and guitarist–Steven Tyler and Joe Perry, in this case. It's hard to imagine the band without one of them in it, which did happen in the late '70s when Perry exited, and Aerosmith limped along through a rough patch for the first half of the '80s. Shortly after, the classic lineup reconciled and is still together, while hits like "Dream On" "Love in an Elevator" and "Sweet Emotion" remain in rotation on classic rock radio. Like his fellow bandmate Tyler, Perry–one of rock's great axe-men–has written his own memoir detailing the band's rise in the '70s, decline in the early '80s, and spectacular comeback in the '90s and beyond.
I'm the Man: The Story of That Guy From Anthrax
By Scott Ian with Jon Wiederhorn
Da Capo
October
Every metalhead knows the importance of Anthrax as one of the Big Four thrash bands along with Metallica, Megadeath and Slayer. One of its driving forces is rhythm guitarist Scott Ian, who tells his story from growing up as a latch-key kid in Queens to being part of one of most respected groups in metal. His memoir is co-written with Brooklyn's own Jon Wiederhorn, an experienced scribe when it comes to the metal/hard rock genre (Louder Than Hell, Ministry: The Lost Gospels According to Ministry).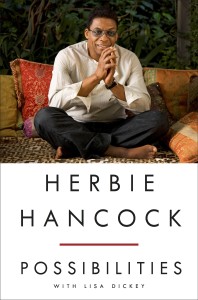 Herbie Hancock: Possibilities
By Herbie Hancock with Lisa Dickey
Viking
October
The first time I heard Herbie Hancock's music was back in the 1983 with the popularity of the electronic funk song and jaw-dropping video for "Rock It." It was only years later that I discovered Hancock has been a jazz musician long before that hit, especially during his time as a member of Miles Davis' immortal '60s quintet–and as a solo artist who recorded classic works like Maiden Voyage and Headhunters. This versatile pianist–whose music has also crossed over into pop and funk–recalls his life and career in this new memoir.
Dancing With Myself
By Billy Idol
Touchstone
October
That spiky hair and trademark sneer: Billy Idol went from Seventies punk rocker to Eighties pop culture icon. For the MTV Generation, Idol was inescapable not just for his rebellious aura but for his many hits: "Dancing With Myself," "Eyes Without a Face," "White Wedding" and "Rebel Yell" are some of his greatest songs. No doubt this latest memoir from the rock and roll survivor will definitely dish on the excesses he experienced along with the music, so expect a raucous ride.
Brian Jones: The Making of the Rolling Stones
By Paul Trynka
Viking
October
These days, the late Brian Jones seems like the forgotten member of the Rolling Stones and it's unfortunate. While Mick Jagger and Keith Richards unquestionably remain the most visible members of the band, Jones played in an important part in the Stones' musical development–from delving into the American blues to discovering and introducing world music elements to the West, as documented by his time in Morocco. ("Under My Thumb" is one notable example). British music journalist Paul Trynka (who also wrote the excellent biography Starman, about David Bowie) takes a look at Jones' life leading up to his mysterious death in 1969 at age 27, which still raises questions of whether it was an accident or murder.
Dream Weaver: Music, Meditation and My Friendship With George Harrison
By Gary Wright
Tarcher
October
The 1976 song "Dream Weaver" was not only a big hit for musician Gary Wright but has become a pop culture staple on the radio and in film (see 1992's Wayne's World). While  he'll be forever known for that song, Wright has had a long career before and after "Dream Weaver"–he was a member of the rock band Spooky Tooth and has collaborated with the likes of Eric Clapton, B.B. King, and most notably George Harrison. Wright's friendship with the former Beatle is part of the focus of the book, which also contains lyrics to a previously unreleased song the two wrote together in 1971 called "To Discover Yourself."
Clothes, Clothes, Clothes. Music, Music, Music. Boys, Boys, Boys.
By Viv Albertine
Thomas Dunne
November
Viv Albertine played an important role in music as the guitarist in the '70s British group The Slits, one of the first-ever female punk bands predating the '90s Riot Grrl movement in America. Albertine's story is remarkable in that after the group broke up in the early '80s, she went on a musical hiatus for nearly 30 years, devoting her career to film and art. It was only a few years ago until she returned to playing and recorded her first solo album.  Her new memoir details her time playing in The Flowers of Romance with Sid Vicious, her former romantic relationship with the Clash's Mick Jones, and her recent comeback.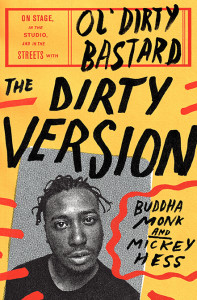 The Dirty Version: On Stage, In the Studio, And in the Streets with Ol' Dirty Bastard
by Buddha Monk and Mickey Hess
Dey St.
November
It's hard to mention the Wu-Tang Clan without thinking about one of its most colorful and eccentric members, the late Ol' Dirty Bastard. He's still in the minds of the surviving members of Wu-Tang, who recently reunited on The Daily Show with Jon Stewart and held up a T-shirt featuring an image of ODB. Until he died in 2004 from a drug overdose, Dirty led a wild life that could be called the hip-hop equivalent of a '80s L.A. hair metal metal excess–he reportedly rescued a child from a burning car and picked up a welfare check from a limo. Buddha Monk, an MC and producer shares his remembrances of his colleague in this bio.
Seventies Glamour
By David Wills
Dey St.
November
Although technically not a music book, this sumptuous coffee table item features many photos of musicians in addition to the famous movie and TV celebs and models from the seventies: David Bowie, Elton John, KISS's Paul Stanley, Debbie Harry, Diana Ross, Sid Vicious and the New York Dolls are just some of the personalities depicted in candid and stylish poses. (You can't have a photographic survey of the seventies without Farrah Fawcett, who is definitely in the book). Taken as a whole, Seventies Glamour shows the decade at its most adventurous and outrageous, beyond the bell bottoms and the flyaway collars.
Living Like a Runaway
By Lita Ford
Dey St.
November
There is no disputing Lita Ford's place in the testosterone-filled world of hard rock: first as a member of the '70s L.A. all-female band The Runaways and then as a successful solo artist in the MTV '80s with the hit single "Kiss Me Deadly." But according to the description for her upcoming memoir, life was anything but glamorous as Ford experienced a turbulent marriage to another rocker while also being a mother to two kids. As well as detailing  her time as a rock and roll vixen, Living Like a Runaway should make for a powerful read.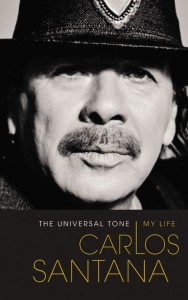 The Universal Tone: My Life
By Carlos Santana
Little, Brown and Company
November
Legendary guitarist Carlos Santana is one of those rare artists whose music has an immense reach within the mainstream from '60s classic rock (the Abraxas album) to '90s commercial pop (the multiplatinum Supernatural). And yet, his distinct and soulful guitar sound–not to mention his sense of spirituality–remains virtually flawless and intact. The musician documents his rise as one of rock's great guitarists and career highs in this forthcoming book.
Let's Go Crazy: Prince and the Making of Purple Rain
By Alan Light
Atria
December
This year marks a special milestone: the 30th anniversary of Prince's movie and musical masterpiece Purple Rain. They solidified the Purple One's superstar status in the summer of 1984 and made tracks like "When Doves Cry," "I Will Die For U," "Let's Go Crazy," and the title song classics. Music journalist Alan Light, who wrote the excellent The Holy or the Broken: Leonard Cohen, Jeff Buckley, and the Unlikely Ascendance of Hallelujah examines the story and significance behind Purple Rain, which today ranks as one of Rolling Stone's 500 Greatest Albums of All Time.