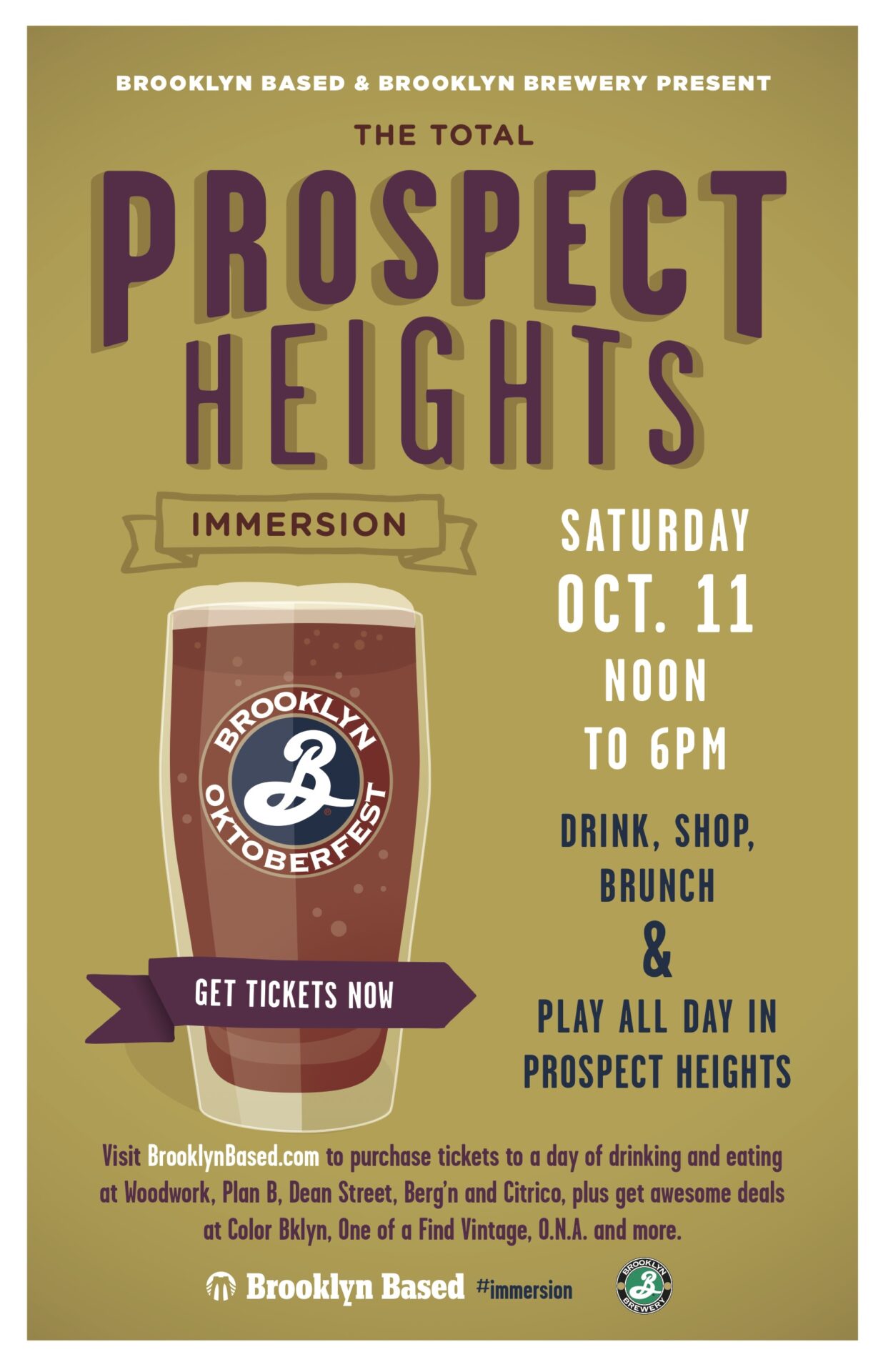 We're excited, and a little sad, to announce the fourth and final Brooklyn Based-Brooklyn Brewery Immersion of 2014: Saturday, Oct. 11 in Prospect Heights.
It's been an excellent Immersion season, drinking and eating our way through the South Slope, Greenpoint and Bushwick, and we can't wait to spend the day hanging out on Vanderbilt Avenue. On this Immersion you'll get four complimentary beers, one each at Plan B, Woodwork, Dean St. and Berg'n (for a quick detour over to Crown Heights), plus lunch at either Citrico or Dean St. Get your $20 ticket here.
As usual, you'll get a stack of Walking Around Money in a nifty envelope featuring a map of the neighborhood and all the deals, beers and food specials we have in store for you. Meet us at Woodwork between noon and 2pm to pick up your WAM (consider it your ticket for the Immersion–you won't get very far without it) and get started on a fantastic fall day in Prospect Heights. 
The Immersion is choose-your-own-adventure; you can head to the bars, shops and food spots in any order you like. We recommend grabbing a group of friends and making a day of it.
Deals to date:
Amorina: A Brooklyn Brewery beer + a brunch-size Carbonara Pizza for $7,  a Brooklyn Brewery beer + a marinara pizza for $15 OR A Brooklyn Brewery beer + a pizza of the day for $17
Brooklyn Botanic Gardens and Brooklyn Museum: Combination entry to Brooklyn Museum and Brooklyn Botanic Garden for $14 (normally $21). Valid for single-day admission only and is not valid for any special ticketed events or programs. Good through Oct. 31.
1 of a Find Vintage: 20% off entire purchase, valid day of immersion only OR 20% of any one item following the immersion, valid through October 11, 2015.

Color Bklyn: 20% off throughout the store. Day of immersion only.
O.N.A 20% off all merchandise. All purchases day of will be entered to win an O.N.A gift card for later use. Winner will be contacted by O.N.A.
Brooklyn Flavors: 20% off entire purchase.
Sit and Wonder: $1 for a small hot coffee.