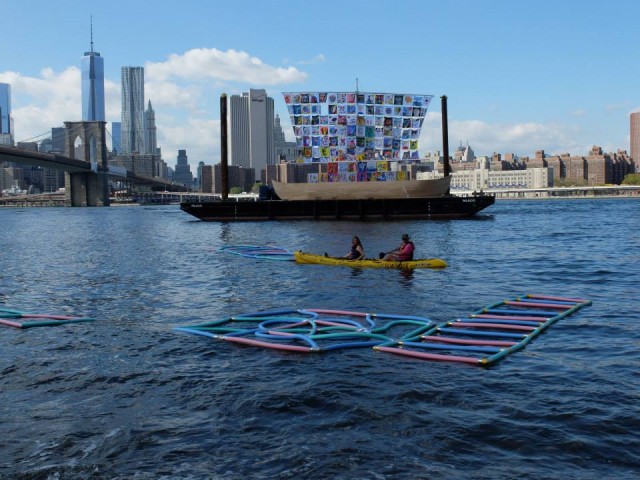 This is a week where tradition takes over your plans. For those preparing to celebrate the year 5775, Shana Tova— you have some challah-filled days with family ahead of you. On Sunday the Atlantic Antic will have an even more festive feel because the city's largest street fair is turning 40. Along with the multitude of people and food stalls, this is the only day the normally car-clogged thoroughfare opens itself up to bands and beer gardens (Hank's is a great place to hang out, and hear the Les Sans Culottes play at 2 and 4pm). Bay Ridge is throwing two smaller but similar annual street parties, the Raggamuffin Parade and Third Avenue Fesvital—a prime time to eat at these local haunts. And if Governors Island was a staple of your summer weekends, Sunday is the last day to enjoy kite flying, a 3D film of Marina Abromović, and holograms till the spring.

Thursday, Sept. 25: Caitlin Moran, British music writer and the author of How to Be a Woman, which is equal parts self-help book, memoir, feminist manifesto, and laugh-out-loud-funny, has ventured in fiction with her new novel How to Build a Girl. A smart coming-of-age tale set in Britain in the 1990s (expect a lot of Manic Panic and 20-eye boot lust), Girl promises to be one of the most entertaining reads of the year, especially if you were of a tender age during that era. Moran, who has got to be one of the liveliest interviews around, will be in conversation with the very witty Hanna Rosin, our favorite Atlantic contributor and author of The End of Men at powerHouse Arena tonight from 7-9pm.
Friday, Sept. 26: There are still 17 shows left to see on David Chiu's must-see concert calendar this fall, including Tennis, the athletically named band whose shimmering sound, he says, is reminiscent "of '60s and '70s pop, country and somehow, the Beatles, while also staying fresh and new."  Their third album, Ritual in Repeat, is poised to be a breakout release and tickets to their Webster Hall show tonight are just $16.
Saturday, Sept. 27: For real garden geeks, Brooklyn Terminal Market in Canarsie feels like a well-kept secret, a place where you can buy plants for less than you'll pay elsewhere, because the businesses here sell you the same plants that they sell wholesale to many of NYC's garden stores. It's also been supplying Brooklyn's winemakers with wine grapes for nearly 70 years, and Brooklyn Plantology, a third-generation-owned family business, is introducing their winemaking legacy to the public with the free Great Brooklyn Grape Stomp from 11am to 4pm on Saturday. They'll pit contestants of all ages against each other to see who can produce the most juice with their bare feet in a minute. The winners will go on to win prizes and join the honorary Brooklyn Purple Feet Crew; the juice, thankfully, will not become anything people will drink. It's roughly 11 blocks from the Canarsie stop on the L and let's face it, you've always wanted to take it to the end of the line. Don't want to travel that far for a harvest-inspired event? The Brooklyn Botanic Garden is holding its spicy Chile Pepper Festival today, too.
Sunday, Sept. 28: While the 18th annual DUMBO Arts Festival takes over the neighborhood's cobblestoned streets for the entire weekend, you could plan an ambitious Sunday and hit up the Atlantic Antic on your way to or from the hundreds of street performers, open studios and installations in Brooklyn Bridge Park. Some of the art you may run into, or should make a point to head to: a hydroponic tomato tree that takes its inspiration from The Lorax; a roving dance party called Disco Transformer that pops up out of a street cart; and foam noodles fashioned by Kim Holleman that you can play with and form into new shapes. With over 300 participating artists, you can search for any style of art you're interested in—family friendly, interactive, performance—using the festival's very functional site.
Monday, Sept. 29: On Friday, Luke's Lobster is rolling into Park Slope, only this time they're not arriving by truck, but in a brick-and-mortar space at 237 Fifth Avenue with a backyard that is calling your name. The location is the only one of theirs serving draught beer, specifically Maine-made brews like Allagash, Peak, Shipyard, and Atlantic, along with local brewer Grimm Artisanal Ales, plus pies from Four and Twenty, soups and chowders from Hurricane's and of course, Luke's lobster rolls. We expect the excitement to die down by Monday, when you can still take advantage of the daily happy hour between 4 and 7pm, during which all beers are half off. "That's $3 for some serious craft beer," said Ben Conniff, a Luke's honcho who is stoked that after two and a half years since securing the space, Luke's is finally opening an outpost in his hood.
Tuesday, Sept. 30: Tuesday, for those whose schedules are free, appetites strong, and bank accounts healthy, is a day to give back to the Brooklyn in one of two ways. The Brooklyn Public Library has a growing young philanthropists group called the Brooklyn Eagles who help support the library though events like Tuesday's Brooklyn Classic, a cocktail party that benefits Brooklyn Public Library's collections and programming. Tickets are $150 ($85 of which are tax deductible) and includes signature cocktails and Sixpoint beer, Latin-inspired fare from Naturally Delicious, the chance to rub elbows with literati like host committee members Emma Straub and Myla Goldberg and most importantly, do good work for a cultural institution that expands the minds of so many Brooklynites. Across town, the restaurants, bars and distilleries of Red Hook will be serving their delicious vittles at Taste of Red Hook, the only fundraiser of the year for the Red Hook Initiative, which helps put low-income youth in Red Hook on the path to higher education and a career. Remaining tickets start at $200 (with all but $45 tax deductible) and include food and drink from nearly 40 neighboring spots, from Pok Pok NY to Widow Jane.
Wednesday, Oct. 1: Gentrification in Brooklyn began way before many of us arrived—just read the first chapter of Jonathan Lethem's autobiographical novel, The Fortress of Solitude, to get a sense of how rough the now-tony neighborhood of Boerum Hill was in the 70s. It's a good time to revisit the 2003 book now that Itamar Moses, playwright and writer for Boardwalk Empire, and Bloody Bloody Andrew Jackson composer Michael Friedman have turned this coming-of-age tale into a musical. It runs through Nov. 2 at the Public Theater, but use the code EARLY before October 10 to purchase tickets for $65 a pop.