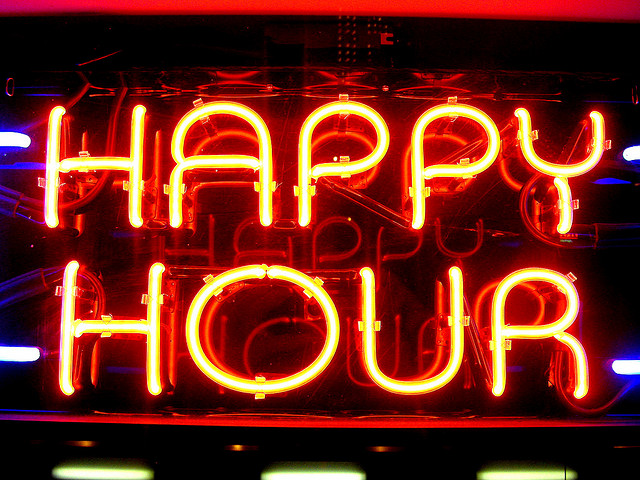 There's just no such thing as 9-to-5 anymore. New York's happy hour scene, however, hasn't evolved to match the modern workday–most still start and end early. We've rounded up the best happy hours that stretch past 7pm, because nobody deserves a discounted drink more than someone who works a ten-hour day.
The Bearded Lady, 686A Washington Ave., Prospect Heights Here, happy hour isn't over until the Bearded Lady sings. This stylish Prospect Park corner spot may not offer the cheapest drinks in town, but their cocktails are the real deal–no watered down well drinks here. Until 8pm on weekdays all cocktails are $8. Sidle up to the spacious bar or grab a table and sip an Old Fashioned or a Ginger Prince–a tasty take on the Dark and Stormy. The menu rotates, but expect a whimsically-named selection, heavy on rum or tequila-based concoctions. On weekend nights–including Sunday–The Bearded Lady hosts a $1 oyster happy hour after midnight, offering succulent locally-sourced slurpers.
Boxcar Lounge, 168 Avenue B (between 10th and 11th), East Village The East Village may have undergone a major transformation in the last several years, but the Boxcar Lounge is the same as it ever was. This unpretentious spot offers a happy hour every weeknight from 6-10pm. That's right, until 10pm, all drinks are two-for-one. The same deal applies on Saturdays and Sundays from 6-8pm. So bring a friend and get a buzz on with what the bartender might claim is the best Manhattan in town. We'll let you decide whether or not that's true. On warmer nights, have a seat in the backyard garden. Otherwise, park yourself at a worn leather barstool and chat up some colorful, friendly locals.
Soft Spot, 128 Bedford Ave. (between N 9th and N10th), Williamsburg You may have heard that North Williamsburg is teeming with trustfunders and twee bars  that serve overpriced bacon-infused cocktails. While this is definitely true, Soft Spot remains uncorrupted, despite its Bedford Avenue address. On weeknights, draft beer and well drinks are two-for-one until 8pm, and the same goes on weekends: Saturday from 2-8pm, and Sundays from 4-8pm. There's a mellow back garden where on some weekends a bartender will fire up the grill for some cheap bar eats. This is a cash-only, no-frills bar that tends to draw a crowd of serious drinkers.
Fresh Salt, 146 Beekman St., Financial District Fresh Salt is a cozy South Street Seaport oasis, away from the sometimes overwhelming Stone Street afterwork crowd. From 4-8pm, well drinks and drafts are $4. With generous seating options (but no table service in the evenings), Fresh Salt is a comfortable, civilized alternative, with a friendly but usually quiet crowd and music at a volume you don't have to shout over. It's usually pretty thinly staffed, so be patient–after all, you're only paying $4 a drink. Outdoor tables and decent food are available.
The Shanty, 79 Richardson St., Williamsburg Got gin? The Shanty is connected to the New York Distilling company, a little off the beaten North Williamsburg path near the BQE. On Mondays, happy hour is all night, from 6pm 'til midnight. The same deal–$7 gin cocktails and $3 select beers–is available until 8pm on the other weeknights and weekends from 3-5pm, which is also when distillery tours are offered. The Shanty is a sophisticated spot that doesn't take itself too seriously, the drinks are delicious, and a word to the wise–they are very, very strong. Try a Red-Headed Stranger–Dorothy Parker gin, tequila, cucumber, lime and bitters. Live music starts at 4pm on weekends. You shant beat it! (Sorry.)
3 Sheets Saloon, 134 W 3rd St., Greenwich Village The appropriately named 3 Sheets Salon offers half-priced drinks from 3-8pm, stretching the concept of happy hour pretty far. The Washington Square park-adjacent watering hole is no secret to the locals or NYU students, so expect a full house almost any night of the week. Greasy bar food will help you stop your hangover before it starts.
Lowlands Bar, 543 3rd Ave., Gowanus Sometimes one happy hour just isn't enough. At Lowlands, enjoy $4 well drinks and $5 wines by the glass from 5-8pm and again from midnight to 1am during the week. The local favorite is a comfortable step up from a dive, with exposed brick walls, a good selection of draft beer and a spacious garden with picnic tables. There's no dinner menu, but you can have food delivered. And there's free wi-fi! Gowanus is the best.
Prohibition, 503 Columbus Ave., Upper West Side It feels like this neighborhood bar/restaurant has been around since the Prohibition era, but it's really just since the nineties. From 5-8pm on weeknights, enjoy a frozen margarita, a Cosmopolitan or a draft beer for $5. And if your eardrums can handle it, stick around for the nightly live music. It's a little fratty here but it's nothing you can't handle. Bar snacks are offered at a discount during happy hour, and in general, the food is surprisingly quite good.
Drop-Off Service, 211 Avenue A (@ 13th St.), East Village Rumor has it that this East Village spot was once a laundromat, hence the name. These days, the spacious and slightly unkempt bar attracts slightly unkept locals. Happy hour runs until 8pm on weeknights, when craft pints are $3 apiece, and select well drinks are $4. And day drinkers can enjoy the same discounts on the very solid selection of drafts from 1-8pm on Saturdays and Sundays. Come for the beer, and stay for the…beer.
Huckleberry Bar, 588 Grand St., Williamsburg Cure your Tuesday blues with Huckleberry Bar's  all-day-all-night happy hour. You'll get $3 off Huckleberry's excellent and creative (but normally a little pricey if you're on a booze budget) signature cocktails, and $2 off wine by the glass, draft beer and well drinks. The rest of the week, you can get the same deal until 8pm, and on Saturday and Sunday from 2-5pm. Wednesdays after 8pm, wines by the glass are two-for-one. Don't let the promotion of irresponsible drinking fool you: Huckleberry Bar is arguably the most grown-up spot on this stretch of Grand Street and the owners are veterans of the very fancy Hearth restaurant in the East Village; they know their wine and their cocktails (and Philip Roth, who at one time was a regular there). The bar snacks are upscale and tasty, and the crowd leans more adult than post-collegiate.
Duff's Bar, 168 Marcy Ave., Williamsburg Duff's Bar–a metalhead's paradise–is not for the faint of heart, but it is for an easy-to-please drinker on a strict budget. Every weeknight 'til 9pm, a PBR will cost you $1. One dollar! Those who enjoy heavy metal, surliness, tattoos and of course PBR will be most comfortable here. There have been numerous reports of porn playing on the TV.