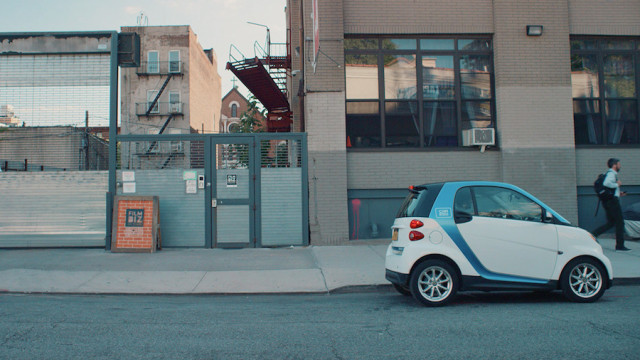 [sponsored_by name="car2go" url="http://bit.ly/1rn15iP" logo="http://cdn.brownstoner.com/wp-content/uploads/2014/09/Car2go_logo-current.jpg" byline="car2go is always a pleasure to drive: just take it, drive it, park it. It's fun, saves money and helps the environment." attribution_name="BlankSlate" attribution_url="http://www.blankslate.com/"]
Brooklyn is going through something of a transportation renaissance. Remember the old days when it was impossible to get cab to take you over any bridge into Brooklyn? Now there are bike lanes, green cabs, and, coming this month, car2go. Soon, when you need a car, you'll just find one parked nearby, drive to your destination, and leave it there for the next person to use.
If that sounds like something you might want to try, make sure to register for car2go before the Oct. 25 launch date: for a limited time, you can sign up for free and you'll get 30 minutes of free driving. There's no monthly fee with car2go—you just pay for the minutes you use. So this is a free chance to drive the eco-friendly, two-passenger Smart Fortwo around your favorite borough (and to see how easy it is to park a car that's 35% smaller than average).
https://www.youtube.com/watch?v=R2WLt3VeCQg
Check out car2go's website for FAQs on signing up, driving, and parking. And don't forget to sign up now while it's still free (Promo code: BKLYN), and get 30 minutes of free driving!