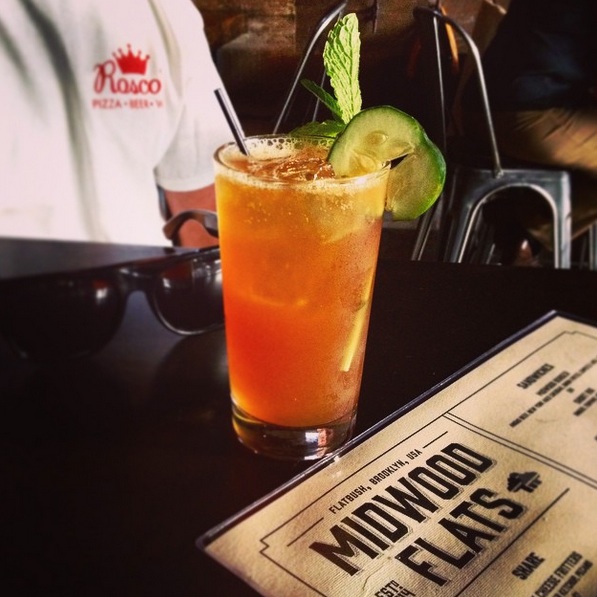 As we predicted in our fall restaurant preview, Prospect Lefferts Gardens appears to be the next express stop on Brooklyn's gentrification train, with two very "New Brooklyn" eateries bringing their craft beer, Edison bulbs and reclaimed barn wood to the sea of Caribbean restaurants that line the stretch of Flatbush Avenue on the southeast side of Prospect Park.
Bluebird Food & Spirits and Midwood Flats both opened their doors in the past few weeks, and judging by the crowds at both this past weekend (despite low profiles and virtually no press buzz) the neighborhood is definitely ready for a few spots like this. I was also glad to see that while both place are run by restaurateurs who have found success in trendier Brooklyn environs, each of these newcomers seem to be striving to fit into the area's laid-back and neighborly vibe.
Bluebird, which is set right outside the Prospect Park B/Q stop on Flatbush Avenue, has a huge space but the owners resisted any temptation to cram in 100 tables. The entire front room is a large, laid-back lounge space with a pool table and just a few quiet dinner seats, while the rounded bar in the dining room is a nice spot for conversations, and the roomy backyard patio should definitely get a lot of use come spring. Even better though, is that the bar food menu is shockingly inexpensive for what you'd expect here. The straightforward bar burger is $9.50 (when was the last time you saw a new restaurant in NYC offer a burger that doesn't break double digits??).  More intricate items like a slow-coked brisket sandwich with banana mustard ($10.50) and autumn vegetable chicken pot pie ($12) are also quite reasonable. There are a few share plates, including pineapple BBQ chicken wings and the requisite oysters on the half shell, plus a "fancy grilled cheese" that isn't actually all that fancy, with Irish cheddar and slab bacon, but is a supremely buttery, delicious comfort food. Dessert is a daily selection of pies from Four and Twenty Blackbirds, and brunch is served as well. Nothing in particular wows about this spot, but that seems to be the point—a very solid, no-frills neighborhood place.
Midwood Flats, a few blocks down Flatbush at Midwood Street, is a  more focused on the booze, with a lineup of several dozen craft beers on tap, plus a very extensive selection of bourbon, whiskey and Scotch, ranging from local options like Widow Jane to single-malts from the Scottish highlands. "The Midwood Flight" offers one-ounce pours of any three whiskies for half price. There's no cocktail list yet, although one is in the works, and bartenders are happy to mix whatever you're looking for.
The vibe here is similarly laid-back and neighborhood-focused, with a massive wood-cut "Flatbush" sign framing the bar (PLG didn't come into common usage until the '70s or so; before that this was all considered Flatbush and plenty of locals have stuck with that name). The menu is also made up of bar snacks and sandwiches, although they do get a little more inventive here, from jack cheese fritters with red pepper ketchup and pecans to a torta topped by duck confit, fried egg and arugula. Prices are also extremely reasonable, with every sandwich going for $10, except for the lobster rolls at $16, which are available both classic and "nouveaux" with avocado and Japanese togarashi pepper. My very first bite at MF was a bit disappointing: the stuffed olives with Berkshire blue cheese and chorizo sounded like a temptingly fresh bar snack, but they surprisingly came deep-fried, lathered in thick batter that dominated all other flavors. I'm intrigued to try more here though, from an appealing lineup of sandwiches that includes a ginger-teriyaki short rib with pork belly and a "non traditional Cuban" with smoked pork loin, pulled pork garlic, and mozzarella.
Overall, Bluebird and Midwood Flats serve as a double pleasant surprise. I feared these would be cookie-cutter hipster spots that would ramp up the gentrification debate in a rapidly changing neighborhood. Instead, they're both affordable and friendly hangouts that are attracting a diverse crowd—IMO, exactly what the neighborhood needed.
Bluebird Food & Spirits, 504 Flatbush Ave (near Lefferts Avenue); 718.484.9494
Midwood Flats, 577 Flatbush Avenue (at Midwood Street); 718.484.4466