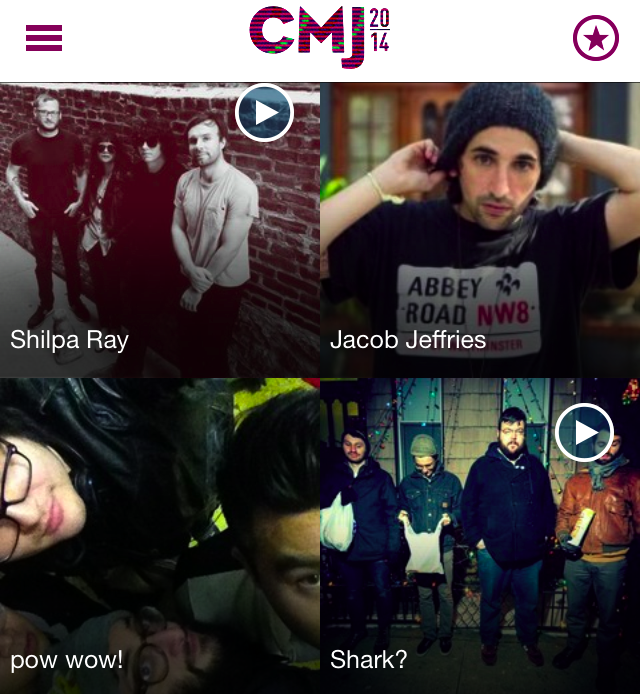 To get an idea of how vast the lineup of bands is during the CMJ Music Marathon, we asked three music writers to name their top picks, and not one mentioned the same show. Regina Mogilevskaya singled out her must-see showcases here, and our other resident music enthusiasts, Alexander Jordan and Lindsey Rhoades, who also edits AudioFemme, chose their favorite bands below—because you can never have enough new music in your life, or fresh tunes for your playlist. Here are 11 more contenders for your concert calendar next week, and a playlist to help you decide which bands to hear. You can use the CMJ app to create your own schedule.

Oracle Room
Tuesday, Oct. 21 – Spike Hill
For fans of: PJ Harvey, Björk
Having recently changed their name from Andra to Oracle Room, singer-songwriter Alex Nelson and drummer Zack Fisher decided to up the ante even further by adding live keys, guitar, bass, and a mini-chorus of the finest vocalists from Brooklyn's experimental pop scene to their newly-minted sound. Their debut single, "The Knot," was produced with Grammy-winner Derik Lee and hints at the brilliance of their upcoming EP. Oracle Room's lush, orchestral arrangements provide the perfect backdrop for her Nelson's powerful, poignant, and mesmerizing vocal presence.—L.R.
PAWS
Tuesday, Oct. 21 – Brooklyn Night Bazaar
Wednesday, Oct. 22 – Arlene's Grocery (day party), Pianos (day party), Cake Shop (11:05pm)
Friday, Oct. 24 – Shea Stadium
Saturday, Oct. 25 – The Knitting Factory
For fans of: Dinosaur Jr., Guided By Voices
Glasgow pop-punk trio PAWS has been on the road non-stop since the release of their second LP, Youth Culture Forever, a blistering collection of heart-on-your-sleeve odes to unrequited love and every adolescent obsession in between. Their sound, though, is anything but immature, pushing the boundaries of their genre with twelve-minute live favorite "War Cry" and the searing, short and sweet "An Honest Romance" alike. PAWS' epic singalong choruses are sure to have you feeling like a teenager all over again.—L.R.
Heliotropes
Tuesday, Oct. 21 – Palisades
Friday, Oct. 24 – Matchless
For Fans of: Smashing Pumpkins, Brian Jonestown Massacre
Heliotropes are an all-female band who live and rock in Brooklyn. Their songs are slow and heavy, reminiscent of a Gish-era Smashing Pumpkins. Unlike that band, however, their songs are not full of spiteful fury or rock star posturing; instead the members of Heliotropes deliver their sonic knockout punch with a casual tranquility. It's an alluring mix of sledgehammer riffs and tight vocal harmonies. —A.J.
Tei Shi
Wednesday, Oct. 22 – Pianos
Thursday, Oct. 23 – Baby's All Right
Friday, Oct. 24 – Arlene's Grocery
For fans of: FKA Twigs, Chromatics
Having lived in Bogota, Vancouver, Boston, and now finding a home in Brooklyn, Tei Shi is both well-travelled and otherworldly. Her infectious new track, "Bassically," takes italo-infused synth sounds, adds vocals that are simultaneously sultry and soaring, and mixes in R&B production to dizzying effect. She's been steadily working on new material since releasing her Suadade EP last November, and she'll be sure to captivate audiences when she debuts it all live at CMJ. —L.R.
Shark?
Wednesday, Oct. 22 – Pianos Upstairs Lounge (free)
For fans of: Guided By Voices, Parquet Courts
Shark? have a great sense of humor, but they also know how to write a song with a great hook. Their song "California Grrls" was featured on the latest Grand Theft Auto video game and the band's self-produced music video for that song has the them playing basketball, stealing purses, and abducting a child, all while wearing Mitt Romney masks.—A.J.
Shonen Knife
Wednesday, Oct. 22 – Knitting Factory
For fans of: Bikini Kill, The 5,6,7,8's
Unlike most of the bands at CMJ, who are young and undiscovered, Shonen Knife have been performing since 1981. Originally from Osaka, Japan, they toured the UK and North America with Nirvana in on their Nevermind tour. Kurt Cobain was such a fan of the band, he personally asked Shonen Knife to be his opening act. Their sound is a throwback to the girl groups of the 1960's combined with Ramones-style guitars, with songs sung in English and Japanese. A true underground legend not to be missed. —A.J.
She Keeps Bees
Wednesday, Oct. 22 – Rockwood Stage 2
Thursday, Oct. 23 – Cameo Gallery
Saturday, Oct. 25 – Union Pool
For fans of: Cat Power, Feist
She Keeps Bees, who we interviewed awhile back, are a bluesy rock duo from Washington DC who could be described as a cross between the White Stripes and Cat Power. Singer Jessica Larabee's mournful and soulful vocals soar while her guitar growls and snarls. The band's new album, Eight Houses, has taken them in an exciting new direction, with meticulously crafted songs that sound fragile and delicate. At their merch table, the band sells their own bee-branded tea towels and limited release 7 inch records in vintage 45 sleeves, sourced by drummer Andy LaPlant. —A.J.
Made in Heights
Thursday, Oct. 23 – Santos Party House
For fans of: Grimes, Little Dragon
Producer Sabzi and singer Kelsey Bulkin formed electronic pop duo Made in Heights while living in Brooklyn, developing a fervent fan base addicted to their unique combination of skittering beats and smooth-as-silk vocals. Since releasing their self-titled debut, they've relocated to Los Angeles and teased their new record with a handful of tantalizing new tracks, most recently the effervescent "Ghosts." For now, the pair remain mysterious, but it won't be long before we're seeing their name in lights. —L.R.
Hunters
Friday, Oct. 24 – Baby's All Right
For fans of: Nirvana, Cloud Nothings
Izzy Almeida and Derek Watson are not your average Williamsburg couple. Sure, they look the part: both have very cool hair (dyed pink and dreadlocked, respectively). But while other W-burg couples are sitting around debating where to make a brunch reservation, they are leading one of the hottest bands in Brooklyn. They tend to treat Hunters shows as a full-contact sport–it's common to see Izzy and Derek writhing on the floor, sometimes off the stage, as depicted on the cover of their EP Hands on Fire. They aren't just masters of stage antics though. Their powerful riffs and fury-filled songs got them the attention of Smashing Pumpkins guitarist James Iha, who produced their first single. They are coming home to Brooklyn after touring in support of their latest release, Drown. —A.J.
Idgy Dean
Saturday, Oct. 25 – Coco66
For fans of: Marnie Stern, Julianna Barwick
There's something to be said for a solo artist who can bring songs to life that sound as though they're being performed by a full band, and that's just what Brooklyn-based one-woman psychedelic pop band Idgy Dean manages to do. Starting with a simple strum of guitar or a bold drum beat, the multi-instrumentalist loops these different elements, adding each ingredient layer by layer as though baking a cake and frosting it all with subtle, rhythmic vocals. The results are insanely catchy, and watching her recreate the songs live is a revelation. —L.R.
Daddy Long Legs
Saturday, Oct. 25 – Bowery Electric
For fans of: Bo Diddley, The White Stripes
With so many bands trying to reinvent the wheel, it's refreshing to hear Daddy Long Legs' fresh take on a proven concept: sometimes a harmonica (also known as a harp), slide guitar, and drums are all you need to have a good time. With a sound that is drenched in sorrow and anger, like something you might hear on a dusty old 78 rpm record, Daddy Long Legs are sure to make you dance away your blues.