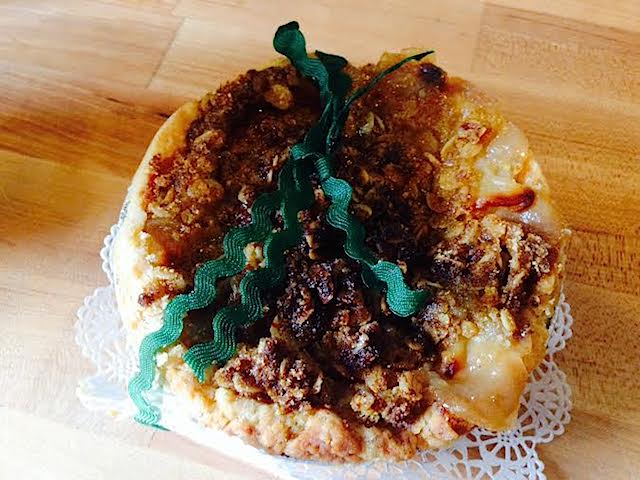 It arrives earlier and with more abundance each year—pumpkin-spice season. Flavoring everything, from cookies, to cream cheese, to local beer, to much-maligned-as-of-late pumpkin spice lattes that have become a sure sign of sweater-weather, pumpkin, the faker the better it seems, has become shorthand for fall.
While we love actual pumpkin, in soup, curry, pie and even ice cream, like Hay Rosie's Pumpkinapalooza, the focus on its most sickeningly sweet iteration, amidst the bounty of fall fruits and vegetables, is culinary tunnel vision. Here's a whole menu of pumpkin spice-free, but fall-ready flavors from around Brooklyn.
Appetizer: South Slope's Eastern European mainstay Korzo is serving up turnip-squash pierogies. The two vegetables create the pasta-like shell on the outside, with a choice of wild mushrooms or herbed bryndza (a sheep's milk cheese that resembles feta in flavor and texture) as a filling. Turnip, squash, mushrooms, herbs–undersung fall heroes all. One plate is enough to split with friends before the main meal, or for a modest dinner for one.
Main Course: Those same flavors can be found on the menu at The Castello Plan, a Ditmas Park restaurant known for oysters and seasonal dishes. Order the butternut squash gnocchi for dinner—the pillowy bites are dressed with a blend of brown butter, sage, sunflower seeds and parmesan.
Yes, squash and pumpkins are basically the same thing. For a further departure from the orange flavors of autumn, look to the humble brassica. Brussels sprouts, broccoli and cauliflower (not to mention kale, that Brooklyn-ubiquitous menu item) all shine during harvest season. At Mayfield in Crown Heights, the dinner menu currently includes a cauliflower custard chock full of caramelized-onion farro, roasted broccoli and beet puree, as well as an Asian-inspired brussels sprouts starter with chili jam and delicata squash.
Dessert: Pumpkin pie die-hards who are holding out until the holidays can find solace in Greenpoint's Pie Corps fall menu, which includes a sweet cranberry with orange rosemary cobbler. This pie features cinnamon, nutmeg, and a hint of lemon for a taste that's both tart and sweet. Grab a slice and sit in nearby McGolrick park and gaze fondly upon the changing trees, while you still can. A brisk walk away on the other side of the BQE, Blue Stove has a pear-ginger pie, available by the slice, as a whole pie or as an adorable mini-pie, topped with a brown sugar crumble, on their fall menu.
Drinks: And, if this time of year just makes you want to sit under your SAD lamp until spring, ease the pain with one of The Shanty's fall cocktails. This Williamsburg spot is attached to New York Distillery, and the selection of seasonal drinks doesn't disappoint—nary a concoction claiming to be pumpkin pie in a glass (or served in a squash). Try The Red Baron, a cocktail with rye whiskey, Black Dirt Apple brandy (from New Rochelle, N.Y.'s Black Dirt Distillery, it promises clear notes of apple mixed with caramel and cinnamon), sweet vermouth, dry curaçao, and allspice, finished off with a lemon twist. We can't guarantee it will shorten the cold season ahead, but there's a chance it will help ease a chilly outlook.