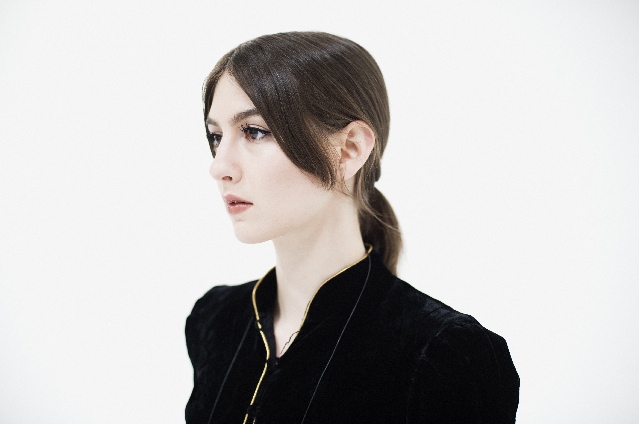 "I think the one thing that I struggled with on this record was because there were so many different people who helped me record it, their little stamp would be put on it and ultimately, I don't want that at all–no offense to anybody," says Natalie Mering of The Innocents, her new album under the name Weyes Blood. "Right now, I'm a little more excited about my live set. I feel a little closer to the ivory tower image in my mind of what it should be."
The singer-songwriter, who had been in the group Jackie O Motherfucker and has worked with Ariel Pink, is will be performing at Glasslands this Wednesday, and is planning to do some shows on the East Coast as well as tour at the beginning of next year.
According to Mering, most of The Innocents, the follow-up to her 2011 debut, The Outside Room, was recorded in an old mansion-like house in Pennsylvania during the winter, while most of the vocals were done in the Greenpoint studio of Mexican Summer, her current record label. "I wanted it to be different and it came out that way," Mering says about making The Innocents. "This record was very much a compilation of the last three years, more than anything else. It wasn't like this one pure month of recording. It was recorded over two years, which is a long time."
It's not easy to classify Weyes Blood (pronounced "wise blood," from the title of a Flannery O'Connor novel). Rooted in traditional American and English folk, Mering's sound is also modern-sounding and experimental and her mature singing voice belies her young age. Those hauntingly powerful vocals could be compared to Judy Collins or Vashti Bunyan.

The album's latest single is the dream-like, piano-dominated "Some Winters," which is accompanied by a lush concept video filmed in the woods of Saugerties, N.Y. "It's about wintertime and going through an emotional withdrawal," Mering explains, "just having it be really intense between two people. It's inspired by real life events. It's kind of like your first big break up and it happens to coincide with wintertime, which I think happens to a lot of people."
"Bad Magic," along with "Hang On" and "Land of Broken Dreams,"  are all album standouts. For me that track hinges on the grimly compelling lyric, "Make the best of death/And love what's left," and there's a tragic back story behind it.  She explained to me that the song is about, and for, a very good friend. "His first real big girlfriend of six years committed suicide eight months after they broke up," she recalled. "I just couldn't really fathom his level of devastation…We were roommates at the time and I recorded that song in our apartment with his music equipment."
Mering was raised on folk music–particularly Joni Mitchell through her mom–along with classical music and soundtracks; her father, a musician, was weened on New Wave. She started Weyes Blood when she was 15. "So I probably listened to more weird music than I did the folk music," she says. "But around the time I was getting really into finger style guitar playing, was also around the time freak folk came out, which is kind of like a marriage between the weirder experimental aspects of music and just traditional folk music. That resonated with me a lot, but I've always been on the more experimental side, but I know that I do folk music the best."
In addition to her own original material, Mering also sometimes performs a live cover of Fred Neil's "Everybody's Talkin,'" which was famously recorded by Nilsson for the 1969 film Midnight Cowboy. "It's one of my favorite songs to do," she says.  "To me it sounds like he's talking about leaving New York, which is something I was trying to do ever since I kind of moved here, and then I fell in love with it and gave up–'I'm going where the sun keeps shining' because the sun is not shining in New York; and 'Going to where the weather suits my clothes,' which is true–I've always felt under dressed in the city. Being originally from California, it's a just beautiful lost soul vagabond song. I could really relate to it."
Weyes Blood will be performing on Wednesday Oct. 29 at Glasslands, 289 Kent Ave., Brooklyn, 7pm, $10. The new album The Innocents is available now on Mexican Summer.