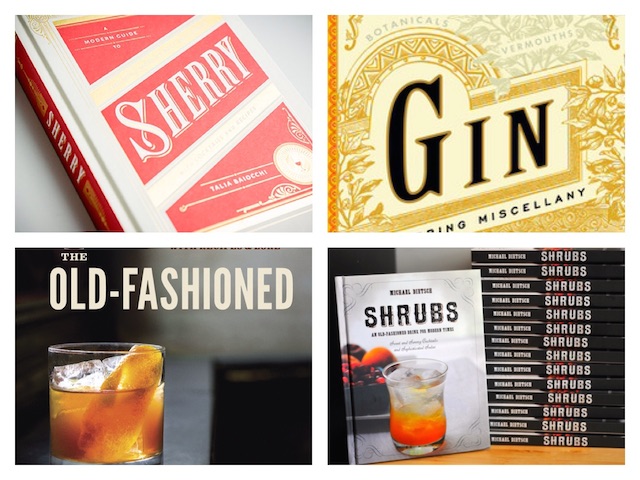 While cocktail culture has become a cartoon version of itself–all 20-ingredient drinks made by mustachioed mixologists working behind the bar at modern speakeasies, the harder to find, the better–all that easily mocked theater stands in the way of a larger truth. Alcohol, how we make it and how we drink it, has a rich history, and stirring up or shaking together delicious cocktails at home is a pleasure. Whether they're carefully outlining the social history of a specific drink, or delving deep into the way a spirit is produced, these four boozy new books, and their excellent recipes, will add a much needed dash of fun back into your glass. 
Shrubs: An Old Fashioned Drink for Modern Times by Michael Dietsch
There's been a lot of talk of switchel, an old-timey vinegar-based drink, around Brooklyn as of late. Keep that and leave us the shrub–a supremely refreshing fruit, sugar and vinegar concoction that can be swilled over ice or combined with spirits for a sweet-tart cocktail. Michael Dietsch, a Brooklyn-based writer, explores the long history of the shrub, tracing it back to Muslim teetotalers in Turkey and Persia, and identifying it as a favorite of famous colonials like Ben Franklin and Martha Washington. The book is full of wonderful recipes of mind-boggling variety, including a Country Gentleman Shrub involving brandy, lemons and white wine, as well as non-alcoholic fruit shrubs and recipes for cocktails to incorporate them into. One of these recipes is bound to become your signature holiday party punch.
The Spirit of Gin: A Stirring Miscellany of the New Gin Revival by Matt Teacher
Over the past decade small-batch booze has returned to the U.S., as state governments from New York to California have loosened distillery regulations that long kept small players out of the liquor business. As a result, there are more gins on the market than you can shake a stick at. Why? Whiskey and other brown booze has to age before you can sell it–before you can make any money on the investment of opening a distillery. Gin is ready almost immediately, and easy to put an individual touch on, since either is made with a unique blend of botanicals. Matt Teacher explores the gin trend in his new book, visiting small distilleries around the country, explaining the difference between say, a London dry style and a tot, and describing the spirit's illustrious history. There are also tons of recipes, including a cardamon and orange gimlet that sounds like a perfect drink to accompany Thanksgiving appetizers.
The Old-Fashioned: The Story of the World's First Classic Cocktail, with Recipes and Lore by Robert Simonson
Although it came out in May, we're such fans of this book that it bears revisiting now, in what is undoubtedly better whiskey cocktail drinking weather than spring. Robert Simonson traces the history of the old fashioned, which he argues, belongs in the hallowed company of the martini and the manhattan as essential cocktails that everyone should know and love. At its most elemental the old fashioned, Don Draper's drink of choice, is just whiskey, bitters, sugar and ice, but Simonson fills the latter half of the book with recipes, including modern updates and regional variations, including a brandy-based old-fashioned native to Wisconsin.
Sherry: A Modern Guide to the Wine World's Best-Kept Secret, with Cocktails and Recipes by Talia Baiocchi
Forget what you think you know about sherry, especially if it has to do with the kind your grandmother kept in the back of the cupboard for finishing sauces and the occasional tipple. This Spanish wine is a world all its own, and a revelation for the palette. Talia Baiocchi, the Brooklyn beverage queen who co-founded Punch, an online magazine about the wide world of drink, goes deep into where and how sherry is produced, its complex classification system, its history and place on the Spanish table and how to pair and enjoy it as a modern drinker. Sherry demonstrates and deep affection for Spain and the section highlighting different producers will have you booking your next vacation to the Iberian peninsula. For cocktail nuts after a new obsession, the excellent recipes section includes the Bamboo, an ultra refreshing, yet lingeringly complex drink that combines fino sherry, dry vermouth and bitters.