Twirling across the concrete floor of a rustic room lit by dozens of candles, Kate MacLauchlan and Kat Christie, both in elegant white gowns, shared their first dance as a married couple.
The reception, a week later than originally planned, wasn't what they had initially envisioned. But after going through more than the usual wedding-planning angst, they weren't complaining.
"I feel like it turned out better than it was supposed to," shouted MacLauchlan over EMF's "Unbelievable," blasting on the loudspeakers of Atelier Roquette in Red Hook.
MacLauchlan and Christie were among more than 100 couples forced to find a new wedding venue after Jason Stevens, owner of ReBar, abruptly closed his DUMBO bar and event space in May. He was sentenced in July to 3 ½ to 10 years in prison after pleading guilty to tax evasion and grand larceny charges after absconding with approximately $150,000 in wedding deposits.
Nearly six months later, most of the so-called "ReBar couples" are married, with stirring stories to tell about the trials of mounting a wedding with little time and little money left in the bank.
Brendan Spiegel, one of the founders of Narratively and food columnist for Brooklyn Based, wrote about his own ReBar wedding disaster last May. He and now-wife Holly Lynn Ellis only had six weeks to create an entirely new wedding from scratch. They encountered many businesses that legitimately wanted to help and offered deep discounts, though several businesses, he said, commented on his post offering to help, but in reality were only willing to book the event at full price.
Spiegel and Ellis joined a "Screwed by ReBar" Facebook group where couples going through the same ordeal could express their frustrations and find support. "We all started helping each other out with finding venues," said Spiegel. "Even though we didn't know them, we sort of had a kinship."
His wedding was held at 26 Bridge in Dumbo, whose owners offered their space at half price. Friends and family came together to craft homemade decorations and even created specialty drinks with personalized cocktail stirrers, he said. The ReBar wedding they had planned on would have allowed them to just show up, and have staff take care of everything. "But at 26 Bridge there were all these little details," said Spiegel. "We never wanted that coordinated wedding, but it did make it more special."
Although happy with his wedding, Spiegel is bothered by the "million dollar restitution deal" prosecutors struck with Stevens. "People see that headline and think we got our money back, but we never will," said Spiegel.
After receiving a phone call from his fiancee's maid of honor informing him of ReBar's close, Alex Berman said he had to quickly "let go of the dream" of getting his money back in order to move forward.
Berman said he and his now-wife Maggie McNeil were "astounded" by the generosity of businesses they reached out to, as they rebuilt their wedding plans. Most either offered to do their wedding at cost, or not charge at all, he said, and they ended up getting married at The Counting Room in Williamsburg, with catering from Union Square Hospitality delivered at cost. "It made when we got married that much more special," said Berman. "But, it's not the way you want to find out people are that good."
Alicia Rebensdorf, owner of the Williamsburg bar and event space, Tuffet, found herself balancing the urge to help with the realities of small business ownership. "It was an awkward position to be in," said Rebensdorf. "You want to help people out, but you want to make sure that you're covering your bottom line."
She finished her last "ReBar wedding" in early October, offering a large discount.
With a warm smile, she recounted a wedding she put on two weeks after ReBar's close. It wasn't what you would consider the "classic" wedding—this one was marked by pouring rain,  and Pies 'n' Thighs and pizza delivery in lieu of a caterer, but everyone was grateful just to celebrate, she said. "It alleviated those people that wanted to make everything perfect," said Rebensdorf. "It brought you down to the basics, which is your friends and family, and having an intimate, fun experience."
MacLauchlan and Christie's Oct. 11 ceremony marked the last of the "ReBar weddings" for Monica Byrne, owner of Atelier Roquette.
Byrne says she opened her doors to several couples shut out by ReBar, charging about half her usual rate. "Here in Red Hook, because we had all just gone through the storm… we know what it's like," said Byrne. "We pretty much let people tell us what they could afford and we figured out what we could do for them within their budget." Her own post-Sandy financial difficulties still weigh heavily on her business—the storm cost her an estimated $70,000 in damages that were not covered by insurance, which she is still paying off.
Some former ReBar employees, who lost their jobs and say they were cheated out of wages, are also struggling. "I hope he stays in jail for a while," Katherine Cassell, said of her former boss. It was Cassell who broke the news of ReBar's closing to MacLauchlan and Christie last May.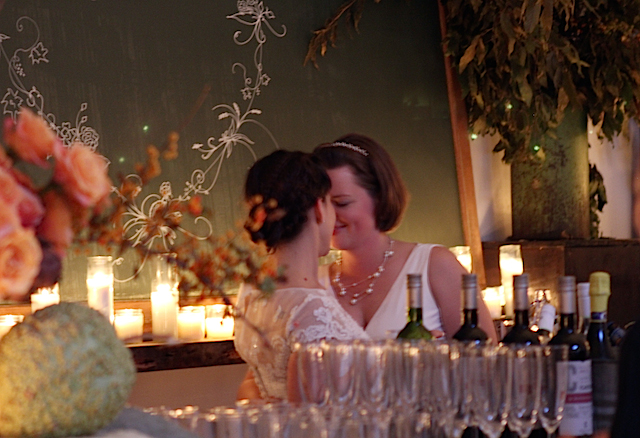 After coming home from a baseball game that their favorite team, the Mets, had lost, the couple was thrown a curveball when they opened an email from Cassell containing an apologetic letter–and a list of alternate venues. They stayed up until 2am trying to figure out what to do.
"We must have gone to about eight different venues and then we found this," said Christie, referring to Atelier Roquette. "They had just recovered from Sandy, which was incredible, yet they had the means to make it all happen for us."
"I feel like we're happier with today than we probably would have been with ReBar," said MacLauchlan, flashing a smile at Christie.