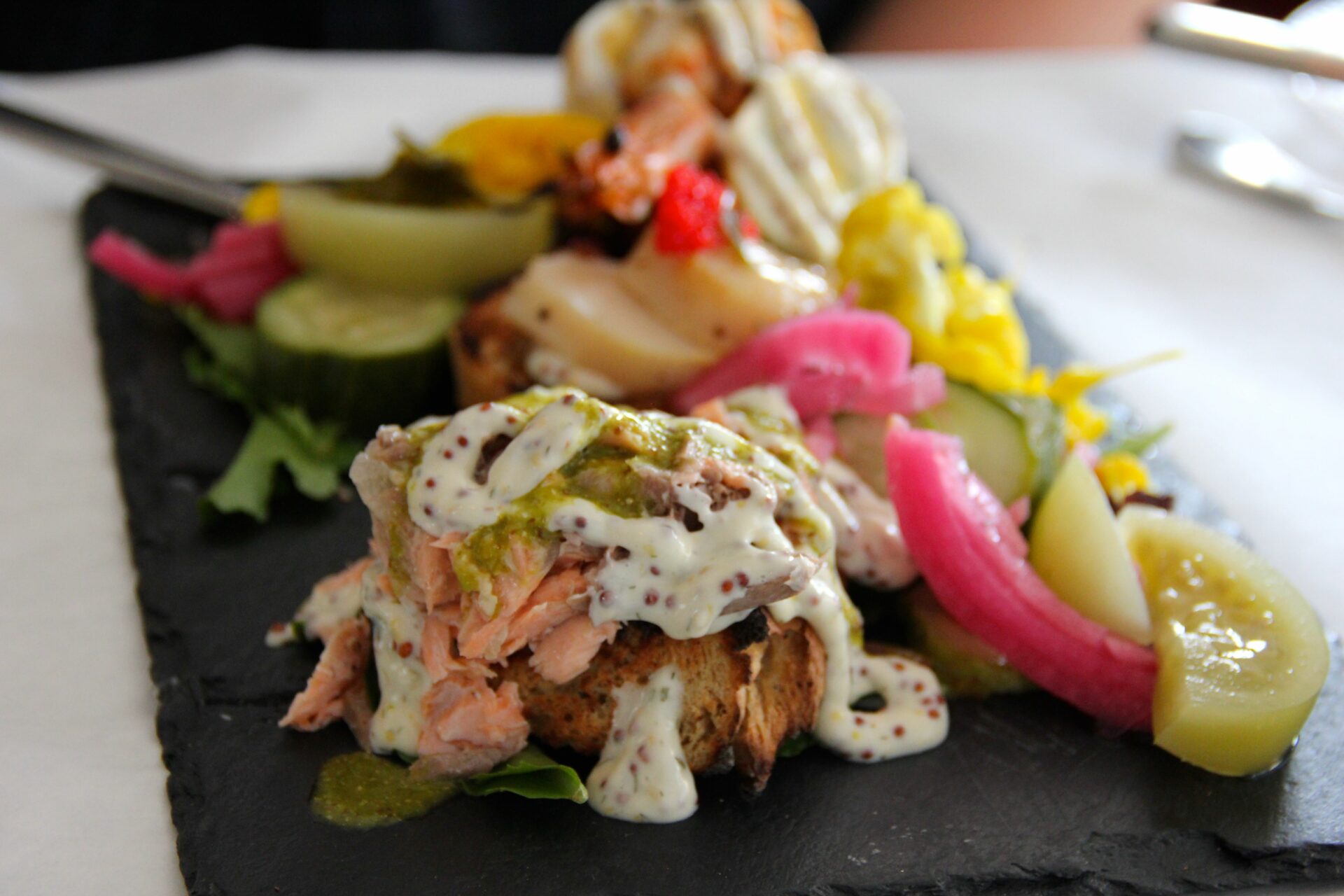 I know we like to think of ourselves as the center of the food universe here in Brooklyn, but sometimes it's good to get out of town and see what's popping up on plates elsewhere. I always forget just how close Philadelphia is—just an hour and a half on Amtrak, a very easy weekend trip from NYC. It also has so much more to offer cuisine-wise than those tired old cheesesteaks and soft pretzels. On a recent weekend binge-fest through some of the city's newest restaurants, I was constantly impressed with the originality of menus, by how many times I had to look up creative cocktail ingredients I'd never seen before, and by how affordable prices are everywhere—compared to these parts anyway. Here's a look at five new Philly dishes worth the train ride.
1. Pastrami & Hash Breakfast Sandwich at High Street on Market
This Old City newcomer is a pleasantly surprising find near the Liberty Bell, along a touristy stretch of Philly otherwise filled with chain restaurants and uninspiring food choices (plus High Street's higher-end sister restaurant, Fork). Everything that's good about breakfast is piled on one delicious fresh-baked poppy seed roll, including a thick, extra-crispy square of hash browns, cheesy scrambled eggs, grilled red peppers, shaved pastrami and Russian dressing, along with a tart house-made hot sauce on the side. High Street on Market aces pretty much everything in the bread-and-pastry department. On the less gut-busting side of breakfast, their ginger yogurt, topped with pistachios, apples and cardamom honey, is also tasty perfection.
2. Smorrebrod at Noord Eetcafe
Most tourists only make it to South Philly for the gloopy fake-cheese fest at the intersection of Pat's and Geno's, but it's worth going just a little further south for a taste of the North Sea at Noord. Dutch-born chef Joncarl Lachman pays homage to his home country as well as the foods of Denmark, Norway and the rest of Northern Europe at this homey BYOB spot. Anyone who thinks Sunday brunch is the time for chefs to phone it in should check out the full-fledged flavors on display here, from warm, caraway-studded grilled bread and butter plopped on the table immediately (for free; please take note, every New American restaurant in Brooklyn), to the pickled cauliflower, onions and green tomatoes that top nearly everything. Noord's daily-changing take on Scandinavian smorrebrod sandwiches always features an array of smoked fish—salmon, scallops and head-on shrimp when I stopped in—finished with a deliciously creamy, mustard seed-spiked dressing.
3. Dessert Waffle at V Street
A brand new spot near Rittenhouse Square, V Street is one of the most unique restaurants I've been to this year. The all-vegan menu is inspired by street food from around the world, fusing flavors from as far afield as Hungary, India, Peru and the Philippines into an amazing array of meat-free snacks like jerk trumpet mushrooms and harissa-grilled cauliflower mixed up with spiced avocado, olive salad and chermoula, an intensely flavorful North African marinade. The cocktails are particularly off-the-wall—the "Cruz Control" mixes tequila with horchata, lime and tepache—a Mexican fermented pineapple drink—but the crazy prize has to go to this dessert waffle layered with rich chocolate ganache, gooey bites of banana, vegan ice cream and a chunky miso caramel, with Sriracha peanuts and syrup poured over the whole thing.
4. Cope's Corn Ravioli at Serpico 
Momofuku alum Peter Serpico is in the kitchen at Philly's trendiest new food spot, where both the food and cocktails live up to the very large degree of hype, while the vibe is surprisingly low-key and friendly. This Mexico-meets-Italy mashup features rich corn-and-sour-cream raviolis swimming in a sea of thick red chili oil, crafting a warming red-sauce-and-carb concoction that's like Chef Boyardee's secret high-end cousin. White cheese, chorizo and cilantro on top bring added flavor, while shaved hearts of palm deliver a satisfying crunch. (Photo: Yelp / Wesley C.)
5. Chicken Schmaltz Rugelach at Abe Fisher
This savory, fat-filled take on the classic Jewish pastry is just the amuse bouche at Abe Fisher, but it's a perfect introduction to Chef Michael Solomonov's unique new restaurant, where he explores inventive takes on foods from throughout the Jewish diaspora. The menu is designed for sharing (with portions large enough to actually share; please take note, every tapas restaurant in NYC) and pretty much every dish delivers. The smoked sable cakes are a crispy, crustacean-less Kosher answer to Maryland crab cakes, bursting with the surprisingly effective combination of Old Bay and dill, while the requisite Kosher-busting piggy dish subs pork belly in for pastrami on a delightfully cheesy rueben. Even the simplest dishes here impress, like a side of warm and juicy carrots amped up with aged gouda, little bits of pumpernickel bread pudding and savory prune butter, all adding up to the best eating experience I had in Philly.