Gus Vlahavas, the longtime owner of neighborhood institution Tom's Restaurant in Prospect Heights, died last Tuesday, DNAinfo.com reported. The news hit hard for me personally as Gus was one of the first people I interviewed when I was a student at the CUNY Graduate School of Journalism covering the Atlantic Yards beat in 2006. When I first started reporting on the area, I was quite nervous because I really didn't know anyone–I was extremely shy and scared that I was not going to have any sources. But when I first stumbled upon Tom's Restaurant, Gus greeted me very warmly. He probably knew from the beginning that I was a journalism student (perhaps the press pass, reporter's pad, and my anxious expression were dead giveaways) and kindly offered me a tea and answered my questions patiently and gregariously. Since that first meeting, I must have visited Tom's Restaurant four or five times, trying to get a sense of who he was and the history of the establishment, which in itself was fascinating. Miraculously, I don't think Gus ever saw me as annoyance as I peppered him with questions (if he did, he didn't show it), and he even let me record audio of him for a slideshow presentation about the restaurant as well. (I still have that project and I hope to somehow upload it for posterity's sake).
Given the type of person he was, it's not surprising that so many people from the neighborhood spoke very highly of him. Had he not been so kind and willing to give this budding student reporter a break, I probably would have had a hard time making it through that semester. I was pained to hear about his death, and by the fact that I hadn't been back to Tom's in a while, and I wish had stopped by,  just to at least say hello to Gus. 
The following is the story about Gus and Tom's Restaurant that I wrote for my first reporting class, eight years ago.
RIP Gus. Thank you so much for everything.
***
As the popular owner of Tom's Restaurant in Prospect Heights, Constantin (Gus) Vlahavas has welcomed mayors, public officials and celebrities to his establishment. But nothing had prepared him or his customers for the visit from a former newsmaker and her friend that happened three years ago.
"They were waiting on line to be seated," he said. "I went over and said, 'How are you sweetheart?' All of a sudden, I turned around and from the side of her face, I said, 'Oh my God! You look gorgeous.' She said thank you.
"Then I went in the kitchen and I told everybody Monica Lewinsky is here. She was sitting at the last booth before you get to the restrooms. And everybody went to the restrooms."
John Buffalo Mailer, a writer and the son of author Norman Mailer, was the friend who brought Lewinsky to Tom's. "I took her there because I knew she would appreciate it," he said in an e-mail. "There is nowhere in the world Monica can go and not receive a ridiculous amount of stares. Tom's was no exception."
Mailer, a former resident of Washington Avenue where Tom's is located, is just one of the many locals who have dined at this famous 70-year-old restaurant founded by Gus' grandfather. They know of Gus, his gregarious personality and his good service—qualities that made him not only a fixture of the block but throughout the borough.
"He exemplifies the very best of Brooklyn, that's for sure," said Brooklyn Borough President Marty Markowitz, who has known the restaurant for years.
Park Slope resident Dena Kolkanaris remembered introducing herself to Gus when she visited the restaurant. She said Gus asked her what part of Greece her family was from (Gus himself is of Greek heritage). "He's warm, he knows his customers, and he cares deeply about the diner," she said in an e-mail.
Respect and courtesy comes naturally for Gus, a 69-year-old slightly rotund and bespectacled man in an apron. He always greets customers entering Tom's with a hello. Even when he's taking a phone order or giving instructions to his staff, he makes time to stop by the tables to check up on his customers. And Gus asks patrons to take a lollipop from the candy dish near the register before leaving the restaurant.
His warm approach to customer service is especially evident display on Saturdays, the busiest day of the week for the restaurant, when the line often extends out the door. But Gus and his staff make the wait more bearable by offering those on line free coffee, homemade cookies or slices of oranges.
"You can't fake these things," Gus said. "If you haven't got it, you haven't got it. I depend on these people for my bread and butter. We have made spontaneous friendships and long lasting friendships."
Adding to the warm atmosphere of the place is its interior, which is reminiscent of the old-fashioned diners. Music from the '30s and '40s emanates from the speakers. Day-glo-colored signs advertise the mango walnut pancakes and the cherry lime rickey. Brightly colored fake flowers, American flags, and framed photographs and articles adorn the walls. The distinct character of Tom's inspired the fictional diner in Jeffrey Eugenides' Pulitzer Prize-winning novel Middlesex (Eugenides was a regular of Tom's).
"I took my father there because I knew it would remind him of his youth," said Mailer. "And it did. I think Gus has managed to preserve a taste of the sweetness from that time in America."
"You walk in here and you feel like you're home," said Beth Alvarado, Gus's daughter. "I think that's why [my father has] been this successful as he is."
***
The story of Tom's began when Vlahavas's grandfather, Constantin, arrived in New York from Greece around 1909, followed by his son Tom in the late '30s. (Because of World War II, Tom wasn't able to bring his wife Stella and nine-year-old son Gus to America until 1947). When Constantin opened his restaurant in 1936, he called it Lewnes but later renamed it Tom's after his son returned from service in the U.S. Army.
Gus has worked at the restaurant since he was 10; his three other siblings weren't involved much in restaurant work as he was. His father Tom worked in the back and his mother Stella manned the grill. In his late twenties Gus taught at Midwood High School for six months but later returned to Tom's. "At the time, you pretty much had to do what you were told," he said. "[Teaching] was a safe job, guaranteed income, two months of the year off. But I wasn't keen for that."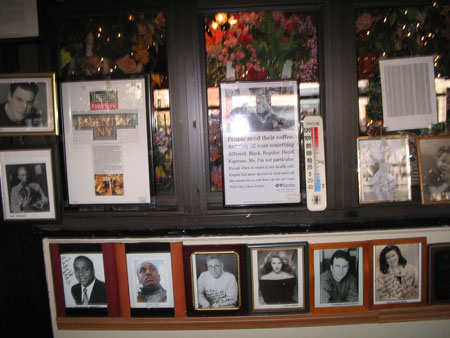 He describes the neighborhood as a former melting pot of Jews, Irish and Italians. Then in the '50s and '60s African-Americans moved in and the old residents fled. When the Rev. Dr. Martin Luther King Jr. was assassinated on April 4, 1968, riots and looting ensued in the city. Gus remembers being at the restaurant when heard commotion on the street that afternoon.
"The next thing you know," he said, "people started to form a line outside of the store, holding hands [so] nobody would bother us or damage our property. We were very obliged after that and we were not let down these people who trusted us. And we stayed."
Gus and the restaurant survived the drugs, crime and property decay in the neighborhood during the '70s and '80s. As the area turned around in the late '80s with gentrification and reinvestment, word-of-mouth about Gus and Tom's grew thanks to newspaper and magazine reviews. "Once they read those articles about us," he said, "people started to come."
By then Gus had taken over the restaurant from his father Tom, who died in 2002. His mother Stella was still working the register at the age of 90. Gus' wife of 42 years, Nonie, has worked many years at Tom's but not as much now because of her osteoporosis.
The couple has three grown children—Beth, a nurse; Thomas, a sergeant in the New York City Police Department; and Sammy, a law student in Oklahoma—and three grandchildren. When he was interviewed on the The NewsHour with Jim Lehrer about Eugenides' novel Middlesex in 2003, Gus said the Greek immigrants' "ultimate aim was to educate their children and make professionals out of them." It might explain why his own children hadn't followed his footsteps in restaurant work.
"It's too life consuming," he recently said about the business. "You have to understand—there are no such things as vacations, there is no such thing as time off when you're sick."
Away from Tom's, Gus takes time off by tending his garden at home, which is nearby the restaurant. He brought out a thick photo album containing pictures of the garden's trees, plants and flowers. "My ultimate peace and contentment," he said. "When I am back there, I have no clue what the world is doing."
But before Gus retires to devote more time to horticulture, he continues to extend the usual pleasantries to his customers.
"Gus is not only the nicest man in New York City," said David Freedenberg, who wrote a restaurant review of Tom's for Gothamist, "he is the nicest man on the planet. Once he overheard my friends ask, 'What's a cherry lime rickey?' and he responded by bringing a free one over to us. It's really not about the money with him."
"I always enjoy being with people," said Gus. "If you tap it right, you got friends made for life. My customers are very loyal. I have customers who are sending me their grandchildren."