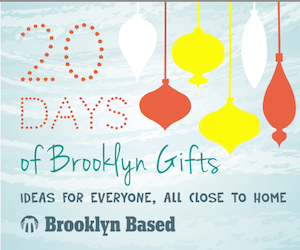 Follow Brooklyn Based's board 20 Days of Brooklyn Gifts on Pinterest.
Ok holiday shoppers, it's the fourth day of Hanukkah and Christmas is right around the corner. It's time to get gifting, if you haven't finished your shopping yet. Here are dozens of suggestions that will also keep your dollars local. You can pore over the options on Pinterest, too.
For one-stop shopping, Artists & Fleas, Brooklyn's original indie market, is one of your best bets. Start at their online holiday pop-up to shop from your couch or at least take a peek at the one-of-a-kind gifts you'll find in person. The recently expanded Williamsburg location is open every Saturday and Sunday (10am-7pm), with 100 artists, designers and vintage collectors each weekend day. And at the Chelsea Market locale, you can check out 30 vendors each day (Mon-Sat, 10am-9pm, Sunday 10am-8pm). Check out their Facebook page for more market info.
Bush Smarts creates extreme gear for the expert outdoorsman and the weekend dabbler. If they can't find it, they'll design it, and likely package it with cool tools you'll use at home, too. Their limited edition camp coffee kit is sold out but we've got four more wild ideas for you here. Just order by tonight (Friday, Dec. 19) for Christmas delivery.
You may be familiar with Brooklyn Slate's all-natural slate cheese boards, designed by Sean Tice and Kristy Hedeka, and sourced from Kristy's family slate quarry in upstate New York. But just in time for the holiday season they've introduced a brand-new model, a circular plate that is perfect for your fancy fromage and your homemade pies and cakes. And for serious cooks, their slate menu board will get guests excited for the meal ahead. Find more ideas here.
Owl and Thistle has a knack for finding the cutest gifts on the planet; it's an added perk that they all happen to be good for it, too. Owner Keri Cavanaugh recently moved to larger digs in Crown Heights to hold the expansive selection of locally made, sustainable and fair trade goods as well as to host DIY classes like knitting. The store is open seven days a week until Christmas and these are just a few of the gifts you'll be able to find online and in store.
Whoever you're shopping for–girlfriend or boyfriend, babysitter or BFF, Old Hollywood packs in a ton of stylish gifts for men and women. Among the new and vintage clothing, accessories and homegoods in store now, you could easily cross five people off your list with the gifts we've profiled here, from a handmade cuff that will bestow divine power to your favorite goddess to a cozy Pendleton motor robe for the person you want to snuggle up to.

You spend time and money on good food for yourself–doesn't your kitty deserve the same? From Scratch, "puuurrveyors of wholesome products for cats," makes locally sourced, preservative-free cat food that will improve their coat and health. They also offer goods for the humans who love them, whether its an adorable tote that boasts "It's Meow or Never" or a custom cat portrait of your favorite feline.
Once you upgrade your cat's meals, it's time to think about their accoutrements. Catpax is a monthly box of cat toys, treats, and care products for your little fluffball, or those of your cat-loving parents, and 10% of its proceeds go to cat rescue groups. Choose the subscription you'd like, and while you wait for it to arrive, check out the daily, adorable kitty updates on Scratch Post.
When the true crime thriller, The Good Nurse, about a serial killer R.N., came out last year, we singled it out as a great read and Darren Aronofsky agreed. The Brooklyn-based director is producing the film version of the novel, which Brooklyn-based author and friend Charles Graeber penned. Graeber will personalize a hardcover copy of his book with any message you like, the perfect gift for your lit-loving uncle, mom, or friend. Just be sure to order through the Mysterious Bookshop in Tribeca to get it shipped or to pick up in person.
The CourseHorse Gift Card is perfect for anyone who has ever wanted to learn how to play the banjo, screenprint a shirt or make pasta. Whatever skill you'd like to add to your repertoire, there's a class somewhere in NYC for it and CourseHorse allows you to enroll in them all. The cards, available in any amount, can be used on any CourseHorse class (there are more than 35,000 in 800 different venues) and they never expire.
We'll be profiling these shops and more on the site in the coming weeks. If you'd like to be included in our 20 Days of Brooklyn Giving campaign, get in touch.