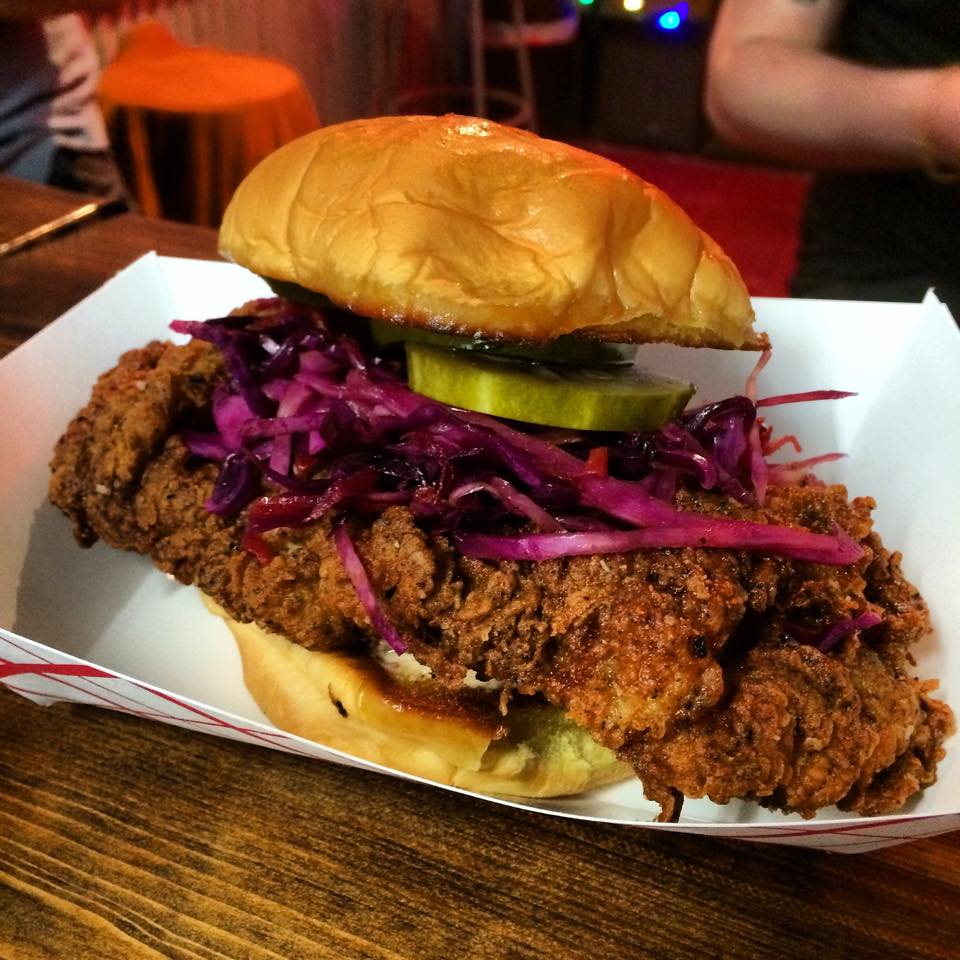 My apologies to anyone who doesn't get as excited about sandwiches as I do (I know I write about these a lot), but this new Bed-Stuy spot is one you simply have to know about. Attention must be paid.
The good folks at Endless Summer Taco Truck have been slinging excellent tortilla-based meals from their Bedford Avenue spot for over six years now, but with the meals-on-wheels options along that stretch of Williamsburg getting increasingly crowded, they decided to branch out further south with Endless Summer Sandwich, a tiny DeKalb Avenue brick-and-mortar space, which opened three weeks ago. There are no tacos here (though the truck will continue to operate on Bedford). Instead you'll find 12 sandwich options on the menu, which at first glance seems like too much, but not one of them appears to have been phoned in. They're all carefully crafted, made to order, topped with housemade spreads and sauces, and perhaps best of all, range from just $6 to $9.
There's a fried chicken sandwich of course, which is virtually required of any new Brooklyn spot these days. This one is special though: thick and juicy breast meat, supremely crunchy throughout, served on a Martin's potato roll and lathered in red cabbage slaw, crisp pickles and a creamy remoulade sauce.
I would rarely order a fish sandwich (too many bad associations with flash-fried, fast food filet-o-fish) but on the cashier's recommendation I also sampled ES's fried catfish offering and am glad I did. The cornmeal-breaded filet comes out of the fryer much softer than the chicken, so while the slaw and remoulade return here, a hard ciabatta is swapped in for the exterior and it's all finished with a pineapple-chipotle hot sauce–a tangy, just-spicy-enough delight.
The meat-y party continues with a sourdough BLT and Asian roast pork sandwich, but impressively, six of the 12 sandwiches here are vegetarian, and all of those strike me as enticing. I was actually a bit underwhelmed with the BBQ squash; the taste was spot on, but the soupy, saucy squash soaks into the squishy potato roll and things get altogether too messy. But I'm very intrigued by their other veggie options, including a braised cauliflower with artichoke sage pesto and raisin pine nut relish, and an eggplant one with broccoli rabe, tomatillo relish and romesco sauce. On weekends there are also bacon, egg and cheeses served all day, along with "brunch boxes" consisting of toast, eggs and potatoes served either veggie (with roasted vegetables and quinoa on the side) or extra bacon-y (with bacon jam, black beans and bacon chili).
Overall: Very impressed with the offerings here. While a lot of new places strive to go as over-the-top as possible with their sandwiches these days, Endless Summer gets just crazy enough, dreaming up  inventive ingredient pairings but not forgetting to ace the basics, from quality bread to delicious spreads. I also appreciate that they offer sandwiches for either lunch or dinner, with hours from 11am to 10pm weekdays, and noon to 10 on weekends. Endless Summer just launched GrubHub delivery service this weekend, and plans to add Seamless soon.
 Endless Summer Sandwich, 525 Dekalb Avenue (between Bedford and Skillman); 917-947-8787