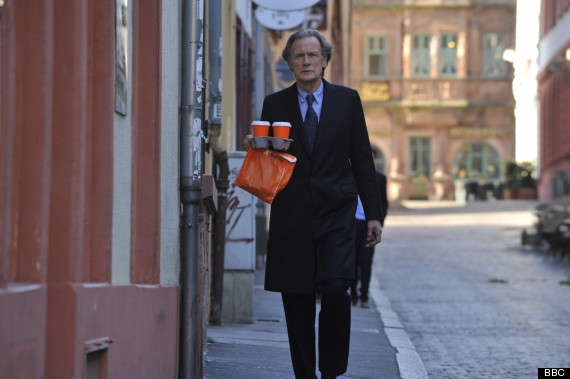 It's cold. The holidays are over. Some of us may be cleansing, or sober January-ing, or just trying not to spend so much money all the time. The couch is calling, but some of our favorite TV shows are on hiatus until later this month, or even February (looking at you, Nashville). So what are we to watch? Plenty.
Drama
Empire I love the idea of this show–a family-run record label in Chicago that came up on drug money, struggling to survive the post-album era–but I find Terrance Howard, who plays the patriarch, largely repellant and he did nothing to change that in last night's pilot on Fox. Taraji Henson, however, who plays his way more interesting and vital wife, is just as fantastic here as she was on Person of Interest, but with way more accessories and animal prints. Network shows that include musical performances rarely keep up their momentum (again, looking at you, Nashville), so it will be interesting to see if any gems come out of the Timbaland-produced soundtrack. The jury is still out, but Empire is definitely worth a few January evenings. –Annaliese Griffin Wednesdays at 9pm on Fox, available on Huluplus.
Olive Kitteridge I spent the week of New Year's holed up in front of a roaring fireplace in frigid, rural Maine, and it was the perfect opportunity to fire up Netflix and finally watch Olive Kitteridge, the four-part HBO miniseries set in that state starring Frances McDormand as the title character. Based on Elizabeth Strout's book of the same name, the plot spans 25 years in the life of its sharp-tongued, cynical battle-ax of a heroine, an officious and emotionally repressed schoolteacher who has a hard time accepting the love of her long-suffering husband Henry, played by Richard Jenkins, and her son. Just when Olive initially appears irredeemably hateful– almost a one-note Hollywood-conceived caricature of an unyielding, caustic New England shrew—the storyline and McDormand's remarkable performance treat her with generosity, understanding and humor. Olive is the kind of complicated female character that I always wish the entertainment industry had the guts to create more of, one who renders discussions about "likeability" beside the point. She's real, as are her emotional responses, her misery, and her complicated relationships. It makes for a compelling four hours, and you've got the time now that the weather is tundra-like. –Kate Hooker Available on HBOGo.
Downton Abbey I'm a sucker for period dramas and most things British, so I was basically a sitting duck in terms of being swept up in Downton Abbey-mania when it first hit our shores in 2011. Now in its fifth season, which premiered Monday night, the upstairs/downstairs saga set in an aristocratic country estate just as the death knell for aristocratic country estates is sounding has definitely lost its edge over the years—characters have become frustratingly static and predictable and plot twists have crossed over into abject silliness. Really? Bates is tied up in another murder scandal and Thomas is out to bury him again? Mary is still weighing suitors? Daisy is still whining about something that is incomprehensible if you don't turn on subtitles? All that said, I will watch this season (although maybe not with undivided attention) because enough of the elements that initially drew me to the show remain: the costume design, the inside look at the intricate social and class mores of post-Edwardian England, and of course, Maggie Smith and her zippy one-liners. –K.H. Airs on PBS on Monday nights at 9pm and is available for streaming on pbs.org.