"Remain in Manhattan." Those are the words of warning from a 1975 survival guide to NYC, issued to tourists by disgruntled police officers facing layoffs by then Mayor Abraham Beame. It's amusing in hindsight, given the current standoff between the NYPD and Mayor de Blasio, because the thought of a less robust police force in the near-bankrupt NYC of the 70s actually does seem frightening. All we've experienced, so far, are fewer parking tickets. Manhattan also carries far less cultural clout than it did 40 years ago. If we were printing a survival guide today, tourists would just ignore it and head straight to Brooklyn anyway. They may not know exactly where to go beyond the Brooklyn Flea, but that leaves more room for us at the readings with celebrated authors, shows with legendary bands, sweaty dance parties and funny storytelling series, all happening this week. Here's how to make the most of it.
Thursday, Jan. 15: There is nothing like traveling with a friend or lover to test how compatible you really are. In Binary Star, the debut novel by Sarah Gerard that was recently anointed one of January's best reads, two emotionally unstable young lovers–he's an alcoholic, she's anorexic–take a road trip in pursuit of unattainable ideals, and the journey leads them toward an explosive end. Accompanied by moderator and author Kate Zambreno, Gerard will be discussing and reading from her lyrical, new novel at the powerHouse Arena at 7pm.–N.O.
Friday, Jan 16: The Vaselines' place in rock history is an odd one. Although they've never had a hit song on the radio or a video on MTV, they hold the unique distinction of being one of Kurt Cobain's favorite bands. Nirvana even recorded cover versions of three Vaselines songs, and Kurt named his daughter Frances after their female lead. The band was inactive for almost all of the 90s and the 00s but their new songs sound just as fun and fresh as they ever were. Tonight at the Bell House experience the return of the Scottish songwriting duo Eugene Kelly and Frances McKee, touring in support of their new album "V is for Vaselines." This is one of those rare shows that is guaranteed to be a good time and it will earn you cool points for going. Bell House tonight, tickets $22 in advance, $25 at the door.–A.J.
Saturday, Jan. 17: The Living Room belongs to that group of restaurants and venues that began in Manhattan, got priced out, and started afresh in Brooklyn. Their newish space, which opened on Metropolitan Ave. last October, is a lot more dynamic, with a balcony and rooftop, and sweet dance floor calling your name. On Saturday they're hosting two bands that are perfect for the intimate club setting, The Loyales, a nine-piece band whose classic rock, soul and pop repertoire includes an amazing rendition of Prince's "Kiss," and the Baby Soda Jazz Band, who look and sound like they might have opened for Django Reinhardt. It's free with RSVP here, or $5 at the door.–N.D.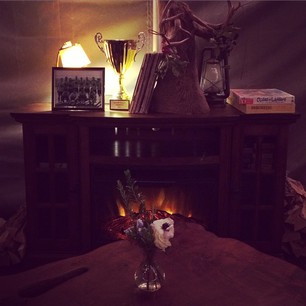 Sunday, Jan. 18: In summer, the backyard of Sycamore is a perfect spot to park yourself for an afternoon of day drinking, and this winter, they're keeping the spirit of a lazy afternoon spent outside with The Lodge at Sycamore, a heated tent in their backyard with a rotating selection of entertainment–like VHS classics on Mondays and legendary sports matches on Wednesdays, along with hot drinks and their longstanding Flatbush food court, a bit of a misnomer since food vendors alternate being the sole provider of sustenance for the day. This Sunday, Gaddy Lane is in the hot seat, so expect some delicious snacks and sandwiches like the Harold and Maude Grilled Cheese–melted cheddar, roasted brussels sprouts and bacon jam.–N.D.
Monday, Jan. 19: This year, BAM will hold its 29th annual tribute to Dr. Martin Luther King, Jr. and the event promises to be unforgettable. The event, co-hosted by Brooklyn Borough President Eric L. Adams and Medgar Evers College of The City University of New York, will include a keynote speech by world-renowned scholar Dr. Cornel West, performances by Sandra St. Victor and Oya's Daughter, a performance of State of Emergence from students in BAM Education's Arts and Justice after school program and a special screening of the documentary, The Central Park Five. Throughout the day, visitors are also encouraged to explore Picture the Dream, a community art exhibition featuring works by students from Bed-Stuy's NYCHA Saratoga Village Community Center. All the day's events are free, but seating is limited and tickets will be distributed on a first come, first serve basis. The full schedule is online at BAM.–N.R.
Tuesday, Jan. 20:  This week, I'd intended to recommend a class on tea, but it was sold out, so I'm going to recommend classes you should register for in advance, to ensure you get a spot. On Thursday, Jan. 29 the Textile Arts Center will teach you how to apply natural dyes to synthetic fibers at Industry City Distillery, a striking setting for a free class that will fill up quickly. At Pioneer Works, psychotherapist Lisa Benger will help you decode that recurring dream about the room in your apartment you never knew about in Dream Analysis on Jan. 24. And for a bevy of classes that can kickstart your career, check out GA Front Row, a suite of streaming courses on boosting your marketing, tech, and design skills that you can try for free through March 31 when you sign up here.  If you want to learn even more about promoting your business through advertising, we teamed up with General Assembly to offer this introductory course on digital advertising, Saturday, Feb. 7.–N.D.
Wednesday, Jan. 21: Whether or not you know everything about our sometimes frustrating, but ultimately convenient transit system, head to the New York Transit Museum next Wednesday, Jan. 21 at 6:30pm for an amazing night of transit-related trivia. The super-popular program is back for the third time and will be hosted by trivia masters Stuart Post and Chris Kelley with the museum's decommissioned Court Street Station serving as a killer venue. Teams of two to six will go head-to-head on questions about transportation and win awesome prizes and bragging rights. Tickets to the 21+ event are $10 for museum members and $15 for non-members and includes one free beer from Brooklyn Brewery. Purchase your tickets here.–N.R.    
Tips this week by Nicole Davis, Nicole Ortiz, Alex Jordan and Nikita Richardson