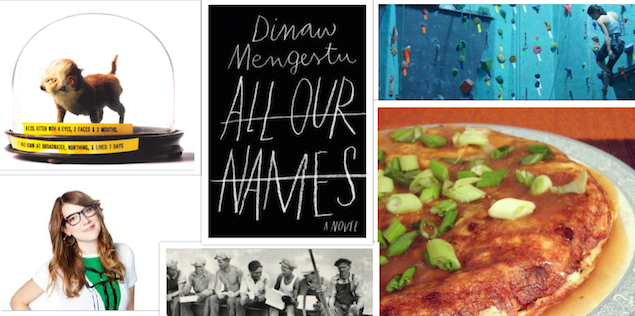 The dog days of winter are upon us. We might not be in the same cycle of weekly polar vortices that we found ourselves in last year, but it's not like it's warm out, and we have a long time to brave the commute until the next national holiday arrives. Luckily, there is plenty to see and do this week to keep things exciting, and to keep you from getting sucked into the black hole of your couch and Seamless. BAM is screening Round-Up, Sufjan Stevens' paean to the rodeo, every night through Sunday; St. Ann's Warehouse's month-long run of the stage rendition of Let the Right One In begins this week; and Chris Ofili's solo show at the New Museum nears its end. In weird news, an urban golf course painstakingly constructed from trash by a Vinegar Hill man who goes by Tiger Hoods might not make it through the winter, so you might want to make a point of seeing it now. If not, we have lots of other suggestions to fill your Google calendar for the week.



Thursday, Jan. 22: It's amazing to think that as recently as 2007, we were still engaging in earnest intellectual debates about whether women are funny, especially because the intervening eight years have seen so many female comedians (think Tina Fey, Mindy Kaling, the Amys, Poehler and Schumer, Kristin Wiig, etc.) ascend to comedy royalty status. In 2007, a New York-based financial analyst with comedic aspirations named Sara Schaefer had just quit her day job, and she has since performed on stages all over the country, won two Emmys as a writer for Late Night with Jimmy Fallon, and co-created and hosted (with Nikki Glaser) Nikki & Sara Live, a weekly series on MTV. This Thursday, Schaefer, who is now living in LA, will be at Union Hall recording a live album and there are tickets still available (at only $8 a pop if you buy in advance) for both the 7:30pm and 9:30pm shows. The opener is another very funny lady, Brooke Van Poppelen, so don't miss the opportunity to see two future superstars just before they hit the big time.

Friday, Jan. 23: If you've been meaning to check out the Morbid Anatomy Museum but just haven't gotten around to it yet, Friday's Collector's Cabinet Preview Party sounds like a great time to get in on all the weird, creepy, dead stuff action you can handle. The museum is hosting a reception at 8pm to celebrate its new, second-ever exhibition, which features such quaint, workaday items as a taxidermy kitten with two faces and an "exploded human skeleton." Tickets are $25 for members and $40 for non-members, and that includes a wine and cheese reception with the contributing collectors and curators of the exhibit, presentations about some of the more intriguing pieces on display, and music from the museum's DJ-in-residence, Friese Undine.
Saturday, Jan. 24: How's that New Year's resolution to finally get in shape going so far, guys? Don't beat yourself up—it's hard enough to get to the gym when it isn't frigid and dark for the vast majority of your waking hours, and now we're expected to choose a sweaty Stairmaster over Downton, Broad City, The Fall, and Justified? That's tough unless the proposed workout promises to be really fun and different, which is where Saturday's Lava Monster Competition at Brooklyn Boulders comes in. From 7-10pm, participants will hop, swing, zip, climb, and navigate ninja warrior obstacle courses in order to avoid touching the lava (i.e. the ground). The $25 entry fee includes Lava Monster swag, a chance to win prizes, and a day pass to Brooklyn Boulders in case you want to further develop your skills in a less competitive environment. Once you've worked up an appetite, why not walk the two blocks to the newly-opened Three's Brewery, which is serving food from Roberta's Pizza through the weekend and delicious pints of beer forever.
Sunday, Jan. 25: More than any other meal, brunch has the potential to involve spending a lot of money on food that you could make at home pretty easily. Don't get me wrong, I love a good Bloody Mary, but dropping $20 on run-of-the-mill scrambled eggs and toast is something that I just can't get excited about anymore. Wandering Dynasty, a dim sum brunch that melds two different traditional Lower East Side cuisines is being put on this Sunday by Crown Heights' Crow Hill Supper Club, and it's definitely not going to cause that frustration. A collaboration between the chefs behind Shelsky's, Dassara Ramen, and Scharf & Zoyer, the menu will combine traditional Chinese and Jewish recipes to create delicious-sounding new dishes like Sichaun rollmops and rye, matzoh brei foo young with pastrami, fried rice with smoked salmon, and red bean rugelach. A ticket to either the noon or 3:30pm seating will run you $58, but includes eight dishes and booze in the form of salmon roe shooters and icy cold Tsingtao beers.
Monday, Jan. 26: The holidays are really over, and we're in that long stretch of trying to hoard vacation days until the weather improves, but that doesn't mean we aren't all secretly dying to get the hell out of here for a recharge. For this reason, the vacation-themed installment of Two Truths and a Lie couldn't come at a better time than this Monday night at 8pm. Cameo Gallery is hosting Vacation All I Ever Wanted: Stories about Gettin' Outta Dodge, a live storytelling event featuring six talented raconteurs who will regale the crowd with terrific tales of trips they have taken. The catch is that two of the stories are completely untrue, and the audience votes at the end of the night on who they think the liars are before they are revealed. Tickets are only $5, which is a lot less than what it would cost you to actually get out of town.


Tuesday, Jan. 27: Tuesday kicks off another season of BAMCafe's popular Eat, Drink & Be Literary series, which invites renowned writers to read from their work, discuss their creative processes, and answer audience questions. Eight events—each focused on a different acclaimed author– are scheduled between now and June, and there are surprisingly tickets still available for most, including this week's evening with Dinaw Mengestu, the Ethiopian-born novelist who wrote The Beautiful Things that Heaven Bears and, most recently, All Our Names. The $60 ticket price includes a buffet dinner, wine and music, so it actually works out to be a decent deal, and it's far more intellectually stimulating than a Tuesday night spent in front of the TV.
Wednesday, Jan. 28: If you've ever been embarrassed by how little you know about the history of this great city, The Diamond in Greenpoint is ready to make an expert out of you. That's because the bar is screening Ric Burns' epic eight-part PBS series, New York: A Documentary Film, one disc at a time every Wednesday night through March 7. The film, which clocks in at a whopping 17 ½ hours, covers 400 years of New York City history beginning with the Dutch settlement of New Amsterdam in the 17th century and leading all the way up through 9/11. It's a lot to digest, but we're told that you don't need to watch the whole thing to enjoy individual installments. The Diamond is also offering drink specials and free popcorn to elevate your viewing experience. Screenings are free and begin at 7:30.