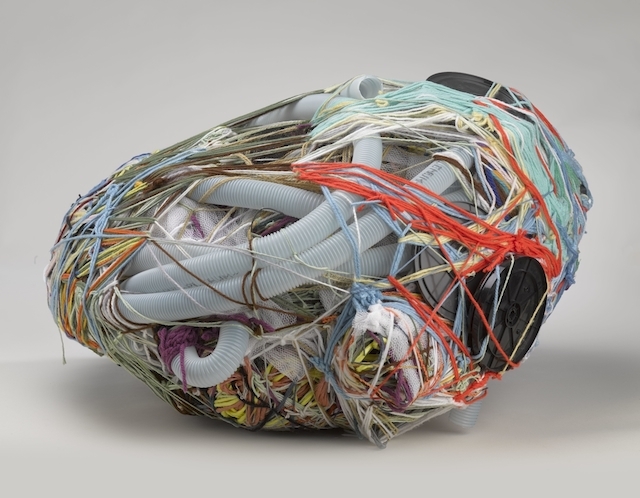 It's a fact that kids love to play hide and seek. My 5-year-old son can spend hours either hiding or seeking with other kids, or looking for hidden toys. The "Judith Scott: Bound and Unbound" show at the Elizabeth A. Sackler Center for Feminist Art at the Brooklyn Museum is full of such Easter eggs. The artist has created cocoons of twisted and tied fibers in which she has buried found objects in a variety of ways. Sometimes, the wrapped entities are entirely visible, like a giant shopping cart, or partially visible like the bicycle tire, chair, wire hangers or plastic hose. Mostly, the objects titillate under so much wrapping that you can only begin to guess what lays buried underneath. Needless to say, my son very much enjoyed the guessing game.
"That's a turkey, and that one is a sword. This is a snake or some work tools. This one must be a giant hen laying an egg." Of course, my son was able to see many different ideas for implausible things hiding underneath the textures. But, even as an adult, your mind does wander through the bundles looking for clues in the negative space and abstractions. With every artist, a viewer looks closely to see what the artist might be trying to say with their work. And with Judith Scott, it is impossible to know for certain, as she didn't have the language to speak for herself.
The late American sculptor, Judith Scott, was born deaf with Down syndrome and institutionalized from age seven until her adult life. In the 1980's, her twin sister became her legal guardian, and enrolled her in the Creative Growth Art Center in Oakland, California where Judith Scott created all of the work on display. On my last visit to Oakland, I had the privilege to visit Creative Growth's bright and spacious studio, that is part-gallery and part-studio for physically and developmentally disabled adults. The workshop provides materials, teachers and a supportive environment for creating art. Scott enrolled in a textile class, that would inspire her brilliant use of yarns, fibers and torn materials.
My son enjoyed the exhibit, and continued talking about it throughout bites of yogurt parfait and Nutella croissant at the museum's restaurant, Saul, on the first floor. Although seemingly more fancy than we were in the mood for, the warm environment, great acoustics and fantastic brunch options made us appreciate the convenience of a top notch restaurant inside the museum on a freezing cold day.
A great companion gallery to this exhibit, would be a visit to Land Gallery in Dumbo. I brought my son in last year, as he was always so enthusiastic about the large scale animal sculptures made of tinfoil that outfit the windows. The League Education & Treatment Center's LAND gallery and studio "is a nonprofit habilitation program for adults with developmental disabilities." It was inspired by Creative Growth and works in much the same way. On the day we visited, we were able to meet many of the artists and hear about their process and see the work. The pieces in the windows are all for sale, and original greeting cards make wonderful presents, and an economical way to support the program.
"Judith Scott: Bound and Unbound," through March 29 at the Brooklyn Museum, 200 Eastern Parkway; Wednesday, Friday-Sunday: 11 am–6 pm, Thursday: 11am–10pm. Suggested Donation: $16 adults; $10 Students with Valid ID; $10 Adults 62 and older; free Ages 19 and under.
Land Gallery, 67 Front St. Brooklyn, NY 11201; 917.670.9322 | 718.855.4274