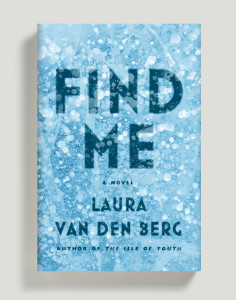 Find Me, by Laura van den Berg (FSG; published 2/17)
This novel from acclaimed short story writer Laura van den Berg is the perfect complement to winter in New York: it's stark, eerie, and reminds us why we choose to keep living amidst a bleak environment. We meet narrator Joy Jones during a snowy season at a hospital where she's being held due to her immunity to a disease that's wiped out a significant portion of the population. Post-apocalyptic and post-pandemic novels seem to be popping up more and more as of late, and while the plot here delivers for those seeking an unsettling, vaguely science-fiction terrain in which to tread, the complex inner world of Jones, paired with her interactions with fellow Hospital residents and the unspooling of her sad, haphazard past, makes this story appeal to fans of literary fiction as well.
Joy's eventual quest to find her mother, a woman who abandoned her at one month old and who is now a celebrated ocean archeologist, moves the second half of the novel along well: she gets lost, gets found by a former foster sibling of sorts, and gets shaken up in a mysterious house—with two residents who may, or may not, have some magic qualities to them—before she reaches her destination. At one point in the narrative, Joy asks, "Is there any greater mystery than the separateness of each person?" As a reader, one feels this separateness so deeply throughout Joy's tandem emotional and geographical journeys. Through her perspective, some boundaries are built out of fear or pain, others are broken down, and at the end of it emerges a story that is riveting, emotional, and resonant. This is a book that's going to be talked about for the rest of 2015–Salon just named Van den Berg "the best young writer in America." So curl up with this title and read it while taking comfort in the fact that a winter in New York isn't that bad.