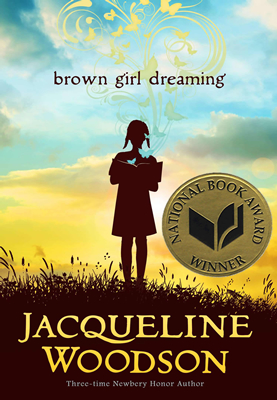 Brown Girl Dreaming by Jacqueline Woodson (Nancy Paulsen Books; published 8/28/14)
"Memory," says Jacqueline Woodson, in the author's note of her memoir, Brown Girl Dreaming, "is strange."
Memories are made of words, but also of photographs, of smells, of music on the radio and stories told and re-told until they change. Woodson, who struggled with reading and writing as a child but always loved words and stories, is a re-teller, a re-reader, a writer who tastes words as if they were smells and turns songs into memories.
How can I explain to anyone that stories are like air to me. I breathe them in and let them out over and over again, she writes.
In Brown Girl Dreaming, Woodson turns the memories back into free-verse poems of her family; her childhood in South Carolina and Brooklyn; the history she saw unfolding; and her evolution as a writer.
Full of lyrical spaces, straightforward human stories from lead poisoning to libraries, humor, sense memory and hope, Brown Girl Dreaming has been an instant hit, collecting so many awards (including a Newbery Honor and the National Book Award) that they won't all fit on the cover. This is a very accomplished author at the height of her powers. (If you haven't read the rest of her work, you're all set for the next few months.)
Published for a middle-school audience, Brown Girl Dreaming is a must read for anyone nine to 90, and would be a fantastic fireside read-aloud.