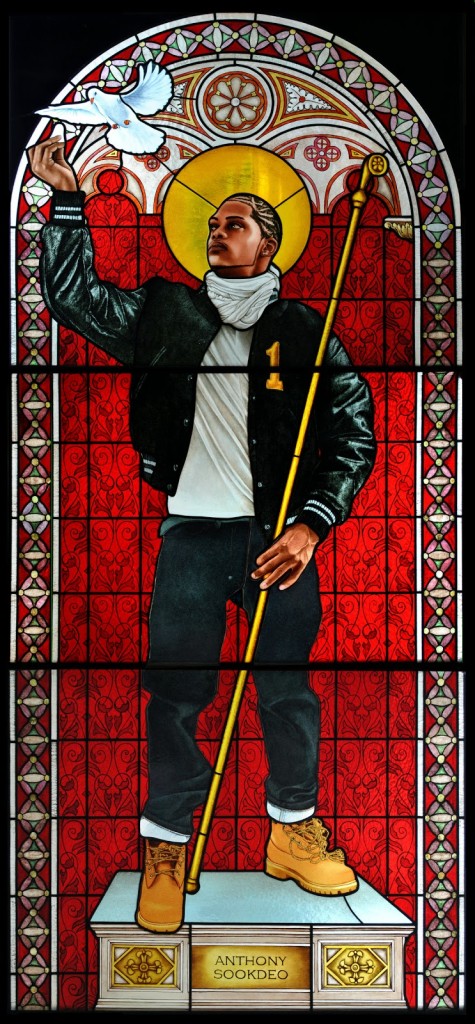 Kehinde Wiley has been known to find inspiration in unexpected places. It was a crumpled piece of paper he picked up off 125th Street while a resident at the Studio Museum in Harlem that piqued his interest in portraiture in the first place. The piece of paper in question was the balled up mugshot of a young black man.
Fourteen years later, Wiley's first retrospective will open tomorrow at the Brooklyn Museum. Kehinde Wiley: A New Republic marks the first museum survey of the 37-year-old portrait artist's extensive works. The exhibition, which includes 60 mixed-medium pieces—portraits, sculpture, stained glass windows and video—will be on view through May 24.
"He's best known as a painter of portraits of young black men," says Eugenie Tsai, curator of contemporary art at Brooklyn Museum. "He's very interested in the black and brown diaspora and has a huge awareness of the world. He's quite observant in plucking from different traditions to create something that's uniquely his own."
Born in Los Angeles and raised by a single mother who encouraged him to explore his interest in art at a young age, Wiley's signature style involves painting realistic portraits of young people of color he meets on the street. Oftentimes his subjects assume the aristocratic stances of classic European portraits he finds in art history books, which he sets off by maximalist backgrounds of bright, floral wallpaper like the type of Rococo designs you'd find in 18th-century French interiors. The opulence is emphasized by ornate, gilded frames he designs himself. While old-world masters are clearly an influence in his work, Wiley is equally as interested in the globalized world in which we live today. Along with his studio in Williamsburg, he keeps studios in several major international cities and has devoted entire series to subjects from places like Brazil, Haiti, Jamaica and India. Race, power and the politics of representation are recurrent themes Wiley explores within his works. He consistently challenges the stereotypes of class and color through juxtaposition.
For his first retrospective, much of the focus has been placed on Wiley's allusions to religious artwork. The rotunda on the fifth floor of Brooklyn Museum, where A New Republic begins, is consumed by a hexagonal column inlaid with six stained glass windows of the kind you'd typically find inside a gothic cathedral. The only difference being that the saints and bishops have been replaced by young black men in street clothes—Timberland boots, denim jeans, hoodies and down vests, eyebrows impeccably arched and fresh-cut fades enveloped in halos of light. Anthony Sookdeo holds a scepter and releases a dove in a stained-glass portrait titled Saint Remi (pictured above; caption info below)—all Wiley's windows are fabricated in Prague.
They are surrounded by a series of bronze busts, weighing about 150 pounds a piece, cast in the 18th-century Western European tradition, with the exception of one called Cameroon Study, as its subject is precariously balancing a sneaker on his head. In between the busts is a wall of Byzantine-style wood panel portraits in which Wiley's young black subjects replicate the poses of saints and princes whose likenesses are illuminated by 22-karat gold-leaf frames (an example of which, Saint Gregory Palamas, is pictured here on the left; caption info below).
The fifth floor's main gallery is devoted entirely to Wiley's most identifiable works—his massive male portraits—and includes a commissioned portrait of Michael Jackson atop a white steed and clad in 17th-century armor. It's a replicated portrait of the King of Pop Wiley painted, based off Peter Paul Rubens' royal portrait of King Philip II of Spain, as part of his equestrian series in 2009. (The most famous of these works, Wiley's interpretation of Jacques-Louis David's Napoleon Crossing the Alps, hangs in the museum's lobby on long-term loan.)
In recent years, Wiley has started working with female subjects, and his retrospective concludes with a collection of portraits of young women of color at the center of which sits a bronze sculpture titled Bound. It is a bust of a black woman produced in triplicate and interconnected by a mass of braids interwoven overhead.
Just off the final gallery is a the smallest room in the exhibition, which Tsai has dubbed "The Little Chapel"–an allusion to the larger, chapel-like space in which the museum houses Wiley's larger paintings from his Passing/Posing series (2003) as part of its permanent collection. It's a windowless antechamber with a red carpet and emerald-painted walls that houses a trio of portraits hand-fabricated in the style of Hans Memling, a 15th-century painter known for his Dutch and Flemish Renaissance works.
"Early on, many of the works he painted were religious paintings," says Tsai of Wiley. "We're wondering if people really will kneel down and pay tribute; it's hard to say."
Photo captions: (Top) Kehinde Wiley (American, b. 1977). Saint Remi, 2014. Stained glass, 96 x 43½ in. (243.8 x 110.5 cm). Courtesy of Galerie Daniel Templon, Paris. © Kehinde Wiley; (Bottom) Kehinde Wiley (American, b. 1977). Saint Gregory Palamas, 2014. 22 karat gold leaf and oil on wood panel frame: 40 x 24 x 2in. (101.6 x 61 x 5.1 cm). Collection of Edward Tyler Nahem, New York. Location: Out of BMA not yet received.