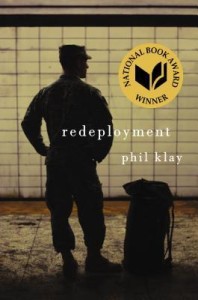 Redeployment by Phil Klay (Penguin Press; published 3/4/14)
Phil Klay may be a Brooklyn author, but Redeployment, his National Book Award-winning debut short-story collection, is far removed from the borough's typical lit fare. Redeployment is the best yet of the nascent Iraq War literature (honorable mentions to Kevin Powers' The Yellow Birds and Ben Fountain's Billy Lynn's Long Halftime Walk). It is a searing collection of stories that strips the emotional lives of the soldiers who fought in Iraq bare. The book is an improvised explosive device to the senses for those of us who have spent most of our lives "at white," to use a military term. In the title story Klay explains: Here's what orange is. You don't see or hear like you used to. Your brain chemistry changes … you just forget, free up brain space to take in everything about the next moment that might keep you alive.
Klay uses the 12 stories in Redeployment to offer a cross-section of the American military's experience in Iraq. There aren't many battle scenes; instead there are veterans coming home to a world they don't recognize, frustrated Foreign Service Officers and chaplains struggling to help soldiers. The cast of Redeployment is coping with their emotions; trying to find a way to process their experience. The short story collection becomes the perfect way to explore a fractured war, without any single unifying moments, and with little comprehension from civilian America.
The paperback edition of Redeployment will be released on Feb. 24, and to celebrate, WORD is holding a launch party.