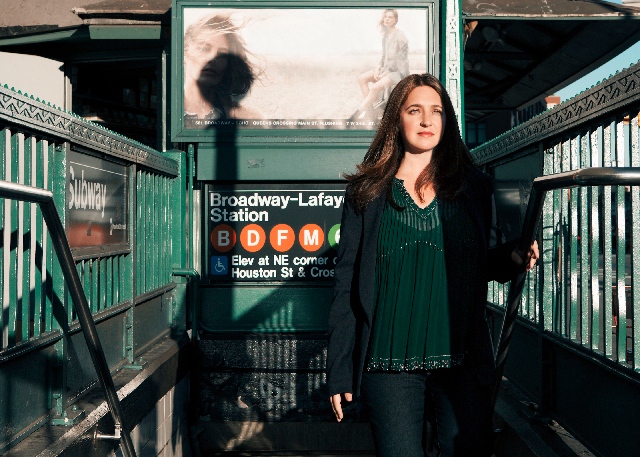 Since her breakthrough with The Goldberg Variations in 2007, pianist Simone Dinnerstein is unquestionably one of the most prolific artists in the classical genre, releasing a new album pretty much every year, including J.S. Bach: Inventions & Sinfonias and Something Almost Being Said: Music of Bach and Schubert; she even branched out into the pop world through her collaboration with Americana artist Tift Merritt on the 2013 album Night.
This year is no different, as the Park Slope resident is putting out her latest work Broadway-Lafayette (released today). The album is a collaboration with the MDR Leipzig Radio Symphony Orchestra under conductor Kristjan Järvi. As hinted by its title, Broadway-Lafayette is a musical celebration of Franco-American relations, going back as far as the American Revolution and the Statue of Liberty. The record features her performances of Maurice Ravel's Piano Concerto in G Major and George Gershwin's immortal Rhapsody in Blue. Historically, both famed composers met each other back in 1928; supposedly Ravel turned Gershwin down for piano lessons and told him: "It is better to write good Gershwin than bad Ravel, which is what would happen if you worked with me." The third whose work, The Circle and the Child: Concerto for Piano and Orchestra, featured on the album is Phillip Lasser, who was born to a French mother and American father; this piece in three movements was specifically written for Dinnerstein.
Whether it's performing solo or with an orchestra, Dinnerstein holds her own with another amazing piano performance that shows her both her virtuosic (the third movement of Ravel's work) and graceful sublime playing (Chorale and Child, the second movement of Lasser's piece). The record finishes on a grandiose peak with Gershwin's Rhapsody in Blue all the way through that piece's memorable final notes.
In between a concert schedule that will take her to such places as Maryland, Turkey and Israel, Dinnerstein will perform the music of Broadway-Lafayette in her neighborhood at Park Slope's P.S. 321 as part of Neighborhood Classics, a series of family-friendly concerts to raise funds for P.S. 321 and P.S. 142 in Manhattan.
Simone Dinnerstein's new album Broadway-Lafayette is due Feb. 24 via Sony Classical. She will perform at P.S. 321, 180 7th Ave., Brooklyn, on March 7, 7 p.m., $15. For information, visit simonedinnerstein.com.