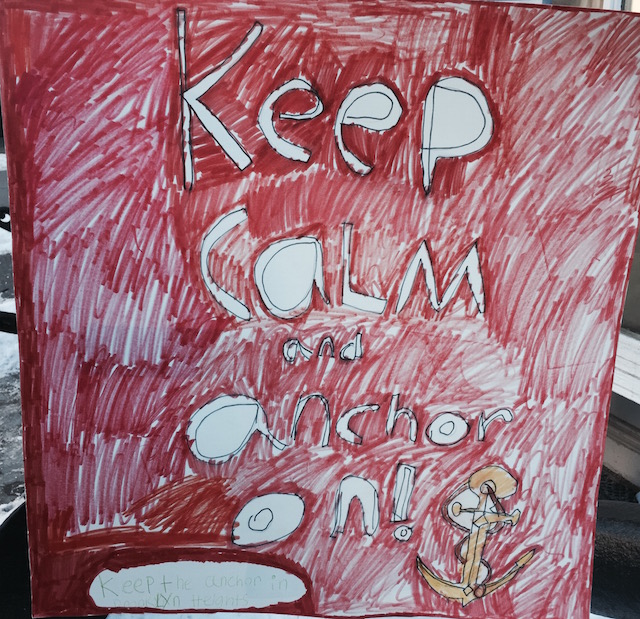 Last month, a fourth-grader at PS 8 named Devan Spiro started a petition and held a rally to protest the displacement of the giant anchor outside the old DWR store on Montague Street. Instead of just ranting about it in private like my son and I did, they took action. The family used the disappointment as an opportunity to get involved, rally together with the community, and send a petition to their councilman to hopefully find a new permanent spot in the neighborhood for the nautical tool, which kids love to climb upon. His story inspired me to think about our kids as citizens of the world, with voices that matter and the chutzpah to make a difference. Luckily in NYC, there are tons of opportunities for kids to effect change in their community, starting at any age. Here are a few ways to get your family involved.
1. Subscribe to Doing Good Together. This monthly newsletter comes right to your inbox full of family volunteering opportunities in New York. The February newsletter included information for Soup Kitchen Volunteering at St. Xavier Mission Food Pantry on 15th Street in Manhattan for families of all ages. Or if your child is musical, you could have signed them up to perform five minutes of music with the elderly at DeWitt Nursing Home on 79th Street. If your family doesn't have time to spare, the newsletter details many ways to just donate things like stuffed animals, blankets or goods each month. Reading this with your kids, and deciding as a family what to participate in each month, is a great way to grow global citizens.
2. Promote Social Justice. If your older kid (ages 9-13) has a lot to say about the world they live in, encourage them to write and report about social justice issues instead of just talking about it. Indykids is a free paper "for kids, by kids" that is nationally distributed. The publications is always looking for stories by young voices. They also offer workshops in Manhattan, where kids can learn to become effective journalists. The next workshop starts March 21st, and costs $100 for three sessions. For more information, contact: workshops@indykids.org
3. Host an Art Playdate. Instead of just recycling the onslaught of drawings that your kids are making while trapped inside this winter, donate them to individuals who need a little cheering up. First invite some friends over, and explain that this is a way that they can use their art to make a difference to someone in need. Then print coloring pages from Color-A-Smile, go crazy and color up a storm, sign the front with your child's name and age (or ask them to), and send all the drawings to the company who will distribute the artwork to nursing homes, hospitals and individuals who need a smile.
4. Walk For a Cause. Although it feels like winter will never end, spring is right around the corner. Use this downtime with your kids to research a cause, raise money, and gear up for a good old fashioned walk-a-thon. Even infants can participate in these fundraisers. There is basically a walk every weekend in New York, but here are a few to get you started.
April 26: Pediatric Cancer Foundation's Give Hope Walk– Kick off spring with a walk through Riverside Park.
May 2: Kids Walk For Kids WIth Cancer– This short 1.5 mile walk is the perfect entree for your young kids who don't have the stamina for long distances.
May 16: Walk to Cure Arthritis– Walk across the Brooklyn Bridge during this 5K stroll.
May 17: NYC AIDS Walk– This 10K walk meanders through Central Park and usually takes about 2.5 hours to complete.
May 31: Cystic Fibrosis Great Strides– This family-oriented 5K walk goes through Foley Square and is complete with children's activities, food and festivities.