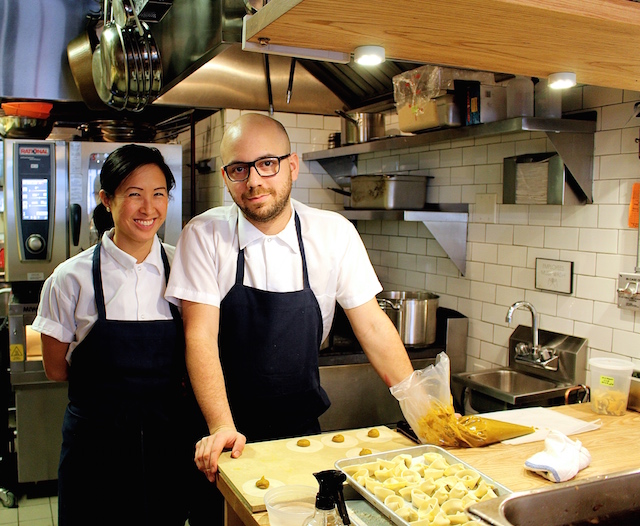 Chef José Ramírez-Ruiz and his girlfriend, pastry chef Pam Yung, were tired of cooking other people's food. After working for years in kitchens such as Brooklyn Fare, Per Se, Isa, Degustation (him), and Roberta's, Tailor, Room 4 Dessert (her), the longtime couple finally decided to give up a steady paycheck to do their own thing.
In 2012, they collaborated on Chez José, a BYOB popup serving creative, evolving, mostly veggie prix fixe dinners. The concept, creativity, and food were all theirs, and it was beloved by local diners and many reviewers. But the space, a by-day breakfast/taco joint in Williamsburg, was tiny—only 4-8 diners a seating. They needed a staff, a prep area, a liquor license and comfy seats.
Then Lake Trout, the Baltimore-style restaurant which served those amazing fried fish sandwiches, was forced to shut down and its owner Joe Carroll suggested José and Pam use the Havemeyer St. spot for Chez José dinners. After several months of success, Joe was interested in solidifying the partnership.
"We had a series of conversations during the fall/winter of 2013 and it just seemed like the right progression," said Ramírez-Ruiz. Late last year he and Yung, with Carroll's help, opened Semilla, which they consider a continuation of the spirit and philosophy behind the now-closed Chez José.
After an extensive renovation, Semilla is now a beautiful, minimalist restaurant that isn't exactly big but is brilliantly designed to maximize space and function. Eighteen diners can sit around a blonde-wood U-shaped table for the daily changing "vegetable-forward" $75 tasting menu, which includes about 10 small inventive, rustic dishes. Past menus have featured burdock arancini with miso sauce and house-dried pepper; beets with fermented ramps, sunflower seeds and hay yogurt. Dessert might be fig leaf ice cream with buckwheat crumbs and a fermented grape granita.
The carefully curated beer and wine list features many lesser-known bottles, like a series of "complete" wines (which are briefly touched by the grape skin), some unusual sherries and top-notch dry ciders. There are two seatings every night, around 6ish and 8ish, and the restaurant smartly staggers the reservations—6:15, 6:30 etc.— so not everyone arrives or eats at once.
In the middle of the horseshoe table, the fantastically knowledgeable and approachable servers, as well as José and Pam from time to time, serve, clear, replace silverware, answer questions and suggest wines in a graceful, seamless dance. (Our server offered us a taste of a wine that had been previously opened, and one from a new bottle of the same wine, to compare the results of its aging.)
Despite their motion and proximity, the dining experience feels quiet and private. The courses are perfectly timed and spaced so that you are rarely eating the same thing as your neighbor, but may peak at what's next. (Otherwise, the menu is a complete mystery; "José never writes anything down!" Pam said when I asked her for one.)
Plus the small kitchen only accommodates a few burners, an oven and one sous chef, so José must rely on skills he likely learned at Chez José —preparing and organizing many small components so each dish is ready to fire at multiple times during the evening.
Our recent dinner was a series of earthy, uniquely textured but unpretentious dishes, like a lentil cracker with creamy parsnip and trout roe; a flakey sandwich made with slaw and buckwheat groats between two dehydrated cabbage leaves; ribbons of cooked beets enveloping morsels of velvety beef in a marrow-rich foam. Perhaps the most delicious event of the meal was Pam's rich blue barley and flaxseed sourdough bread with fresh butter and sour buttermilk. In fact, some diners were there only for this bread, and maybe a couple glasses of wine. It's that good.
It's an impressive and passionate operation—every night is a different menu of creative and complex dishes that are constantly evolving as the chefs tweak, edit and invent. Even the bathroom has a twist—a one-way mirrored window that looks into the efficient kitchen.
Amidst all this hard work, Chef José found some time to chat.
What were you doing between closing Chez José and opening Semilla?
We closed Chez José mainly because we got invited to two different food conferences (Madrid Fusion and Omnivore World tour in Moscow) within a month of each other and the fact that we were in talks with Joe Carroll about opening Semilla. Last year I also travelled to Moscow, Spain (Basque Country, Valencia Madrid, Barcelona and Sevilla) Charleston and Columbia in South Carolina, Copenhagen in Denmark.
Was all this research for the new restaurant?
I think everything that you see, feel and experience eventually affects the way you cook so in a way yes and also to escape last year's brutal winter. All my trips are culinary inspired. Even if they are not they turn into one regardless. Even when I go to back to Puerto Rico to visit my family those trips turn into "Culinary Trips."
I heard you guys built Semilla yourselves.
Building Semilla was a nightmare. I mean I have never done any construction management or kitchen design so imagine all of the sudden being thrown into that position. It's one of those things that you always dream of as a young cook but when you are actually doing it seems more like a nightmare than a dream.
Tell me about Pam's grant project and how you plan to incorporate what she learned into the new restaurant.
Pam won last year's Jean Louie Palladin scholarship, which essentially puts people from the industry in contact with food producers. She went to different grain mills and grain growers in Copenhagen, Sweden, Columbia, South Carolina. At Chez José we had been focusing on trying to use as much local product as possible but now we are inspired to forge stronger relations with growers in the northeast of United States. We are trying to focus on milling whole grains ourselves, at the restaurant, to start with a fresher product.
Why do you center the menu around vegetables?
They are more fun to cook than meat and more sustainable as well. Essentially we eat way too much meat as Americans; I guess it is my way of saying that we don't need to eat protein at every single meal.
Do you think, as Pete Wells suggested in his review of Semilla, that the only way to be creative on NYC menus today is to sneak risky dishes within "the tasting menu so their customers can taste dishes that weren't concocted to please the marketplace"? Is that why you chose the tasting menu format?
I don't think so. I think a perfect example would be Estela. Ignacio [Mattos] is doing some delicious forward-thinking food in a non-tasting menu format. The tasting menu format does allow us to serve dishes that otherwise you couldn't serve in an à la carte format at all. For example our hot beet with fermented ramps sauce—I think that could sell in an à la carte I just don't think I could get away with selling just one single hot beet. I think Thomas Keller said it best on his diminishing return theory [the more you have of something, the less you like it].
How did you create Semilla's unique wine/beer list?
Joe, Pam and I did wine tastings twice a week for two and a half months and we chose the wines that we liked the best and would go with our food. I also went down my Delectable app and picked all my favorite wines, which helped a lot. Once we had the final wine list draft Joe helped us edit it.
Why do you prefer natural wines?
We choose to mainly serve natural wines because it aligns more with our buying practices. We choose to buy produce and meat from smaller local farmers that farm using organic or biodynamic practices. We believe that this philosophy should extend to our wine program as well, thus the reason why we choose to buy wines that are organic/natural from small wine makers.
Can anyone come in for a drink and a bite instead of dinner?
Absolutely! Walk-ins [are welcome] depending on the availability at the bar. Our snacks are pulled from the menu every day and vary in price from $6 to $14 depending on the dish. I just like the idea of the neighbors, my friends or anyone for that matter stopping by for a snack and a drink and not having to commit to the whole meal.
What are you bringing to the neighborhood that Williamsburg doesn't already have?
Man I don't want to sound clichéd but I really think that the Williamsburg/Greenpoint/Bushwick area has pretty much all bases covered! Amazing tasting menu places (Luksus), great pizza (Roberta's), awesome burgers (Diner), meat-centric meals (St. Anselm's), ice cream (Odd Fellows). Even great Puerto Rican food at La Isla Cuchifritos. There are tons of juice bars and a never-ending list of brunch places. And the list goes on and on and on…
Do you think Semilla will be better than Chez José? Why?
Longevity. We have a space now that allows us to be creative and produce the food that we really wanted to serve from the beginning and a team that really believes in what we are all doing. The team aspect and the bones to make it happen is what will help us to continue to move forward in a more sustainable way.