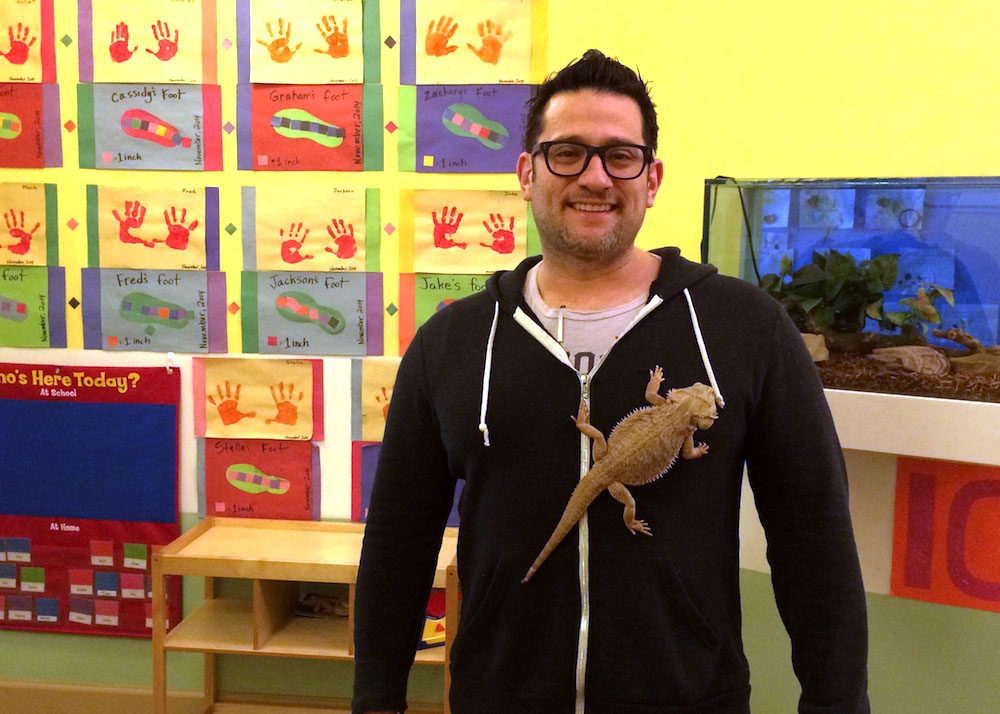 [sponsored_by action_blurb="Sponsored By" name="Brooklyn Preschool of Science" url="http://brooklynpreschoolofscience.com/" logo="http://brooklynbased.com/wp-content/uploads/2015/03/brooklyn-preschool-of-science-carmelo-the-science-fellow.jpg" byline="The Brooklyn Preschool of Science uses curiosity and wonder to provide a foundation for meaningful math, language, and literacy development." attribution_action_blurb="Created By" attribution_name="BlankSlate" attribution_url="http://www.blankslate.com/"][/sponsored_by]
From the moment you step inside, you can tell that the Brooklyn Preschool of Science isn't your typical institute of education. A pterodactyl swoops down from the ceiling and bright blocks of color line the walls just inside the entrance. One classroom is lined with terrariums containing exotic creatures like an Australian bearded dragon and Madagascar hissing cockroaches; in another, green plants grow sideways from a living wall.
The Cobble Hill school is the brainchild of Carmelo Piazza, better known to his pint-sized fans as Carmelo the Science Fellow. Piazza is well known to thousands of Brooklyn children from birthday parties, day camps, after-school programs, and playgroups, and parents marvel at his unique ability to communicate his passion for learning with young audiences. Within seconds, he has the attention of every kid in the room, eliciting belly laughs and gasps of wonder.
Piazza opened the Brooklyn Preschool of Science in 2013, with the aim of using science as a jumping-off point for a dynamic early-education curriculum. To accommodate high demand, a second location will open in Park Slope later this year. Parents can apply now for both schools, which will be accepting children on a first-come, first-served basis.
"Kids are natural scientists. They always ask questions," Piazza explains. "And when somebody takes those questions and answers them, those discoveries lead to other questions."
A lifelong Brooklynite, Piazza has been teaching since 1996. Fresh from college, he was offered the science position at a public school, and very quickly realized the profound impact that the subject has on kids. Soon, he began hosting science-themed birthday parties. "I fell in love with how powerful hands-on, inquiry-based learning truly could be," he says.
The program at the Brooklyn Preschool of Science, designed for children ages two to five, is based on thematic science units that then connect to other subjects ranging from languages to math to art. For example, a unit that begins with students picking out their own pumpkins at a farm in Staten Island leads to everything from making paint prints to measuring the germination rate of seeds.
"Science encompasses every other subject matter," Piazza says. "I've taught 10,000 kids, and I've never seen a kid who didn't love my class. Science is just naturally motivating. If I can instill the love of asking questions now—the who, the where, the what, the why—they will have it with them forever." His staff is a testament to this lifelong affinity: Three teachers at the BPS first met Piazza when they were kindergartners in his class at PS 261.
The program also includes time with a specialist every day of the week, whose diverse areas of expertise include subjects like music, Spanish, dance and yoga. "I want to create a renaissance kid. I love the sciences, but you still gotta give them the exposure of every other subject," Piazza explains.
The school's current location can accommodate around 70 students, and the new branch in Park Slope has space for about 100. The larger space will include multiple outdoor areas with garden walls and dinosaur footprints made out of grass. Piazza offers parents of prospective students individual tours of the school, and admission is first-come, first-served.
Surprisingly, Piazza was not a fan of science when he was growing up. "I never had a science teacher that made me like science. It was just, read chapter five and then answer the questions at the end of chapter five. And that was it," he recalls.
He believes that instilling an early love of science is vitally important for the future. "If you don't have a love of science, all of the innovations that are happening within the next 20, 30 years are not going to be happening here in America. It's frightening. And I'm trying to stop that and say, 'No, science is important.'"
Check out the following websites to learn more about Carmelo the Science Fellow and the Brooklyn Preschool of Science. Apply now to enroll your child for the 2015-2016 school year.