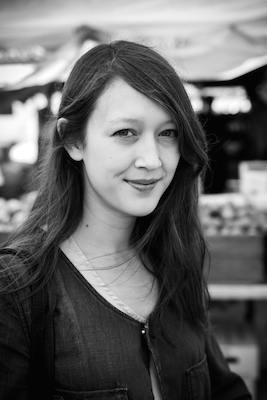 You might be familiar with Taiwan's most popular food export, bubble tea. To get better acquainted with the East Asian island's foodways, Cathy Erway's new cookbook, The Food of Taiwan: Recipes from the Beautiful Island, presents a more in-depth look at the cuisine and culture of her mother's home country. The Food of Taiwan covers both homestyle and popular street foods like stinky tofu and tea eggs, and gives special attention to the sweet and tangy sauces and condiments that add to the cuisine's depth. Erway weaves essays about the people, history, agriculture, tea, and even her experience studying abroad during the political protests of 2004 throughout the cookbook, one of the first to exclusively feature Taiwanese cuisine. Alongside the 100-plus recipes, Pete Lee's photography of the countryside, bustling night markets, food carts, and the dishes themselves gives the book a documentary quality.
In advance of two parties celebrating her cookbook's launch this week, we asked Cathy some questions about the book and the process of writing it.
BB: Your first book, The Art of Eating In, was a chronicle of the two years you spent not eating out in restaurants while living in Brooklyn as a young 20-something. How was the shift from memoir writing to cookbook authorship?  
CE: It was really different! The production of so many photos and recipes meant that I felt like a producer of some project with many moving parts in addition to a writer. But I love the narrative aspects of this project, too and put a lot of emphasis on it.
You have an extensive background as a home cook, supper club chef, and long-time food blogger, but this is the first time you've gone in-depth into recipe development. What was your process like to develop and test recipes? 
I more or less "develop" recipes on my blog, Not Eating Out in New York, but cookbook recipes should demand more care and attention, since you can't just edit them in WordPress. I also wanted to get the right mix of courses, so I threw a number of dinner parties with friends to test out dozens of recipes I was thinking of including in the book.
What, to you, defines Taiwanese cooking?
It's a little bit of this and that—and it's absolutely delicious. I think the many groups who make up Taiwan have together forged a colorful national cuisine with influences from around East Asia. Some distinctions of note might be its use of fried shallots, Thai basil, fresh chilies, and cooking with rice wine.
Alongside the beautiful food photography are shots of the people and sights of Taiwan, which makes it almost part travel book. What were your travel experiences there like? 
Thanks! I really wanted to capture the island and let audiences get a sense of it as well as its food, because it's so underexposed to many Americans. Traveling was also just lots of fun, and the people of Taiwan are so incredibly friendly and hospitable. They helped me explore the food of Taiwan for this book immensely.
Where would you recommend a food traveler go to eat well in Taiwan?
Most cities in Taiwan have their night market street foods and regional specialties. But trying a bigger city, like Taipei, will let you explore a whole range of high-end to low-brow dining traditions. Just going to the food court at Taipei 101 will give you a sense of how various Taiwanese food is and how much they take pride in it.
What are your favorite recipes in the book, or the ones that seem most distinctive to you?  
I gravitate towards spicy and salty flavors, so Beef Noodle Soup and Three Cup Chicken are among my favorites. That San-Bei flavor profile is also found in the Basil Clams and Three Cup Squid which I find irresistible, too.
Click here for information on the launch party for The Food of Taiwan on Wednesday, March 25, which is free and open to the public. PowerHouse Arena is also hosting a triple book party and panel, Cooking your Culture, on Tuesday, March 31, which features Cathy Erway, Leah Koenig (Modern Jewish Cooking), and Louisa Shafia (The New Persian Kitchen) 
Portrait of Cathy Erway: Pete Lee