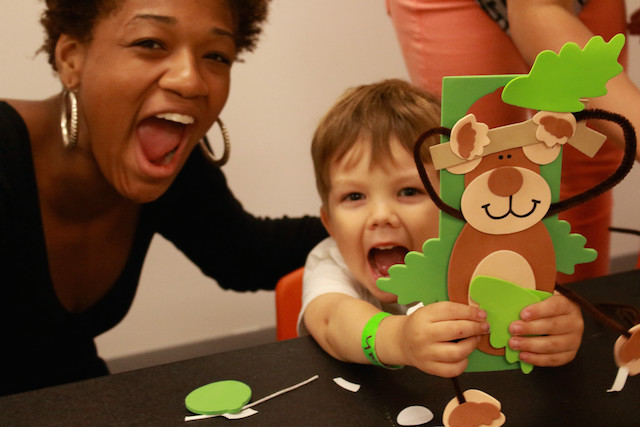 Every weekend I lament the fact that we don't have a consistent weekend date night sitter. When we do hire a sitter, it's always for major events like weddings or birthday dinners. My husband and I never just get a casual dinner out on the town without children. So, that's why I was thrilled to try out Project Playdate's Pajama Party. This three-hour drop-off party happens every weekend at a different location around the city, and gives enough time for parents to truly have a leisurely night out. The best part? It costs the same as a babysitter: $20/ hour. Plus, the proceeds from the events go to donating supplies to family shelters in New York, so this is another way you can make a difference with your kids.
I signed my 5-year-old son up for the Friday night event at Park Slope Kidville (808 Union St.). The events are geared to kids between 2 and 7 years old, and at drop off my son seemed one of the oldest, with the sweet spot being between three and five. It was 6:30pm on the dot, and my son already seemed a little tired, so I was worried that a three hour party might send him into hysteria (especially since his usual bedtime is 8pm.) But I was willing to take that chance for the opportunity to eat an adult-only meal at Pork Slope, "a roadhouse-inspired" restaurant around the corner on 5th Avenue. We hung up his jacket, took off his shoes, and signed in with Amanda Raposo, the founder of Project Playdate, who immediately made me and my son feel at ease. In the blink of an eye, he ran into a padded gym room where about ten kids were already leaping and rolling on every surface. I peeked in to say goodbye and the babysitters–there was a 1:4 sitter/child ratio–were already swarming around the kids, making sure everyone was safe and having a good time.
By 6:40pm, I was sitting at the bar of Pork Slope, learning about hops from the informative and passionate bartender. My husband arrived and we ordered a delicious dinner (a porky melt for my husband, and a filet o' fish for me) and didn't think of children for the next three hours.
Meanwhile, at the pajama party, after 45 minutes of free time, the kids all sat down for a whole wheat pizza dinner in a spacious party room. My son was excited because they had juice. The sitters are aware of any dietary restrictions and allergies, and you can even send your own meal if you prefer. Then there is a bathroom break, where all kids use the restroom and diapers are checked, before the dance portion of the evening. Music, a light show and a game of freeze dance makes it an actual party, and helps get out all the excitement before arts and crafts. This night, kids created their own picture frames layered with copious amounts of stickers, followed by storytime and dessert (munchkins donuts). This sugar high definitely helped my son push through the last stretch. At 8:45pm, when my husband and I were splitting one last beer, my son was just sitting down to watch the movie "The Nut Job" (starring the voice of Will Arnett) on a projected big screen. Kids can bring a small blanket to cuddle with, and with the lights dimmed and voices hushed, a few will even fall asleep.
At 9:30pm, we arrived back to Kidville for pick up, and saw our angel lounging quietly in the dark with all the other kids, transfixed by the movie. When Amanda called my son's name, he leaped up and ran over to us, yelling gleefully "I'm never going to sleep!" Amanda thanked my son for coming and gave him a goodie bag that included his craft and a few trinkets. We hopped into a cab by 9:32pm, and my son quickly started losing steam. His eyelids fluttered shut, and finally he was asleep: dreaming about his parents' next date night.
Project Playdate: $60 for a three-hour pajama party playdate. First-time guests can request a trial before registering by emailing assistant@projectplaydate.org. Upcoming locations include parties at Kidville Union Square, Citibabes Soho and City Treehouse in Chelsea–check the calendar for the times and addresses. (Additionally, you can book summertime daytime playdate outings, private kid's tours, wedding or event childcare through the company.)  
Pork Slope, 247 5th Avenue, Park Slope. Hours:  Monday through Friday, 5pm–4am, Saturday & Sunday, 11am–4am