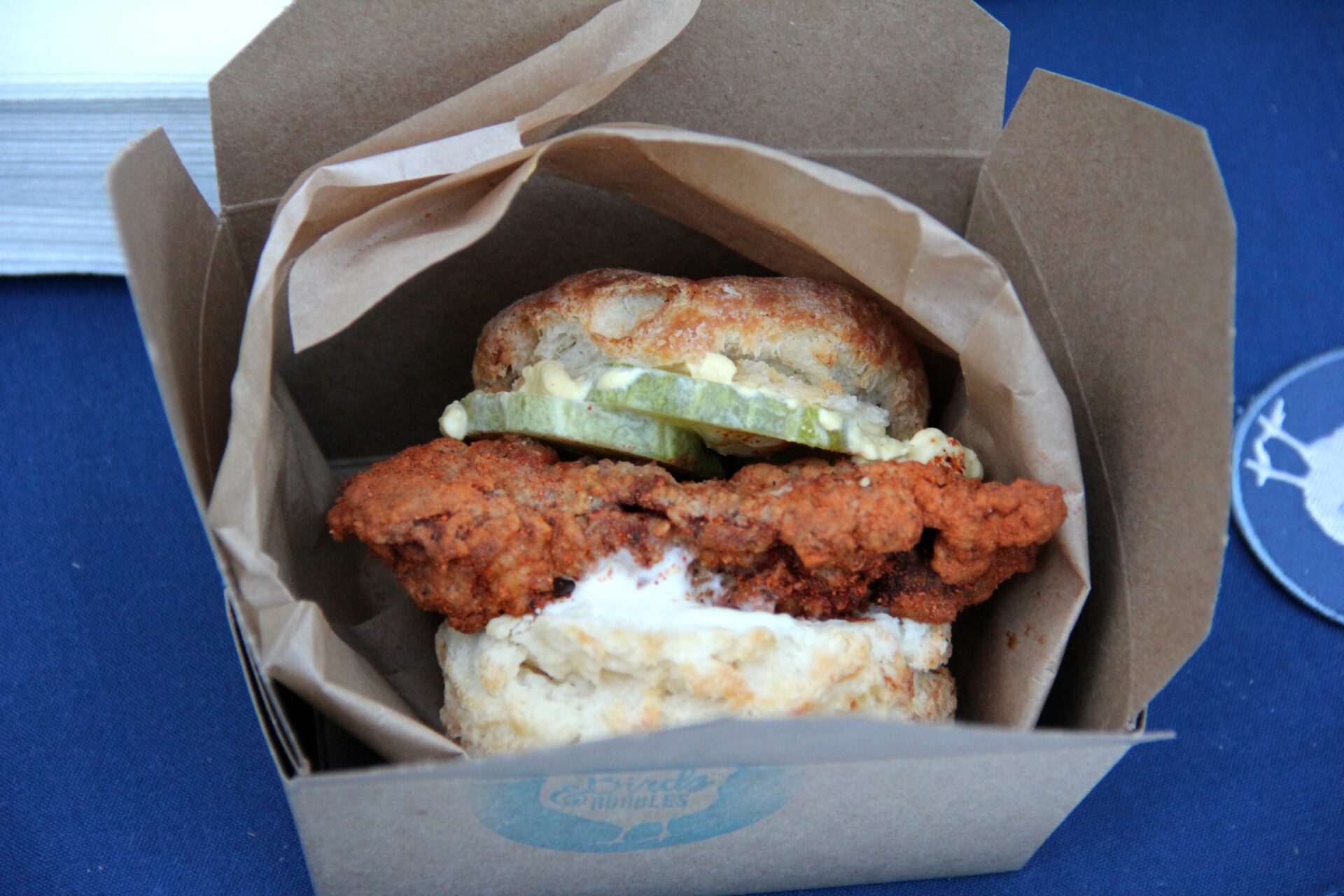 The edible extravaganza now known as Smorgasburg began back in 2008 as a few modest food stands at a budding hipster antiques fair called the Brooklyn Flea. Today, it's not only the borough's most psychotically crowded twice-weekly gorgefest, but also a global arbiter of taste that has given the world everything from the amazingly tasty Mighty Quinn's BBQ to the amazingly ridiculous ramen burger. Smorgasburg now has spinoff food markets at a whole slew of NYC events, as well as imitation-is-the-best-form-of-flattery clones popping up everywhere from Queens to Pittsburgh. A restaurant owner I recently met, literally on the other side of the earth (in Manila, the Philippines) told me she goes to Smorg once a year to see what's up and coming in the food world.
So if you're an aspiring food artisan and think you're gonna get one of the few open spots at this year's edition, you better be bringing your A-game. Flea/Smorg Co-founder Eric Demby says they get up to four or five new applications every day, all year long–roughly 1,000 total–from new people hoping to hawk their grub, and only 19 new spots were awarded this year. The Smorg crew solves such a delightful problem by choosing a different aspiring vendor to come in and cook lunch for them every day from November through March (holy sweet business plan!). The rules: everything has to be freshly made, a good backstory is a bonus, and they won't add any foodstuffs that already appear at the event.
"If you're the best BBQ guy out there, it doesn't matter," says Demby. "We're only looking for new things that our vendors aren't already offering." And so 1,000 would-be grilled cheese gurus' dreams were dashed.
But enough about the process: let's talk about what we'll be stuffing our bespectacled Brooklyn faces with this spring. Smorgaburg returns to its outdoor locations this coming weekend, at East River State Park in Williamsburg on Saturday, April 4 and at Pier 5 in Brooklyn Bridge Park Sunday, April 5. The crew was nice enough to give us a pre-opening taste of those new applicants who made the cut, and here are the five I enjoyed the most.
1. Curd's the Word: Beer-Battered Fried Cheese Curds
Debbie Kaye, whose husband runs Smorgasburg vet Takumi Taco, grew up outside Chicago, which makes her fully qualified to identify one particularly egregious gaping hole in New York's fried food scene: cheese curds. This being Brooklyn, Kaye's versions of the Midwest bar-food staple are decidedly local, made from fresh New York State curds, bathed in Brooklyn Brewery beer. Also, did I mention this is FRIED CHEESE?
2. Best Buds Burritos
Every single person who moves here from LA or the Bay Area likes to moan about how NYC just doesn't know how to make a good fish taco, but these two buds (brothers, actually) pointed out we're missing a much more essential Cali creation: the San Diego-style burrito, which comes with French fries wrapped up inside. Best Buds' version also includes grilled-on-site carne asada, fresh guacamole, crema, cheddar cheese and your choice of a red or green salsa fresca. It might sound over-the-top, but honestly, it's not even that heavy. Delicious meat, crispy french fries, and spicy salsa all wrapped up in a tortilla. What's not to love?
3. Antica Pesa: Frittata di Pasta
Speaking of over the top, it's time to meet the most literal aspirant to the title of this year's ramen burger. Antica Pesa is a sleek Italian restaurant that IMO feels a little too fancy for Williasmburg, but their new Smorg stand fits right in. Their frittata di pasta plays on an old Italian classic–using up leftover spaghetti by mixing it with a little egg and oil, then frying that pasta up like a pie. The Antica team adapted this age-old dish for the street food era by breading the whole thing and forming it into a burger shape, so it's essentially a handheld pasta dish, with spaghetti and lamb ragu inside. I thought this one was going to win gimmick of the year at first, but then I bit in, and it's actually a greasy, savory delight.
4. Duck Season: Whole-Leg Duck Confit
Demby calls this one "most likely to be a thing" at this year's smorg, so if you see a horde of skinny jean-ers walking down Wyeth Ave while chomping on whole legs of fowl like they just ran out of a Ren Faire, now you know why. All joking aside, Duck Season's confit is a crispy-fried wonder, and it's also available on a sandwich with pickled condiments if you're bone-averse. Their duck fat-fried new potatoes bring it home too.
5. Birds & Bubbles: Nashville Hot Chicken Biscuit
I keep saying I'm ready for the fried-chicken-everywhere trend to be over, but I'm pretty sure I still haven't passed up fried chicken on a menu one time yet, so it's clear I'm not that ready. Birds & Bubbles, who opened their chicken and champagne joint on the LES last year, know how to do this thing right. While their crunchy chicken has all the chili-spiked goodness of Nashville-style bird, it's actually not all that hot, so don't expect the soul-searing burn you'll find when ordering the extra-hot version at Peaches Hothouse. But it is paired perfectly with a fluffy biscuit, crisp dill pickles, a lemon aioli and deviled egg spread. This one is everything you love about New Brooklyn cooking in one neat little box.
Alright, I think I gained 10 pounds just writing that. Um…I'm sure they have a new salad or something too? Enjoy!