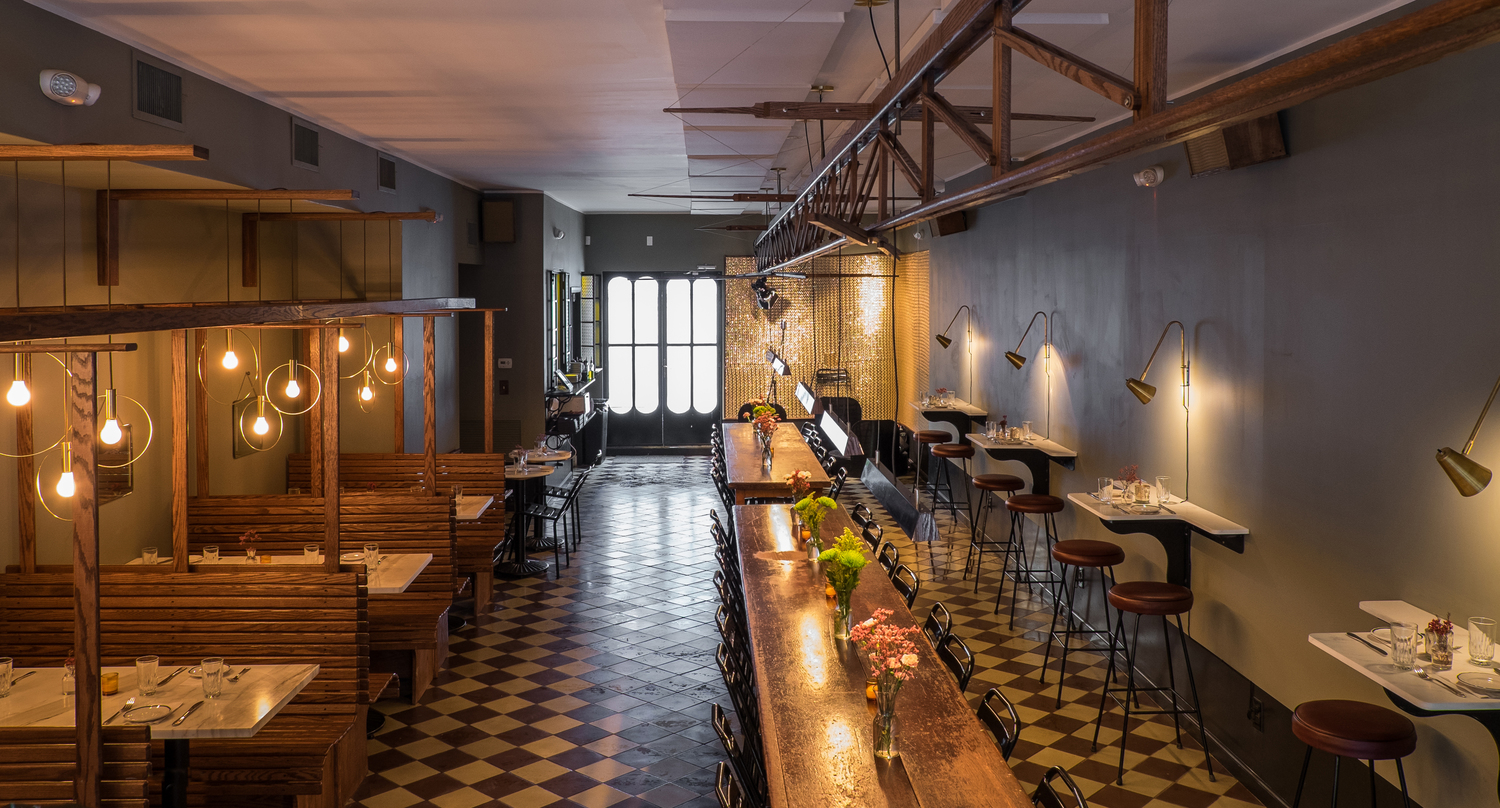 A jazz band plays a swing-y version of Beyonce's "Crazy in Love" as I walk into Le Fanfare, a new-ish neighborhood restaurant on the northern end of Manhattan Avenue in Greenpoint. It's an appropriate mood-setter for an eatery that serves serious food in a seriously beautiful setting, yet manages not to take itself all too seriously. Le Fanfare is a collaboration between Italian jazz musician Luca Fadda, his wife Giorgia, and their friend Nicola Paganelli, whose family owns a winery in Sardinia (spoiler alert: authentic Italian food ahead).
The trio also own Epistrophy Cafe over in Nolita, but it's clear that this new space is a labor of love. Fadda put together a house band, and there's always live music on the weekends, while Milan-based artist/architect Giuseppe Amato designed the interior, which manages to feel very of-the-moment Brooklyn-y, while also not quite like anywhere else around. The best seats are at the marble tabletops in the slat-wood booths, with midcentury modern brass hoops framing the hanging lightbulbs above. There are also two long communal tables ideally situated to view the live music, which takes place on a cantilevered stage so that it can be positioned on either side of the dining room on any given night.
Chef Adam Ross' classic Italian menu focuses on making as much as possible in-house, from the pastas to the bread and the cheese, while they work with produce and meat from nearby farms. The name of the game here is just good, simple Italian cooking–they're not trying to wow with crazy combinations or outrageous flavors. A burrata and beets dish comes with no dressing at all, but the cheese is so creamy and fresh that it doesn't matter. A hangar steak ordered medium-rare is served aggressively rare (not a hint of medium here) but it turns out they were right–it's perfectly cooked–moist and pink inside, nicely charred around the edges, served with crispy fingerling potatoes and sweet cipollinis that mingle well with the steak. There's also market-fresh fish and a grilled pork loin, plus an array of very tasty fresh-made pasta options like pappardelle with shredded duck, oyster mushrooms and grana padano cheese.
From the top of dinner, starting with the spongey homemade focaccia and a rich white bean dip, to the bottom, which we ended with a delightfully savory panna cotta of the day with basil and blood orange, nothing here is designed to blow your socks off. Just perfect ingredients left alone. It is, however, all delicious.
Le Fanfare recently added weekend brunch, with egg dishes, pastas and sandwiches accompanied by lemon-ricotta pancakes and French toast with pear and homemade Nutella. There's a short, all-Italian wine list with some rare finds, plus classic cocktails. They also deliver within Greenpoint and some of Long Island City. The prices are perhaps a little Nolita-fied for this neighborhood ($13 – $16 for a not-quite-entree-sized pasta, $19 to $23 for a main), but the food is good enough to justify it, and Sunday supper ($20 for a special three-course menu and live jazz) is a particularly sweet deal.
1103 Manhattan Avenue (Between Dupont and Clay); 347-987-4244; lefanfare.com