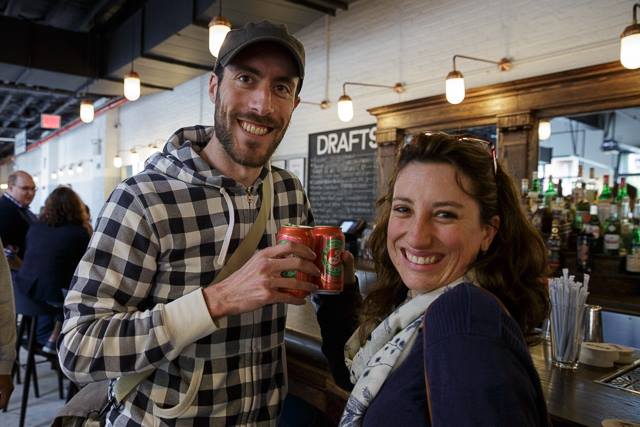 On Saturday, May 16, Brooklyn Based and Brooklyn Brewery are headed to Crown Heights for the first Immersion of the year. If you've never been on one of our daylong food, drinking, and shopping crawls, here's how they work—for a mere $25 you get a wad of "walking around money" that entitles you to four of Brooklyn's best beers at four different bars, your choice of two lunches, and sweet deals around the neighborhood.
Tickets are sold out, so these details are for ticket holders only. You can always join us without a ticket though–all the bars will be open and we're happy to give you a pack of deals so long as they last–we have extras. And be sure to get tickets to our Total Gowanus Immersion on June 6 before they disappear, too!
Here is a map of all the stops we'll be making. The "official stops" where you'll be consuming the beers and food you've paid for are in red, and the deal stops are in orange.
This year, the fun begins at Berg'n, where you can pick up your Immersion cash between 1 and 3pm, then get a Green Market Wheat beer and, if you've ordered it, a slow smoked, pulled pork with pommes frites from Mighty Quinn's Barbecue. From there, you can choose your own adventure, hitting up Covenhoven for your choice of BLAST!, a double IPA, or Sorachi Ace, a saison-style ale; Butter & Scotch for a Chocolate Stout (with the option of upgrading to a beer float for $3!) and Catfish for Summer Ale. If you ordered lunch at Ital Kitchen, one of our favorite Caribbean food joints in Crown Heights, note that it's right near Butter & Scotch, so you may want to go there first to order your choice of veggie jerk chicken, Brooklyn chow mein, any stew or veggie jerk wrap.
The deals we've wrangled include 20% off any purchase of $20 or more Owl & Thistle General Store, a free coffee or tea when you purchase any baked goodie from Cafe Forte; 20% off jewelry at Calabar Imports, 20% off any purchase at Reclaimed Home and 20% off any non-sale items at Lady J Jewelry; 30% off a Five Element acupuncture session at Mountain (which you'll probably want to save for later, and you can, till August of this year) plus 25% off a selection of drinks the day of the Immersion; $4 Brooklyn beers at 706 Bar and at Two Saints; $3 off an iced latte at Breukelen Coffee House; and 20% off any ice cream treat at Tinto.
We'll be sending some photo safari clues and inspiration throughout the day for fun and prizes, too, so be sure to follow @brooklynbrewery and @brooklynbased on Twitter for hints. On Monday following the the Immersion we'll select the coolest pics tagged with #Immersion to win prizes like Brokelyn's Brooklyn Cocktail Book, a $25 gift cert at Hullabaloo Books, Brooklyn Based totes, Brooklyn Brewery goodies, and 10% off your first service at Deck Salon.