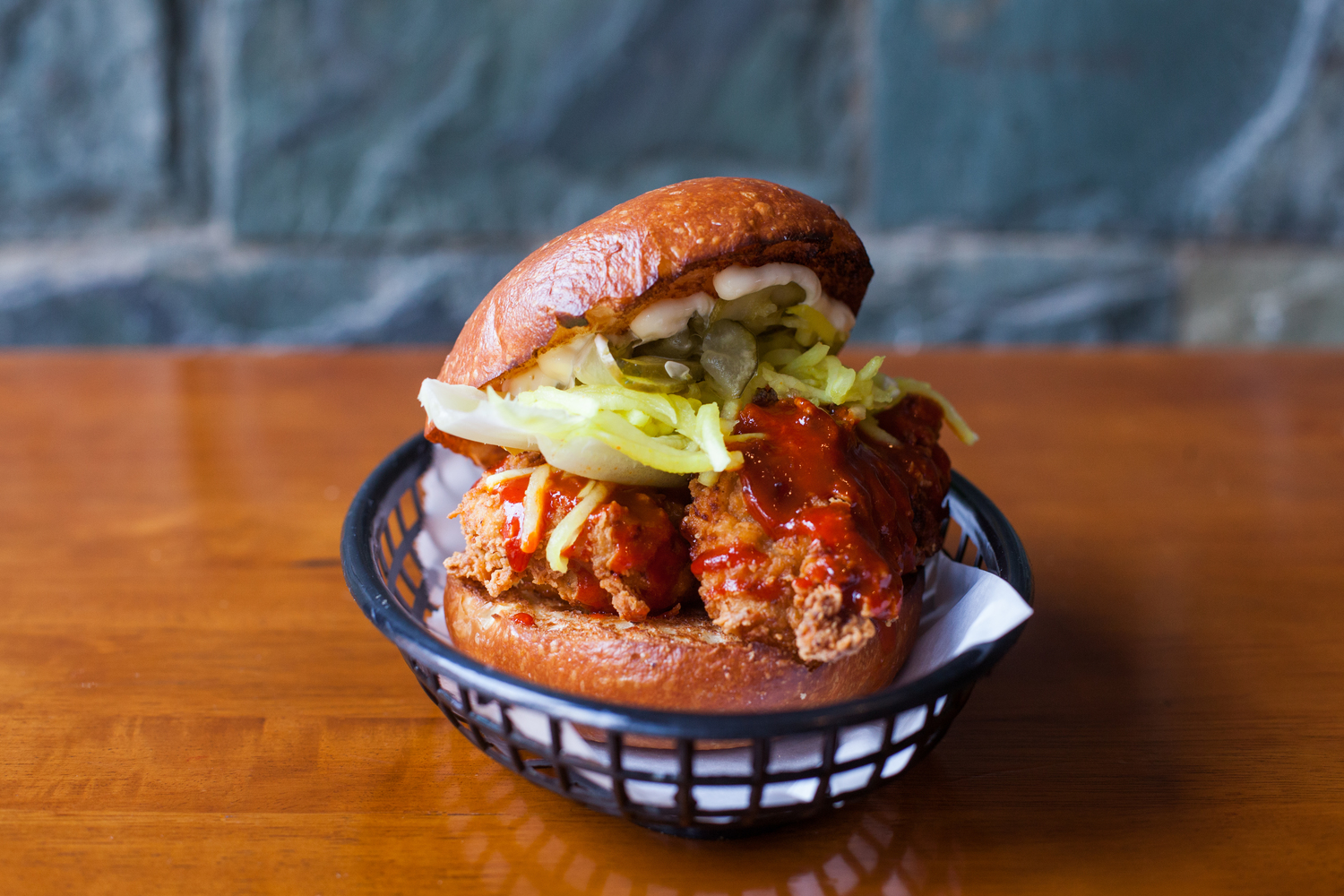 Once upon a time, chicken sandwiches were the boring afterthought on any lunch menu–a dry, breast-meat option for those rare times you decided to be healthy and skip the burger–maybe even subbing in salad for a side of fries. Well, not so much anymore. Today's chicken sandwiches, whether buttermilk fried, Korean-style, or doused in hot sauce, are often the most popular item going, and there are so many excellent options that it was quite a difficult task indeed to narrow this list down to our top favorites in the borough. The Brooklyn Based tasting team took on that onerous task though, and we can now present Brooklyn's 10 best chicken sandwiches. Just don't eat them all in one week. Or really all in one year. Your heart doctor will thank you.
1. Bergen Dean Sandwich Shop
This small spot near Barclays Center is one of the borough's less-heralded sandwich shops, but they sure know how to do up a bird. Their Israeli-style chicken schnitzel is supremely crispy breast meat  topped with roasted fennel, arugula and relish, and served on a ciabatta lathered with pesto.
64 6th Avenue (between Bergen and Dean; 347.463.9191; bergendean.com
---
2. Peaches Hot House
Known for their crazy-crazy-crazy hot Nashville-style fried chicken, Peaches HotHouse also gets serious audacity point for serving the "Booker T" a cheeseburger topped by a slab of spicy fried chicken. No word on what the noted civil rights icon did to inspire such a gut-busting namesake, but we have to thank him for it. (Photo: Amber B. / Yelp)
415 Tompkins Avenue (at Hancock); 718.483.9111; bcrestaurantgroup.com/hothouse
---
3. Birds & Bubbles at Smorgasburg
For Nashville-style chicken with just a little less heat, head to this newcomer's stand at Smorgasburg. Their crunchy chicken all has the chili flavor without a too-insane amount of heat, plus a fluffy biscuit, crisp dill pickles, lemon aioli and deviled egg spread.
East River State Park in Williamsburg on Saturdays, Pier 5 in Brooklyn Bridge Park Sundays; smorgasburg.com
---
4. Meat Hook Sandwich
Another super-spicy one, Meat Hook's take on hot chicken consists of thigh meat that gets its first hint of heat from a hot sauce brine, then comes slathered in more tangy hot sauce, with slaw and sweet pickled celery to balance.
495 Lorimer Street (near Powers); 718.302.4665; the-meathook.com/sandwich-shop
---
5. Red Star Sandwich Shop
Korean cooks know that the only thing better than fried chicken is twice-fried chicken, presented in its full crispy wonder at this Cobble Hill sandwichery, where it's topped with spicy gochujang sauce, pickled daikon, dill, lettuce and mayo.
176 Smith Street (near Warren); 718.935.1999; redstarbk.com
---
6. Superfine
It's the rare grilled chicken sandwich that can hold its own in this golden era of fried bird, but if there's any one that does it, it's the offering at Dumbo's Superfine. Moist chicken meat is slathered in a very tasty, creamy aioli and topped with pancetta and arugula.
126 Front Street (near Pearl); 718.243.9005; superfine.nyc
---
7. Pies 'n' Thighs
The chicken biscuit at this southern eatery in Southside Williamburg is one big hot mess, the chicken breast layered in sticky hot sauce and honey and overflowing it delicious, diminutive biscuit. It's also one tasty hot delight. Bonus: Get P+T's recipe for this madcap creation via Bon Appetit. (Photo: Mike C. / Yelp)
166 S. 4th Street (Driggs Avenue); 347.529.6090; piesnthighs.com
---
8. Fritzl's Lunch Box
This charming little Bushwichk spot already did a solid standard fried chicken sandwich, but they recently upped their game with this delightfully gooey chicken parm sandwich–a cheesy, melty mess served only at lunchtime.
173 Irving Avenue (near Stockholm Street); 929.210.9531; fritzlslunchbox.com
---
9. Endless Summer Sandwich Shop
Williamsburg's Endless Summer taco truck branched out with Endless Summer Sandwich in Bed-Stuy late last year, and these folks definitely know how to do more than just tortilla-based meals. The thick and juicy chicken sandwich is almost comically too big for the Martin's potato roll it's served on, but with breaded chicken this good, you barely need actual bread. The red cabbage slaw, pickles and creamy remoulade sauce round it out.
525 Dekalb Avenue (near Bedford); 917.947.8787; endlesssummerbrooklyn.com
---
10. Montana's Trail House
I appreciate that this substantial slab of chicken is matched by a biscuit that's just as sturdy, so that you can actually pick this one up and eat it–after slathering it in apple jam, honey butter, and housemade hot sauce of course. 
455 Troutman Street (at Scott Avenue); 917.966.1666; montanastrailhouse.com
Alright…what did we miss?