We're always keeping an eye out for new films, music, performances and openings we think are worth knowing about in advance. This month that includes a pair of documentaries about two of pop culture's most independent spirits; two chances to laugh with NPR humorist David Sedaris; and a memoir from one of America's most controversial photographers—no we're not talking about Terry Richardson. Here is our Culture Top 10 for the month.

10. Albert Maysles, who passed away in March at the age of 88, was a legend in the field of documentary filmmaking—having brought us both Grey Gardens and Gimme Shelter—so it seems only fitting that he should be the one to capture the story of 93-year-old style icon (and a living legend in her own right) Iris Apfel for his final documentary. Even if you don't know Apfel by name, you probably recognize her by her eyeglasses—or possibly her recent Kate Spade campaign. Either way, there's a lot more to her story than an inherent love of accessories, which you can see first-hand in the new documentary IRIS. Right now, you can watch the doc at Film Forum, where Apfel herself will be participating in a Q&A on May 1, and at Lincoln Center.
---
9. Last week I went with a friend and his ex-boyfriend, both of whom have lived in New York since the early '80s, seen it all and lived to tell about it, to watch John Cameron Mitchell take one last turn in Hedwig and the Angry Inch, for which it was just announced he'll win a special Tony Award. Before Mitchell, in all his backcombed, bouffant glory took to the stage, our conversation turned to the new Whitney Museum, which opens tomorrow in the Meatpacking District. While both gentlemen felt it looked like some weird futuristic spacecraft hovering above the West Side Highway whose imminent takeoff could be witnessed best from the end of the High Line–and architecturally, I have to agree–we were still interested in seeing its inaugural exhibition, America is Hard to See, which features some 600 works by 400 artists in the museum's permanent collection. We have time to wait until the droves of people sure to descend on Gansevoort Street in the coming weeks has abated, though, and so do you, since the show is open through September. Photo: Whitney Museum of American Art
---
8. When photographer Sally Mann burst onto the scene in the early '90s, her work was met with equal parts excitement and appall, with most of the latter being aimed at a series of photos called Immediate Family, her third collection of work featuring her three prepubescent children frolicking at their family homestead in Virginia. Mann had captured her brood in the idyllic throws of childhood, half of which was spent in the nude. Needless to say the lack of clothing and ages of her kids (6, 4 and one) was enough to send both the art world, and everyone else, into a tizzy for two entirely different reasons. Mann recounts what it was like to live in the eye of that hurricane, as well as the many other facets of her life and career, which includes being named "America's Best Photographer" by TIME magazine in 2001, in her new memoir, Hold Still: A Memoir With Photographs, out May 12, an excerpt of which you can read here from The New York Times Magazine.
---
7. David Sedaris brings a lot of humor to everything he does, so it's safe to assume his two-evening engagement at BAM's Howard Gilman Opera House on May 12 and 13 will be a barrel of laughs. The NPR humorist will be on hand to celebrate the paperback release of his most recent essay collection, Let's Explore Diabetes with Owls, and will surely be serving up a heavy dose of social satire and acerbic wit when he takes the stage for a conversation, Q&A, book signing and presentation of some new material. Photo: BAM
---
6. After a long hiatus, actress Anne Hathaway has bounced back from the onslaught of criticism that came her way a couple years ago courtesy of online trolls fittingly dubbed "Hathahaters" by appearing to take a page out of the book of another polarizing pop culture figure, Taylor Swift. She's shaken off the flack and gotten back to work by joining the Air Force in the Julie Taymor-directed new one-woman play, Grounded, playing at The Public Theater through May 24. Hathaway's believable turn as a bomber pilot serving in Iraq and Afghanistan has earned her positive reviews, including a New York Times' Critics Pick, and helped put a lid on all the Hathahate, at least for now.
---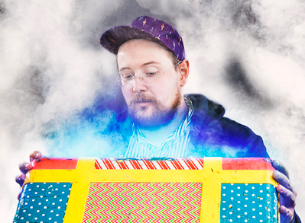 5. There is a very small window between the time the final picks from our spring music round up take the stage and the time the city's summer music series kick off their weeks of outdoor concerts. If you're at a loss for how to get your indie-music fix in the interim, consider checking out Dan Deacon's show at Warsaw in Greenpoint on May 22. Last time I was at Warsaw it was to scarf down a plate of pierogies and watch Courtney Love perform. The difference between that and Deacon's upcoming show should presumably be less spandex and sequins and more synthesizers. Aside from being known as possibly the hardest working man in showbiz (R.I.P. James Brown) Deacon, a Baltimore native, is known for creating quite the electro-acoustic sound and inciting serious dance parties wherever he chooses to unpack his suitcases worth of electric pedals. Photo: Ticketweb
---


4. One of the many perks of the weather finally warming up is the fact that it expands the list of possible places where cultural performances, events and exhibitions can take place to include the great outdoors. Personally, I am counting down the days until May 16 so I can make my way to The New York Botanical Garden for the opening of Frida Kahlo: Art, Garden, Life. While most of us are acquainted with Kahlo's artwork, her Mexico City garden and studio, Casa Azul, that inspired much of the plant imagery she painted aren't as familiar. For its six-month exhibition dedicated to Kahlo, NYBG will recreate her famed garden and fill it with a dozen of her paintings and works on paper, creating a true juxtaposition of the ways in which life and art imitated and influenced each other for the famous artist.
---
3. The last time Yoko Ono had a one-woman show at the Museum of Modern Art was in 1971. She let flies loose outside the museum's entrance and encouraged museum goers to try to catch them. Given the ephemerality of this first solo show, we can't really fault MoMA for decided they needed a do-over. On May 17, Ono's "second" first solo exhibition, Yoko Ono: One Woman Show, 1960–1971, opens May 17. For an artist with as long of a career as Ono's, 11 years is pretty much the equivalent of a lost weekend. The exclusive exhibition contains approximately 125 of her early objects, works on paper, installations, performances, audio recordings, and films, alongside rarely seen archival materials. While some of the works are interactive, I'm fairly certain Ono won't be shooing any flies for this one. Photo: MoMA
---
2. There are plenty of Memorial Day Weekend traditions I plan on celebrating this year, and among my favorite will be an annual trip to the DanceAfrica Bazaar, which will take over the blocks around BAM in Fort Greene on May 23. The open-air marketplace will celebrate some of the borough's biggest diasporas from Africa and the Caribbean with the help of 180 vendors offering food, fashion and other goods from around the globe.
---
1. More than 20 years after his suicide, there is still so much mystery about Kurt Cobain. The Nirvana frontman has proven to be as enigmatic in death as he was in life. Part of the myths that have cropped up around Cobain has to do with the fact that there has never been a fully authorized documentary made about him that included the participation of his family or daughter Frances Bean Cobain. Until now. Kurt Cobain: Montage of Heck, which premiered last month at the Tribeca Film Festival, has been credited with humanizing the grunge rocker (and his widow Courtney Love) like nothing has before. Unsurprisingly, tickets to the premiere at TFF sold out in no time, leaving most of us waiting to watch how Brett Morgan managed to make Cobain seem less like the grunge-rock legend we remember him as and more like the complex person he was. Fortunately, starting on May 4, we can all see the transformation for ourselves when Montage becomes available on HBO.