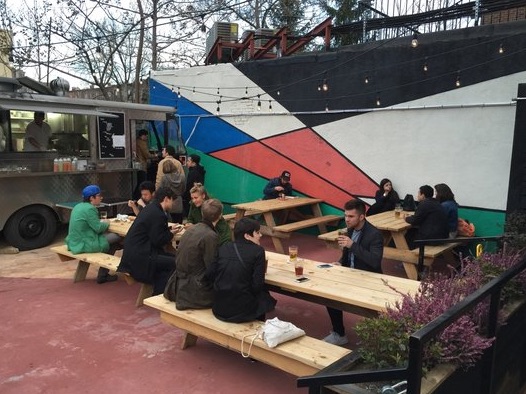 Sometime in the last decade, the day celebrating the Battle of Puebla became a major event on the American calendar, morphing from an obscure Mexican holiday into a beer commercial-fueled, Latin take on St. Patrick's Day. The celebrations of Mexican-American heritage around these parts are usually about as subtle as a keg of green beer, and if you're over the age of 22 you probably don't want to go to a bar in Manhattan tomorrow night. But Brooklyn has seen a bevy of authentic new Mexican spots open in the past couple of years, so perhaps Cinco de Mayo can also serve as an ideal time to check a few of these places out. Here's your guide to the newest and more noteworthy Brooklyn Mexican restaurants on our radar, so you can celebrate with an epic taco crawl this Tuesday. (And fine, maybe a frozen margarita or ten.) For more inspiration, consider these special dinners and parties planned for tomorrow; our taco guide for every taste bud; and our favorite Prospect Heights Mexican restaurant.
1. Lucha Lucha
This humble new Bed-Stuy spot is exactly what every neighborhood needs: nothing too fancy, no long waits and no trendy specials–just a quick, cheap and flavorful taco joint open for lunch and dinner. You can choose from tacos (3 for $10), burritos, quesadillas, tortas, rice bowls, or salads, each one topped with guacamole, cheese and your choice of protein, with options ranging from tempeh asado to campechano (carne asada steak plus chorizo). They also recently got on the California-style burrito bandwagon, offering a big one stuffed with carne asada and fries. 283 Nostrand Avenue (near Clifton); 929.273.2380; luchaluchabrooklyn.com

2. Chilo's
Also in Bed-Stuy, the owners of Crown Heights' popular Mayfield recently opened this spot a bit further up Franklin Ave. A low-key bar/taco truck hybrid, Chilo's has a picnic table-blessed outdoor space where a menu of tacos, tostadas, ceviches and tamales, accompanied by margaritas and fun, Mexico-by-way-of-Brooklyn cocktails like the Spring Pigeon: tequila, Jarritos grapefruit soda, lime and a splash of Pacifico. Generally open for dinner on weekdays and all day on weekends, Chilo's will be open starting at noon for Cinco de Mayo. 323 Franklin Avenue (at Clifton); 718.676.5245; chilosbk.com

3. Cantina Royal
This beautiful Northside Williamsburg spot, now four years old, is the rare high-end Mexican space that doesn't make me yearn for a simple taco truck. Fun spins on classic Mexican dishes range from a tamarind-glazed octopus tostada to "camarones a la Rubinsky"–shrimp stuffed with cheese and wrapped in bacon. No entree tops $16 and most of them are worth it. While I usually gripe about no-free-chips-and-salsa, the four-salsa sampler here ($6), is an impressive, daily-changing array of spicy dippers ranging from pineapple salsa to a version amped up with crickets. 58 North 3rd Street (between Wythe and Kent); 347.763.2938; cantinaroyal.com
4. Taqueria El Patron Mexican Grill
Prospect Lefferts Gardens residents were sad to see longtime neighborhood favorite Lincoln Park Tavern close recently, but it's nice to see a new spot open in the same location so soon, focused on what LPT did best: Mexican food. All the standard taco and burrito fare is accompanied by some exciting over-the-top options like "Brooklyn Super Fries" topped with sauteed vegetables, melted cheese, pico de gallo, guacamole and sour cream. 51 Lincoln Road (near Flatbush); 917. 893-8733.  Bonus: Burger Mexicano looks like it's just about ready to open right across the street at 545 Flatbush.
5. Calaveras
Another nice laid-back spot, this small restaurant opened in Windsor Terrace late last year. Jukebox tunes accompany home-style Mexican food, from delicious (and free) chips and salsa to masa-dough huraraches stuffed with black beans and lathered in crema. 2905 Fort Hamilton Pkwy (at East 4th Street); 718.854.4424; calaverasmexicangrill.com