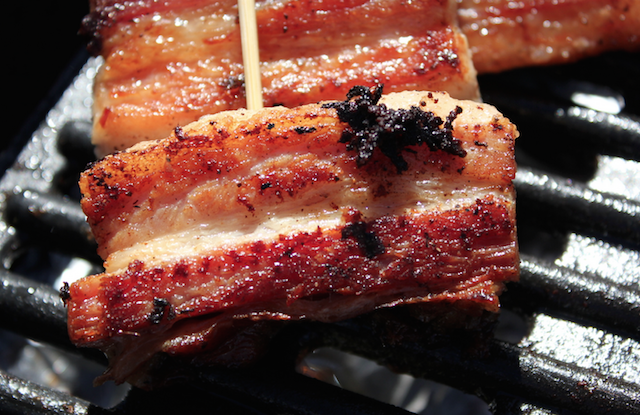 On May 16 and 17 the first annual indoor/outdoor Great Big Bacon Picnic launches in Williamsburg with live music, booze and bacon-filled dishes. This isn't one of those "taste what my friend can make with bacon" events–Hill Country, Prime, Ovenly, Nick and Toni's, Spitzer's, Mile End, and Landhaus are just a few of the 100 participating restaurants and chefs. We spoke to producer Craig Taylor about his well-curated, rocking party whose guest of honor is more than adequately honored.
How is this one different from all the other major bacon festivals?
We are committed to a 35-to-1 bacon [dish] to human ratio, and will not sell a single ticket beyond that. Also we're going to have a Bacon Bar. That's right, a bar that serves unlimited bacon lined up for you to sample, as many times as you want. Plus we have an incredible menu of craft beers, ciders and spirits from mostly local companies including Bakon Vodka, Van Brunt Stillhouse, Original Sin Cider, New York Distilling Co., Kings County Distillery among others.
What are some of the most exciting dishes being served?
Our online videos feature some real winners that I've been lucky enough to sample, such as Elizabeth's Neighborhood Table's panko-bacon encrusted lobster and bacon spring roll with tomato bacon chutney; Townline BBQ's Asian-style steamed pork buns; and the deceptively simple sizzling Canadian bacon from Benjamin's Steakhouse.
What is the entertainment element?
I'm so proud to have the High & Mighty Brass Band! I managed this band right up through Bonnaroo and Governors Ball last year and am so proud to let them loose on the festival grounds with their Brooklyn-infused New Orleans-style second line parades.
How did you get into this business?
I have lots of experience in festival/concert promotion from my days in the music biz. When my brother attended Baconfest in Chicago he was baffled as to why this type of thing didn't exist in NYC. After my 40-day hospitalization in early 2014, I decided to retire from managing five bands, prioritize playing again, and take a swing at this with my brother whose marketing and corporate expertise is a perfect foil to my skill set.
Why bacon? Is it still a hot ticket item?
We plan on having other events: The Great Big Brooklyn BBQ, The Great Big Veg Out, etc., but we felt bacon was the universal solvent of the culinary world and ticket sales indicate we were correct. As far as it still being a "hot ticket item," I really don't see an end in sight. It's not all of a sudden going to stop being so friggin' delicious.
The Great Big Brooklyn Picnic includes three events: two brunches (Saturday and Sunday) and a happy hour Saturday evening at the old Pfizer Factory. Get tickets here (from $99 to $249 VIP tickets for varying levels of perks); 10% of proceeds will be donated to City Harvest and the Slow Food movement.