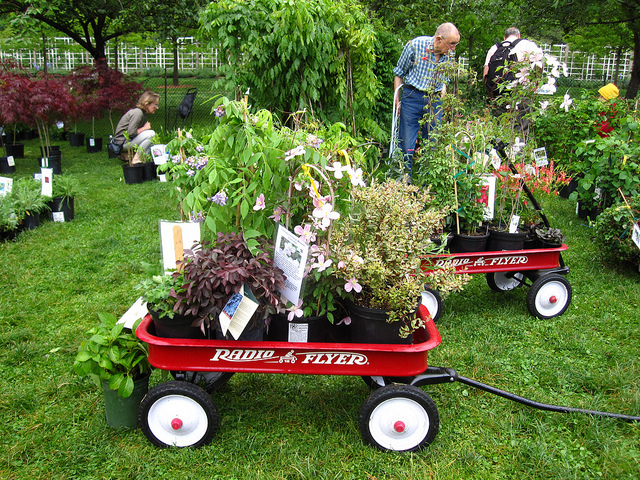 As spring really begins to kick into high gear, constant reminders of what makes Brooklyn such a great place to be are popping up around every corner. Who wouldn't want to spend a gorgeous weekday evening taking in the explosion of blooms on display right now in Brooklyn Botanic Garden, particularly when you can bring a little piece of the flora home with you? Today, their spectacular annual Plant Sale is back and open to the public on the Cherry Esplanade from 9am-8pm. Head over after work for the largest selection of plants in the metropolitan area and free talks and workshops from the experts–although the sale continues tomorrow, the hours are much less amenable to people with jobs.
Gearing up for a summer's worth of bike rides? If so, you won't want to miss the 6th annual Bike Jumble taking place in Washington/JJ Byrne Park on Saturday. From 10am-4pm, vendors and cycling experts will be on hand to get you set up with a new or used bike and all the accessories you need, with lots of good deals to take advantage of.
Finally, if you consider yourself a serious board gamer, you've got your week cut out for you. First, Henri on Fifth is hosting a Badass Board Game Battle on Tuesday, May 12, where you can give everyone a taste of your Pictionary/Scattergories/Taboo/Jenga mastery in a contest to the death. Of course, if you're feeling a bit less competitive, the friendly vibe at the board game and beer night sponsored by Victory Pints at Berg'n on Wednesday, May 13, might be right up your alley. Then again, that's just a taste of all we found for you to do between now and next Wednesday–read on for more tips on how to round out Your Ideal Week. 
Thursday, May 7
Okello Kelo Sam was born in Uganda and abducted into a rebel army there when he was just 16. He managed to escape, earn a degree in performing arts, and start Hope North, a school in Northern Uganda with a renowned arts program. He also co-wrote and stars in Forged in Fire, a new play that uses song, dance, humor, and an udungu (a tribal Ugandan harp) to tell the powerful story of his brother Godfrey, who died in the Ugandan civil war after being kidnapped and forced to serve as a child soldier under the infamous warlord Joseph Kony. The play's opening night on May 2 was hosted by Susan Sarandon, and the run lasts through Friday, May 15 at the Voorhees Theater in Downtown Brooklyn. Tickets are $20 and Thursday's show starts at 8pm. –K.H.
Friday, May 8
Coney Island's cultural history includes much more than just hot dog-eating contests, freak shows, and bone-rattling rides on the Cyclone– the community is also home to a rich literary tradition, and has inspired the work of people like Walt Whitman, Muriel Rukeyser, Henry Miller. For the past six years, Parachute Literary Arts has helped keep this valuable history alive by providing local residents with writing workshops, an annual literary festival, and a newly-established poetry library. On Friday night, the group is sponsoring Poem-a-Rama, the first poetry reading ever to take place on Coney Island's famous Wonder Wheel. Watch the sun set on the boardwalk from the ideal vantage point of a ferris wheel car as an impressive lineup of renowned New York City poets recite their work to you. There will also be live music from Soozie Hwang & the Realastics and a cash bar serving beer from Coney Island Brewery. Tickets (which include one ride on the Wonder Wheel with a poet in your car) are $25 at the door, but you can buy them in advance online at the bargain price of $30 for two people or $20 for one, with proceeds benefitting Parachute's programming.  –K.H.
Saturday, May 9
This weekend marks the return of Bklyn Designs, Brooklyn's premier design, architecture, and art event now celebrating its 12th year. Drop by Greenpoint's Brooklyn Expo on Saturday or Sunday to view innovative work from local creatives across many mediums, including furniture, jewelry, textiles, lighting, tableware and much more. Attendees are also encouraged to check out the expo's pop-ups, including a 52-minute screening of short films in conjunction with The Architecture & Design Film Festival, a kid-friendly Tattly parlor to get cool temporary tattoos, and a curated shop whose proceeds will go toward the maintenance of The High Line. Tickets to this design-forward event are $15, and be sure to check out the full schedule before making your plans to visit.  –N.R. 
Sunday, May 10
Sure, you can always take your mom to brunch on Sunday like everyone else, but if you're looking for a more unorthodox way to celebrate, you might want to take in the Mother's Day Horror Fest, a triple feature showcasing some of the scariest matriarchs in film at the Museum of the Moving Image in Long Island City. If nothing else, you'll be extra thankful for your own relatively sane mother after watching Hitchcock's Psycho, Polanski's Rosemary's Baby, or Cronenberg's The Brood. No matter how annoying her questions about computers may be, she's definitely not on the level of Mrs. Bates. The movies will be screened at 1:30, 4, and 7pm, respectively, and tickets are $12 to each show. And in case you're worried about unfair anti-mom discrimination, take note of the Horror Father's Day lineup scheduled for June 21.  –K.H.
Monday, May 11
The prom (and all of its accoutrements) may be no more than a distant memory for most of us, but it doesn't have to be. On Monday at 8pm, Williamsburg's Over The Eight is hosting the popular monthly Side Ponytail comedy show, only this time it's the Prom Edition, featuring local comedians like Adam Mamawala (Funny or Die), Ryan Beck (of Comedy Central), and Charla Lauriston (Clench & Release) reminiscing about their own experiences with the enduring and anxiety-provoking high school tradition. Admission is totally free, and Over The Eight's Santa Salsa is a great place to grab a bite before the show. –N.R. 
Tuesday, May 12
I leave most of the extreme beer nerdery up to the male contingent of my household, but I'll concede that every once in a while his obsession pays off for me when a really, noticeably delicious brew is brought into my orbit. Such was the case with Telekinesis, a dry-hopped sour that may very well be one of the best beers I've ever tasted. It's made by Grimm Artisanal Ales, a nomadic brewery (meaning one that rents space and equipment from existing breweries when it isn't being used) run by a husband and wife team in Gowanus. Because of the complicated logistics and limited time they have to actually brew beer, each release from Grimm is single-batch and limited-edition, and they also happen to have really cool labels. On Tuesday, Sycamore Bar is hosting a Meet the Brewers event featuring the Grimms and special deals on their rare and amazing beers from 6-8pm. And if all that beer guzzling leaves you feeling peckish, I highly recommend crossing Cortelyou for the salad meze at Mimi's Hummus.  –K.H.
Wednesday, May 13
Earlier this year, artist Beka Goedde was awarded a grant by the Brooklyn Arts Council to create a large outdoor work in partnership with the New York City Parks & Recreation, and the result is Fictitious Force, a temporary sculpture installation embedded in the lawn of the Old Stone House. The work consists of nearly one thousand brightly painted concrete tiles arranged to resemble an early American braided rug, which are meant to be walked upon by visitors to the park. Although the piece has been in place since mid-April, the opening reception is happening on Wednesday from 6-8pm, so if you haven't seen it yet you have the perfect opportunity. Swing by Stone Park Cafe or 2 Duck Goose for dinner, and you have yourself the makings of pretty ideal spring evening.  –K.H.
Tips by Nikita Richardson and Kate Hooker.