Loosie Rouge feels in peril of becoming the next Williamsburg bar we will all love to hate, but for now, we're in love. The New Orleans-themed bar has taken over the Fatty 'Cue space with a distinctly speakeasy vibe and what feel like aspirations to become something of a social club. Williamsburg's beautiful people congregated there on a recent warm Saturday evening, and the atmosphere felt so much like a gathering of friends that I initially thought we had walked into a private party. The four co-owners–Damien del Rio, Vincent Marino, Max Peskowitx and Garry Knopov–have cultivated an atmosphere of easy hospitality, with the all-male service staff taking turns working the room to chat with guests.
Draft cocktails, all spins on classics, are the centerpiece of Loosie Rouge's bar program. The Loosie's Cup ($12), a mature update on the Pimm's Cup, gets its earthy flavor from rhubarb syrup and celery bitters. The Bamboo Sazerac ($12) is also recommended, as is the standard poured sazerac, which arrived perfectly chilled despite the absence of an ice cube. The prosecco topper of the draft Francese 78 ($12) is just a shade too heavy, slightly overpowering inventive components like homemade peach shrub and verjus, an un-aged white wine. Speaking of wine, the list is small but carefully curated and exclusively European; all wines are offered by both the bottle and the glass. The draft beer offerings include Abita Wrought Iron and Allegash White, and you can get a Narragansett IPA for a bender-friendly five dollars. While Loosie Rouge is more bar than restaurant, substantial snacks like a shrimp po' boy and blackened catfish lettuce wraps let you soak up your bourbon in Bourbon Street style. Even if you're not terribly hungry, order a plate of deviled eggs–the best I've ever tasted.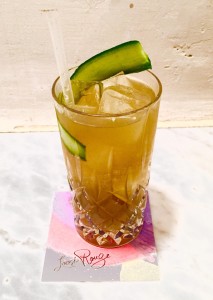 The music, played at a loud enough volume to be festive but not enough to drown a conversation, is a welcome balance of recognizable artists like James Brown and Queen alternated with intriguing rap music we needed Spotify to ID. (Perhaps this explains why a friendly bartender spoke to us in a manner typically reserved for your elder relatives.)
The space itself is as inviting as can be, but it's easy to imagine it becoming way too cramped once the word gets out. LED lights tucked into the wood panels give the ceiling an illusion of being higher than it actually is, and quirky touches like a tiny portrait of Princess Diana behind the bar offset the overall sleek Scandanvian design with a dose of kitsch. Loosie Rouge is the coolest party in town, and everyone's invited–for now.
Loosie Rouge, 91 S. 6th St., Williamsburg, loosierouge.com, open 5pm-2am daily
(Pictured at right, The Loosie's Cup. Photo: Nicholas Rinaldi)