The year's barely begun, and there's already a heap of really interesting and diverse music books being published, including some highly anticipated memoirs by notable legends Willie Nelson, Philip Glass, and former Sex Pistol John Lydon. Spanning the genres of punk, electronic, country, contemporary classical, hip-hop and classic rock, these titles offer the histories and personal stories behind the artists and the music business. Here are 12 music books either out now or in the next few weeks that are sure to be page turners.
New Order by Kevin Cummins
Rizzoli
March 17, 2015
Photographer Kevin Cummins unveils his latest photo book on New Order, the influential British post-punk/electronic dance group that came out of the ashes of Joy Division and the suicide of its singer Ian Curtis. Following a similar format of Cummins' 2010 photo book on Joy Division, New Order features performance and candid shots of the group during the '80s and early '90s, along with interviews with the four original members: Bernard Sumner, Peter Hook, Stephen Morris and Gillian Gilbert. A must for die-hard fans.
---
The Underground Is Massive: How Electronic Dance Music Conquered America by Michaelangelo Matos
Dey Street Books
April 28, 2015
In this comprehensive history of electronic dance music (EDM) in America, music journalist Michaelangelo Matos documents the genre's rise from its underground beginnings in the early '80s in Chicago; through the '90s rave scene; and to the mainstream popularity of such current artists as Skrillex and Daft Punk. This book does a tremendous service to a genre that had been until now on the fringe of mainstream acceptance.
---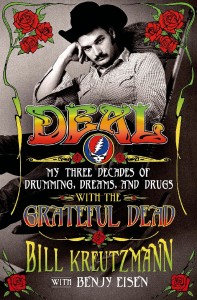 So Many Roads: The Life and Times of the Grateful Dead by David Browne
Da Capo Press
April 28, 2015
Deal: My Three Decades of Drumming, Dreams, and Drugs with the Grateful Dead by Bill Kreutzmann with Benjy Eisen
St. Martin's Press
May 5, 2015
It's hard to believe that a 50-year-old band that built its reputation on live performance, and had only one Top 10 hit song very late in its career, inspired such a loyal following. That honor of course belongs to the legendary Grateful Dead, who has influenced many a jam band including Phish and Widespread Panic. This year marks the 50th anniversary of the band and a new book by David Browne (Fire and Rain, Dream Brother) documents the band's storied history from its beginnings as the Warlocks, to the death of beloved member Jerry Garcia in 1995, and the activities of the surviving members through today. Coincidentally, the band's drummer Bill Kreutzmann—who made up the band's beloved percussion tandem with Mickey Hart—is also celebrating the band's milestone with his own story called Deal.
---
Bob Dylan: NYC 1961-1964
Photographs by Ted Russell
Text by Chris Murray
Rizzoli
March 24, 2015
This new book of never-before-published photographs documents Bob Dylan's arrival to New York City as a then-newcomer to the folk scene. It's an ideal visual companion to Dylan's excellent 2005 memoir Chronicles Vol. 1, as it features images taken by photographer Ted Russell of this kid fresh out of Hibbing, Minnesota trying to make a name for himself as a recording artist. According to the book description, Russell first heard of Dylan through a review in The New York Times; he definitely knew something before everybody else did, as Russell had the foresight to photograph Dylan onstage and off, a few years before the artist would take the world by storm. This title also contains an introduction by Dylan's '60s contemporary Donovan.
---
Anger Is an Energy: My Life Uncensored by John Lydon
Simon and Schuster
Oct. 1, 2014
John Lydon punched his ticket to rock and roll notoriety as Johnny Rotten, the front man for the legendary '70s punk group Sex Pistols, who made rock and roll dangerous. After that group imploded, Lydon further pushed the  musical envelope with his post-punk band Public Image Ltd. in the early '80s. Now the artist has unleashed his latest memoir that should make for a very lively, no-holds-barred read.
---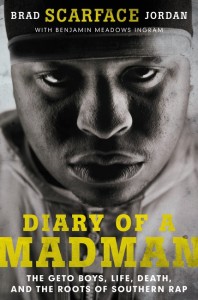 Diary of a Madman: The Geto Boys, Life, Death, and the Roots of Southern Rap by Brad 'Scarface' Jordan with Benjamin Meadows Ingram
Dey Street Books
April 21, 2015
Mention the name the Geto Boys, and the first thing that probably comes to mind is controversy. Like fellow gangsta rappers N.W.A. and others from the genre during the '90s, this Houston-based collective attracted attention for its frank and explicit lyrics. But there's more to that story as told by member Brad 'Scarface' Jordan in his new memoir, such as the moment his life changed when he listened to Run-D.M.C in his youth; life in the Geto Boys; and the Southern Rap scene, along with his mental health issues when he was young. Includes a foreword by Public Enemy's Chuck D.
---
Words Without Music by Philip Glass
Liveright Publishing Corporation
April 6, 2015
Alongside such luminaries as Terry Riley and Steve Reich, Philip Glass is one of the greatest contemporary composers in modern music, from masterworks such as Einstein on the Beach, to scoring Martin Scorsese's 1998 film Kundun; he has also collaborated with the likes of Linda Ronstadt, Paul Simon, and David Byrne. This important musical genius is finally sharing his own story in this new memoir.
---
It's a Long Story: My Life by Willie Nelson with David Ritz
Little, Brown and Company
May 5, 2015
Finally fans will be able to get a 'unvarnished' look at the life of the Red Headed Stranger with his latest memoir, co-written with the very accomplished music biographer David Ritz (whose previous credits include books on Ray Charles, Buddy Guy, and Marvin Gaye). With a legendary body of work (Funny How Time Slips Away, Whiskey River, Blue Eyes Crying in the Rain, and On the Road Again are just some of his famous songs), and his immeasurable contributions to both country and popular music, Nelson deserves the deluxe treatment when it comes to his detailing life story, which this new book is poised to deliver.
---
How Music Got Free: The End of an Industry, The Turn of the Century, and the Patent Zero of Privacy by Stephen Witt
Viking
June 16, 2015
Remember the whole controversy in the late '90s and early '00s over file sharing music (a.k.a. Napster), or how the music industry had earlier missed the boat on the potential of digital music? Or to put it simply, a time when people actually bought CDs? On How Music Got Free, journalist Stephen Witt traces the period of music piracy, from the advent of the MP3, to the story of Dell Glover, a worker at a CD manufacturing plant who leaked 2,000 albums onto the Internet. The book should provide some food for thought in this current climate of iTunes and Spotify, when accessibility to digital music is so commonplace now.
---
The Jesus and Mary Chain: Barbed Wire Kisses by Zoe Howe
St. Martin's Press
Nov. 11, 2014
Technically speaking, this title about the famous '80s/'90s post-punk band by journalist Zoe Howe (who has written books about the Slits and Stevie Nicks) came out late last year. But this music biography is very relevant now because the Reid brothers are touring the States this spring to mark the 30th anniversary of their masterpiece Psychocandy, an essential collection of noisy guitar-laden rock that takes a page from the '60s pop, psychedelia, and the Velvet Underground—an approach that certainly foreshadowed many of the British alternative rock/noise bands of the '90s. In the capable hands of Howe (the Slits book is highly recommended), Barbed Wire Kisses penetrates the world of the Reids for the die-hard JMC fans.
---
Freedom of Choice by Evie Nagy
Bloomsbury
May 21, 2015
One of the most innovative American bands to come out of the punk/post-punk/and New Wave eras, Devo was way ahead of the musical curve with its futuristic sound and social commentary. Famously known for their unusual visual shtick (the energy domes and the jumpsuits), the Ohio art-rockers finally reached a larger audience in some ways with their third and eventual platinum-selling album, 1980s's Freedom of Choice. Its memorable tracks include the title song, "Girl U Want," and of course the massively popular "Whip It," whose video was a staple of the MTV era. Thirty-five years later, the story of Freedom of Choice is now told by author Evie Nagy  in this latest installment of the 33 1/3 series, which spotlights a particular album and its significance. It includes a foreword by Saturday Night Live alum and Portlandia star Fred Armisen.