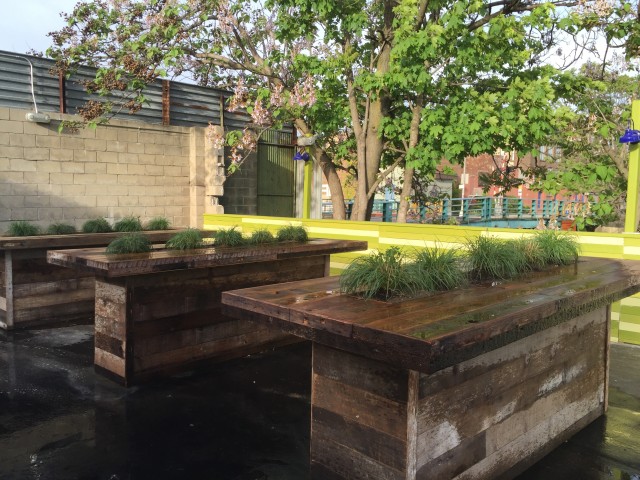 Update: The Gowanus Immersion is sold out, but we've got another great Immersion coming to Bay Ridge July 18–come join us!
It's rare that one of our Immersions coincides with two new bar openings, but we're excited to say that our Total Gowanus Immersion with Brooklyn Brewery is shaking out to be just one of those neighborhood crawls. On Saturday, June 6, we'll be hitting up old favorites and spots so new there's barely any Internet trace of them, like the soon-to-open Swan Dive on the Gowanus Canal, the brand-new Givers and Takers, the excellent Threes Brewing, and the always lovely Lavender Lake.
If you've never been on one of our day-long beer and food crawls, it's basically the best bang you can get for $25 bucks. Once you purchase a ticket online, you'll have an envelope of WAM–"walking around money"–waiting for you at Three's Brewing between 1 and 3pm on Saturday, June 6.
Along with your coupons for a free Brooklyn brew at all of the four bars above, you'll also get your choice of lunch:
-Alabama smoked chicken sandwich or a trio of veggie tacos (fried cauliflower, smoked portabello, sauteed zucchini) at The Roof at Whole Foods
-A mini crab roll with choice of small cup of chowder or fries at Littleneck. (Note though, that the window to get your Littleneck order is between 3 and 5–which is really more like "dunch." We apologize, but they want to ensure they can serve everyone in a timely manner.)
-A grilled pimento cheddar on whole wheat pain au lait or grilled gruyere with red wine braised shallots and dijon on rye and a side option of slaw or housemade chips at Runner & Stone.  (This option is sold out.)
The deals you'll be able to cash in include $3 cans of Brooklyn Lager or $5 draught Brooklyn beers at The Roof at Whole Foods, $1 off a cone at Ample Hills, a large order of any kind of pierogies (except blueberry and chocolate) for the price of a small at Baba's Pierogies, a buy one get one free session during any weeknight at Gotham Archery through July 2, 10% off a $25+ order at Fletcher's, a $22 day pass with gear rental (a $39 value) at Brooklyn Boulders, 20% off all dresses at the 3rd Ave. Calabar Imports, 20% off purchases, excluding custom work, at Twig Terrariams, 30% off any class at Brooklyn Homebrew, a $4 slice of pie at Four & Twenty Blackbirds, 20% off adult summer classes at the Gownaus branch of Textile Arts Center, and 20% off a bike helmet at 718 Cyclery to protect your pretty noggin when you drink and bike. Just kidding! We don't want you do to that! But we do want you to day drink with us.
Our Total Crown Heights Immersion sold out days in advance, so get a head start on the Gowanus Immersion, and purchase your tickets now!