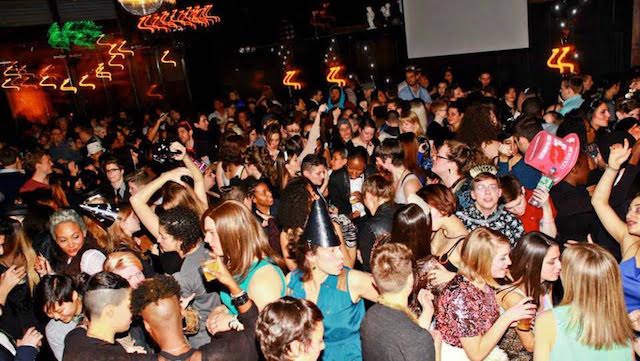 Only two years ago, Marty Markowitz dubbed Brooklyn "the lesbian capital of the Northeast." While NYC Pride might get more attention, Brooklyn Pride has surged ahead in recent years, with a fantastic selection of film screenings, storytelling nights, and actually great parties with actually great music (that don't cost a hundred dollars). There's even a Pride run to celebrate people who want to celebrate queerness via exercise. God bless them. Check out the list below for the best of Brooklyn Pride this week.
THURSDAY, 6/11.
Matt Shephard Is A Friend Of Mine.
Featuring a screening of the film that documented the terrible hate crime, followed by a discussion. Brooklyn Museum. Free.
FRIDAY 6/12. 
Queer Memoir: Strength
.  The famous monthly storytelling series, led by Kelli Dunham, presents an evening of stories based on strength. Out of the Closet, 6:30pm.
SATURDAY 6/13.
Pride 5K Run
. Run for pride–or maybe just watch your friends run. Bartel-Pritchard Square, 10am
SATURDAY 6/13.
Brooklyn Pride Twilight Parade.
 The only twilight parade in the Northeast. March along Fifth avenue, from Lincoln Place to 9th street. 7:30 pm.
SATURDAY 6/13.
Lions Rule
. Cute queer Brooklyn boys, drag queens, shots, dancing, happiness. 
LoveGun
. 10pm-on.
SATURDAY 6/13. 
We Are Brooklyn Pride
. Featuring DJ Whitney Day, Amber Valentine, Sveta, M.O., Robi D. Light, and Coby D. Two floors means double the dancing, with performances by performance art collective House of YES. $20, Verboten, 10pm-4am.
SATURDAY 6/13. 
Be Cute at Brooklyn Pride
. Matty Beats and Horrorchata present, "a Dance Party for Homos and Aliens from Outer Space that like to shake it on the dance floor." Littlefield, 10 p.m.-4 a.m., $5 advanced tickets, $10 at the door.
SATURDAY 6/13. 
Hot Rabbit Presents… Bad Habit Brooklyn Pride Official After-Party
. Featuring: DJ Jessamess, DJ Roze Royze, DJ RosyQ, and performances by AB Soto and lesbian pop phenomenon, Sizzy Rocket (of the song "Bestie" fame). Huge party in a huge venue, featuring drink specials and endless dancing (or from 10pm-4am). Lot 45, $10, a percentage of proceeds to go Brooklyn Pride.
SATURDAY, 6/20. 
North Brooklyn Pride Festival
. A big family picnic, followed by a classic Brooklyn block party with food, music, killer DJs, and dancing. Proceeds from the festival benefit LGBTQ youth who are homeless or in foster care. 12-9pm