Whether you're a minimalist who has eliminated every item in your life that doesn't bring you joy, a la The Life Changing Magic of Tidying Up, or you're just looking to upgrade some of the salves and balms you use on the daily (stay tuned guys, many of these products are assuredly unisex), here are five must-have, all-time favorite health and beauty fixes for softer skin, shinier hair and a better smelling life.
A Skin Salve Tube You'll Want to Push 'Til It Pops–Earth Tu Face Skin Stick, $34 Last winter I attempted to extract a blackhead anchored in the apple of my cheek with an all-natural recipe I found online that called for a few drops of apple cider vinegar. It burned a little when I put it on, but like every other idiot who thinks "The burn means it's working," I just thought that was part of the healing process. I woke up the next morning with a quarter-sized, bright red, scaly burn on the left-side of my face (at the very center of which sat my blackhead).
I was decidedly freaked out by this overnight development, and once again turned to the internet for help fixing it—clearly not a quick learner. Fortunately, this time around, the advice was sound—I could use lavender oil to sooth my burned skin and help reduce the appearance of any scarring, which I was keen to do since the sore in question was half-an-inch from my nose and my skin tends to scar easily. Just a few weeks prior to this whole fiasco, I'd been introduced to Earth Tu Face, a 100% natural skincare line from San Francisco, by Jessa Blades, who lived in my neighborhood and whose online natural beauty store we featured on BB last year. Of the handful of products I'd purchased from her around the holidays was Earth Tu Face's Skin Stick, which resembles the Flinstones Push Pops I ate my weight in as a kid, but has decidedly more natural ingredient list—including lavender oil, as well as geranium oil and vitamin E, both of which were supposed to be good at fading scars, too. I began applying it liberally on a daily basis to both the affected area and the rest of my face.
While the stick itself is solid, because it's made entirely of essentials oils, organic beeswax (good for skin protection) and sunflower seed wax, it melts into your skin the way a facial serum would and contains a similar collection of essentials oils—olive, vetiver, ylang ylang. It is unbelievably moisturizing—I have normal-to-dry skin that's getting dryer as I get older—and this salve quickly became a part of my daily beauty routine and a constant purse companion, not just a scar treatment. Despite daily applications, one tube lasted me six months, and best of all within four weeks, I was scar free and could stop fielding questions from people asking me, "What happened to your face?" –Jordan Galloway
Tame Your Bird's Nest–Kevin Murphy Young Again Wash, Rinse and Masque, $35 each If I was stranded on a desert island and could only bring one beauty product, I would bring sunscreen. But after that, I would bring my life-changing shampoo and rinse. I've always been a victim of dry, brittle hair that breaks easily. Most of the time after a shower it looks like birds have just picked over a pile of mauled straw on top of my head for their nest. (In fact, one time in San Francisco, a bird actually did land on my head trying to fly away with a few strands.) So every morning, I laboriously coax each strand to get in line next to another with a variety of submission heat tools.
Before I started coloring my locks, that almost worked for a frizzy dank look. Now I tend to be happy just to have it on my head instead of watching it wash down the drain. My wise beyond years, colorist, Bruna (at Soon Beauty Lab), suggested that I start using the Kevin Murphy Young Again Wash and Rinse ($35 each), an expensive yet wildly effective product that heals old dry hair and kisses the cuticles into lying down and relaxing. My startled head of hair now looks subdued, restored and softened by the 20 amino acids, baobab seed oil, orchid flower extracts and phospholipids advertised. The paraben- and sulfite-free product goes on smoothly and really feels thin enough to coat the individual hairs. Plus, it rinses out without feeling heavy. It smells subtle yet delicious, and afterwards I can actually run my fingers straight through my detangled hair. My new beauty routine entails no more than braiding my hair at night for loose, frizz-free, beach waves in the morning–perfect for island castaway living. –Meredith Craig de Pietro
Available only at salons like Soon Beauty Lab. Brooklyn locations: 290 Smith Street, Carroll Gardens or 708 Fulton St., Fort Greene, 718-643-4343.
A Better Class of Perfume–CB I Hate Perfume, starts at $50 I read or heard somewhere recently that of all our senses, smell is most strongly related to memory, and for me that is absolutely true. A whiff of a bubblegum flavor Bonnie Bell Lipsmacker and I'm pawing through my Christmas stocking at my grandparents house circa 1984. A single puff of Aquanet hairspray and whoo boy, junior high locker room before field hockey practice. So it was with great interest that I started buying scents from CB I Hate Perfume. There are some scents based on classic perfumery elements like florals and botanicals, but their most interesting perfumes are based on memories. Does that sound slightly precious? Yes. But man, one whiff will convince you that it's a brilliant idea, brilliantly executed.
Definitely head to the shop on Maujer Street in East Williamsburg (relocated from Wythe), to smell before you buy–concoctions like At the Beach 1966 or In the Library may not be your cup of tea, but you'll be amazed at how evocative they are, and how they have the power to transport you to another place. Also, not all their scents are online. I tend to prefer smokey, musky scents over sweet florals and CB really excels in this category, and much of their collection is unisex. That said, I often wear a scent called White Ginger Flower in summer when it's hot out and my other favorites, Fire from Heaven and Burning Leaves are just too much.   –Annaliese Griffin
CB I Hate Perfume, 318 Maujer St., 3rd Fl, open Friday and Saturday, noon to 6pm, appointments recommended, 718-384-6890.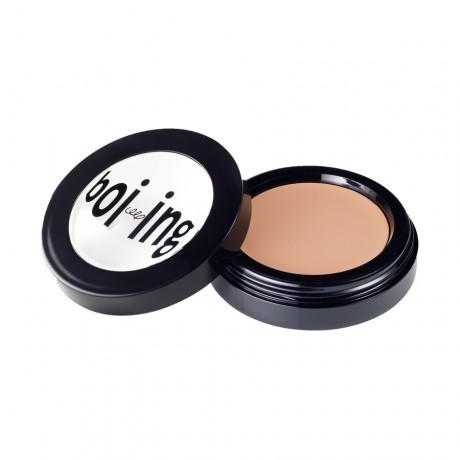 Look Like Less of an Insomniac–Benefit Boi-ing Concealer, $20 Whether I get five hours sleep, or 10, I was blessed with dark circles under my eyes that make it look as if I'm perpetually coming off an all-nighter, or getting into car accidents. So along with my tweezers—because I was also blessed with bushy brows and a stash that needs to be monitored at all times—concealer is the most essential ingredient of my makeup kit. I don't care if it doesn't last all day, I just need to be able to look at myself in the mirror before leaving the house, knowing that I don't look like a zombie.
It's taken years to find one with the perfect consistency and camouflage abilities. The first part requires a concealer with a healthy amount of moisturizing power, and for a number of years I was in love with RMS "Un" Cover-Up because it was the first one I'd met—at Shen Beauty in Carroll Gardens–that felt easy enough to apply without the assistance of eye cream (I am also a bit of an eye cream addict, come to think of it). "Un" Cover-Up is filled with all-natural oils like jojoba and coconut that make it a real delight to use, but ultimately I needed something more like "Mega" Cover-Up. So I was pretty excited to get my fingers on Benefit's Boi-ing, which I purchase through Birchbox, the greatest gift to my mailbox since Highlights. Unlike RMS, it's filled with ingredients I should probably be afraid of (Nylon-12?), and it's not as easy to apply as RMS–it feels almost as thick as pancake stage makeup. But the #2 shade is a better match to my skin tone, and it's got an industrial-strength quality my two black eyes deserve. –Nicole Davis
Put Your Best Hair Forward–Drybar Detox Dry Shampoo, $22 My friend Jasmine has that kind of hair that you can't believe actually exists on someone's real life head—a thick sheath of long, dark, glossy locks that always looks like it's just been styled for a cover shoot. This in and of itself is annoying, but when she disclosed that she only washes her mane maybe once or twice a week, my hair envy really kicked in. You see, I've been plagued for my entire life with fine, thin hair that looks like I swam in olive oil within six hours of showering. Yes, all my hairdressers and womens' mags told me constantly that I should shampoo every other day at an absolute minimum and I tried to comply, but I was always self-conscious that the greasy, plastered-down, Jax Teller look I rocked on the "off" day bordered on a public disservice. I've tried all the dry shampoos and talc solutions on the market but they all sucked UNTIL someone told me about Drybar Detox Dry Shampoo and, in all honestly, changed my life.
Never have I encountered a beauty product that so effectively does what it says it's going to do, and then some: Not only do I find myself having to count back to when I last washed my hair because I can't tell if it's time, but my hair actually has way more body than ever before. You just spray a bit in, tszuj it around a little at the roots, and you're good to go for almost a week if you want—seriously! Sephora sells it for $22 a bottle, or you can buy a $13 trial size if you want to test it out. I can't recommend the stuff highly enough, and it was actually the inspiration for this entire post. Sadly, I must accept that the only people who get to have Jasmine hair are Jasmine and the animated Disney princess who shares her name, but I'm thrilled that, with the help of Drybar, I can squeeze the best possible Kate hair out of the mop that my DNA bestowed upon me. –Kate Hooker