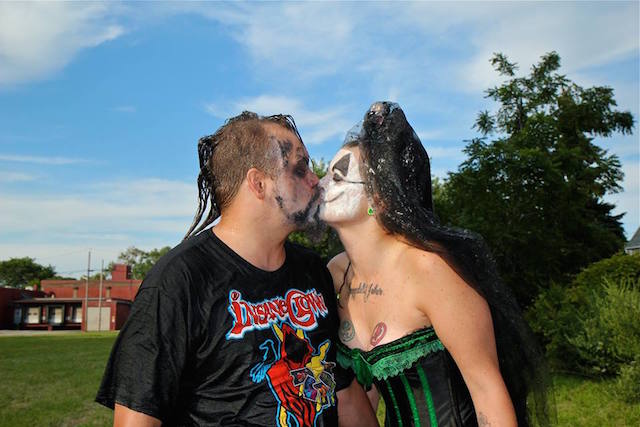 It's officially summer as of this Sunday, and we can tell because it's getting harder and harder to choose what to recommend from the long list of cool stuff going on every week. Here's something that's definitely worth investigating, though: NYC Parks is running a few small-group programs this summer through its Urban Parks Rangers project, including birding, paddling, and camping trips within the five boroughs. Participation is free, but you'll have to beat out everyone else in an online lottery, which starts today, to snag one of the coveted spots.
Tonight's lineup at "Ask Me Another," the NPR trivia and comedy show that's regularly recorded at The Bell House, now includes ace comedian Jim Gaffigan and his equally hilarious wife Jeannie. It's bound to be great, and tickets to the 7:30 show are still available for $20. Tomorrow night we have a special Funny Story planned with comedian Lane Moore (who doubles as the sex and relationships editor at Cosmopolitan.com), Saghar Bhatt, and guest host Mehran Khaghani, who the Boston Phoenix considers the best in Beantown. The $10 ticket includes a beer and bottomless laughs.
Never fear, film buffs, we're hard at work getting the annual outdoor summer movies calendar all finished up and in your inboxes, but in the meantime, BAMcinemaFest begins tonight and as of hitting "publish," there were 16 tickets left to the opening night film, The End of the Tour, a David Foster Wallace biopic. You'll have better luck scoring seats at the other films, and there are 35 New York premieres and many special programs, like the 20th anniversary screening of Kids, to choose from.
On Friday night, Rooftop Films' annual New York Non-Fiction series returns to Industry City, featuring a screening of documentary shorts that highlight a handful of the weird, wild, and wonderful characters that make New York so unique. This year's selection features shorts about a super enthusiastic jury duty clerk, a group of pickle-making skateboarders, a renowned bootleg action figure maker called The Sucklord, and Buffalo-area Juggalo culture. Tickets are $15 apiece and the screenings take place at 9pm on two rooftops at Industry City.
If you've got a little extra cash to spend this week, there's a dinner cruise/fishing expedition setting sail from Sheepshead Bay on Saturday that sounds like it might be worth your time. To celebrate the launch of a new mag called True.Ink, the executive chef of Grand Central Oyster Bar will be ladling chowder, shucking oysters, and teaching guests how to make their own sushi on a fishing boat that will be trolling shipwrecks off the coast of Brooklyn. The First Annual Shipwreck Shebang runs from 4-8pm, and you can get $40 off the $135 ticket price (which includes wine) if you register here and use the code STAYTRUE.
Finally, it's time to give a proper toast to the arrival of summer, and The 2015 Beer Cocktail Showdown happening at Brooklyn Brewery on Monday night presents the perfect opportunity to do just that. Starting at 8pm, six leading mixologists from local bars like The Jeffrey and Huckleberry Bar will each create an original cocktail incorporating Brooklyn Brewery beer, and you get to sample all six and vote for the winner. Tickets are $30 and are available here.
Happy Summer, y'all! Here are more ways to get the most out of the sunny days ahead.

Thursday, June 18
Love getting ultra competitive in games that require no skill? Indeedy Musical Bingo, a new interactive bingo event that recently landed at The Bell House after making a big splash across the pond, might be your new fave activity. It's just like regular bingo, but instead of calling out numbers the emcees play songs and you cross them off your card as you hear them. Some prizes are great (bottles of champagne) and some are silly (various giant inflatables), but either way it sounds like a weird, entertaining way to pass a Thursday evening. Tickets are $15 if you buy them in advance and $20 at the door, and the show starts at 8pm. –K.H.
Friday, June 19
I have a dilemma. I rsvp'ed to a friend's bday dinner in the city weeks ago, before I realized that it's on the same night as my absolute number one favorite event of the summer: The New York Philharmonic's annual concert at the ballfields in Prospect Park. My choices are to be a crap friend and bail on the dinner or miss a sunset picnic in the park to the soundtrack of Berlioz, Stravinsky, and Ravel played by one of the most talented orchestras in the world. Oh yeah, did I mention it's free? This year, the celebration is extra special because its the 50th anniversary of Concerts in the Parks, so If you've never been before, it's the perfect time to experience a totally "this is why I pay a small fortune in rent to live in this town" moment. As always, the concert starts at 8 and will be immediately followed by a spectacular fireworks display over the Long Meadow. If you go, be sure to pour a little of your contraband wine out for me, who will most likely be indoors paying way too much money for dinner somewhere on the Lower East Side. 🙁 –K.H.
Saturday, June 20
We've reached the point in the summer when Saturdays are so jam-packed with fun things to do that one event tip just isn't going to cut it, so bear with us while we list a bunch of things going on today. First up, we have the Coney Island Mermaid Parade at 1pm– a time-honored tradition featuring tons of colorful floats and wacky costumes that is something you've got to see at least once in your life. You can always brave the crowds for a hot dog at Nathan's, but based on my trip last weekend you won't regret getting a hero from Gravesend institution The Original John's Deli, which is just a quick bike ride (or 2 stops on the D) away from the boardwalk. On the other hand, you can skip the mermaid mayhem altogether and buy some of the remaining tickets to the Sunset Park taco crawl we previewed earlier this week, or pay $45 to savor pulled pork and a variety of session beers at The Arrogant Swine's Solstice Session starting at 1pm. Finally, if you just want to take it easy, RSVP for The Big Quiet in Central Park, a 20-minute, practice-agnostic mass meditation for all ages and levels sponsored by Summerstage from 4:30-6pm. –K.H.
Sunday, June 21
Mushroom lovers can learn everything they ever wanted to know about their favorite fungi at Log Jam: A Mushroom Growing Workshop, hosted from 11am-1pm by the Gowanus Canal Conservancy. Participants will be provided with all the supplies they need to establish a mini colony of mushrooms on a log, and will be able to return in about a year's time to reap their harvest. In addition, instructors will teach the class about the role of fungi in the ecosystem. The class is free, but you're required to register and a $5 donation is suggested. –K.H.
Monday, June 22
There's no better way to get through the Monday blues than with some soul food and soul music, and this week you can a good fix of both when Afropunk's Battle of the Bands kicks off Monday through Thursday nights at Beast of Bourbon. The four-day tournament-style showcase of indie and local musical acts is a great chance to see some bands that are about to blow up, including the one that will eventually win the opportunity to perform on the Afropunk Festival's main stage in August. For about seven bucks per ticket (including fees), you can see four of the 16 semifinalists play each night. As you are lifted out of your seat by jazzy performances and conscious rap, you can also grab a bowl of mac and cheese or ribs from Beast of Bourbon's kitchen. The shows start at 9pm, and tickets and a full schedule are available here.–Joan De Jesus
Tuesday, June 23
It's Sustainable Seafood Week in NYC, which means that restaurants all over town will offer special seafood dishes that demonstrate a commitment to responsible fishing practices, in conjunction with tours, educational events, and collaborative programming. One event that caught our eye is Tuesday night's sustainable seafood Grill Out from 5-9pm at the Park Slope outpost of Luke's Lobster. A $45 ticket buys you a veritable feast: grilled lobster tails, scallops, oysters, slaw, potato salad, corn on the cob, and Maine blueberry pie from those crust-rolling artistes at Four & Twenty Blackbirds. Tough to beat that for a mid-summer dinner, but if you want to see the full lineup of Sustainable Seafood Week events, check out the website. –K.H.
Wednesday, June 24
Is this the summer you were finally going to finish that novel/screenplay/TV spec script you've been thinking about for years? How is it going? That good, huh? Maybe you need a little kick in the ass to get your creative juices flowing? Maybe you've always felt like you'd benefit from the structure of a writing class but were hesitant to drop $400+ without knowing whether it would actually be useful? If any of these things apply to you, you should definitely take a look at the list of free one-hour long courses being offered by Gotham Writing Workshop this Wednesday evening as part of their Summer Open House. Choose between a variety of different classes, get a sense of what the instruction is like, and if you decide to enroll in one of GWW's regular courses you'll get 30% off. If that's not enough of a deal, you can win an altogether free class if you enter this contest and come up with the funniest movie title and tagline based on your own life. You really have nothing to lose, so just start writing and stop depriving the rest of us of your soon-to-be-forthcoming masterpiece. –K.H.
Tips by Joan De Jesus and Kate Hooker.