It's such an overused cliché, but 'sex, drugs and rock and roll' has been an integral part of pop culture lore since the 1960s. For some acts, the sex and drugs went in hand in hand, either in driving the music or becoming the fringe benefits of it–The Rolling Stones, Led Zeppelin and Motley Crue are just a few of the bands known for their notorious behavior offstage. Those of us who are drawn to the history and glamour of rock and roll have no shortage of music memoirs to choose from that delve into the parties and sexcapades behind the music. Here are a few of the most recent tales of excess to spice up your summer reading.
Life
by Keith Richards with James Fox
2010
If there is ever an artist who defined living large in the crazy world of rock and roll–and has remarkably lived to tell the tale–it's The Rolling Stones' Keith Richards. His past run-ins with drugs have been well documented, especially in his wonderful 2010 must-read memoir, Life. He describes in frank detail his experiences with addiction, and in one instance he writes about the relationship between drugs and the music-making process: "I suppose heroin made me concentrate on something or finish something more than I would normally. This is not a recommendation. The life of being a junkie is not recommended to anybody. I was on the top end, and that was really low." And in one chapter about the period in the early '70s that produced one of the band's best albums, Exile on Main St., he writes about his approach to drugs that explains his ability to survive: "I was very meticulous about how much I took. I'd never put more in to get a little higher. That's where most people fuck up in drugs. It's the greed involved that never really affected me." It must be said that his frank wisdom on the subject is not a glamorizing endorsement to go out and get smacked—it's more like insight, especially when he describes what it's like to go through withdrawal, and the moment he gave up on heroin in the late '70s. There's more to Richards' story than just his substance abuse, but it's an unavoidable subject that he handles deftly.
---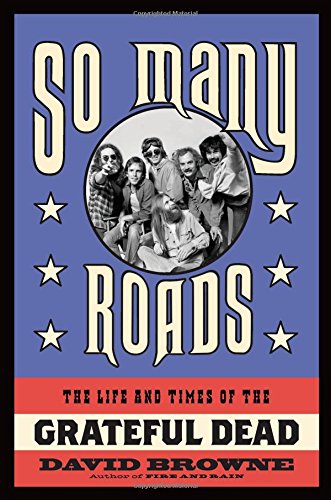 So Many Roads: The Life and Times of the Grateful Dead
by David Browne
2015
Long musical jams and a hippie, communal spirit embody the legend of the Grateful Dead, but the drug factor also played an important in the band's storied history. For the Dead and its army of fans, hallucinogens were as necessary as air and water. The index in David Browne's latest book on the band, So Many Roads, under the category of 'drugs'  offers a staggering list of substances associated with the band: 'hash,' 'LSD,' 'heroin,' 'marijuana,' 'cocaine,' 'nitrous oxide,' 'psychedelics,' 'opiates,' etc. Interesting anecdotes from the book on the members' recreational drug use range from busts to hiding the contraband while traveling.
---
Let's Spend the Night Together: Backstage Secrets of  Rock Muses and Supergroupies
by Pamela Des Barres
2007
As with drugs, sex–particularly among female groupies–are synonymous with the offstage nature of the rock and roll lifestyle. Miss Pamela Des Barres, whose 1987 book,I'm With the Band, famously offered a glimpse into that world. Des Bares had first-hand knowledge: her romantic encounters with famous stars include Jimmy Page, Frank Zappa, Mick Jagger, and Jimi Hendrix. In her 2007 book, Des Barres interviewed other female groupies past and present about their own dalliances with rockers.
---
Ministry: The Lost Gospels According to Al Jourgensen
by Al Jourgensen with Jon Wiederhorn2013
It is truly remarkable that Al Jourgensen of the industrial rock band Ministry is still alive. Based on what he wrote in his memoir from 2010, he should have been dead from all the decadent things he did. In fact, there had been a few life-threatening situations he experienced along the way as a result. "I was cooking up and shooting speedballs twenty times a day just to feel nothing," he wrote. While Jourgensen's addictions would have killed mere mortals, they're a reflection of the man's indomitable will and spirit that complements the hard-hitting and brutal music that Ministry has built its reputation on for over 30 years now.
---
Glow: The Autobiography of Rick James
by Rick James with David Ritz
2014
The late Rick James is undoubtedly an R&B icon of the late '70s and early '80s best known for his beaded hairstyle, flashy persona, and the hits "Super Freak" and "Give It to Me Baby." His funk sound, sexy image, and outrageous antics were a precursor to Prince, and he importantly guided the career of the great Teena Marie.  Yet his life was marred by drug use, culminating in a prison sentence in the '90s. Before he died in 2004, he penned a memoir with David Ritz that was published just last year, in which he offered a very frank account his drug use ("…my habit got to the point where I was shoving my own mother out of the way to get to the dope man…") and sexual experiences. His story is an example of a genius who got tragically swept up by his personal demons.
---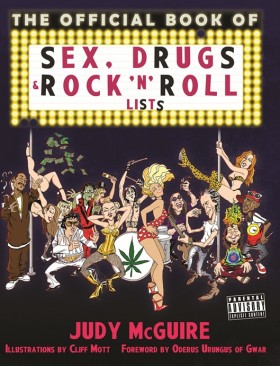 The Official Book of Sex, Drugs and Rock 'n' Roll Lists
by Judy McGuire
2012
Of course, no collection about this topic would be complete without Judy McGuire's The Official Book of Sex, Drugs and Rock 'n' Roll Lists. When we interviewed McGuire back in 2012, she said at the time, "People like Mick Jagger, Iggy Pop, and even a schmo like Fred Durst get to do crazy shit that the rest of us just don't have the money, societal permission, or balls to do. We live vicariously through their antics, which is safer than getting a heroin habit or having to put Fred Durst's penis anywhere near us anyway."