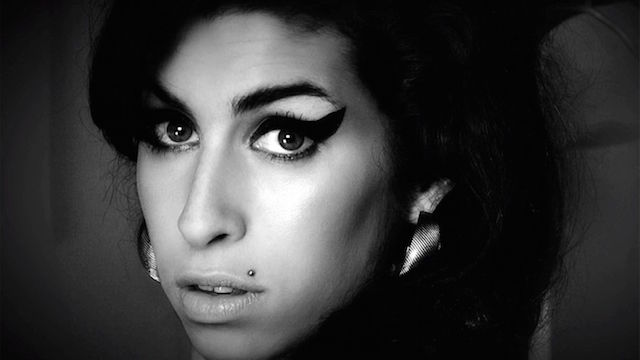 It was a frustratingly short jump from the thrill of hearing Amy Winehouse's "Rehab" blaring out of bars and cars in 2007, like the Shangri-Las had discovered hip-hop and horns, to the tabloids, the onstage meltdowns, the crack pipes, and the eventual overdose. Her life was lived so publicly, her talent for both self-destruction and music battling for supremacy over her life, that I wondered about the purpose of Amy, a new documentary from director Asif Kapadia (Senna). What new information could it possibly reveal? And how many times do we have to watch talented women destroy themselves?
Viewers hoping for dramatic revelations will be disappointed, but the absence of any narrative bombshells mean the movie succeeds in its quieter, but equally important mission: adding context and nuance to her story, giving viewers a glimpse into the real person behind the tabloid drama, one with immense talent and heart. Kapadia's narrative is beautifully constructed out of an intimate collection of footage assembled from home movies, studio sessions, and performance footage, along with commentary from friends, family, and collaborators.
Kapadia, in collaboration with editor Chris King, expertly weaves this footage into a coherent portrait of Winehouse as a woman whose intense love for music is rivaled only by her appetite for self-destruction, mostly in the form of drugs, and her relationship with ex-husband Blake Fielder-Civil, the man who inspired both her double platinum Back to Black album and her addictions. The interviews, aside from those with fellow musicians like Questlove, Tony Bennett (who describes Winehouse as having the voice of a 65-year-old jazz singer), and Mark Ronson, are mostly audio, which, according to interviews with the filmmakers, made it easier for friends and family to open up. It helps the movie avoid turning into a sea of talking but also means that we never see certain subjects, particularly Winehouse's ex-husband Blake Fielder and her father, Mitch Winehouse, directly address their role in her demise. The movie depicts Mitch as the person who blocked the initial attempt to send Amy to rehab, telling her she didn't actually have to go to rehab even as her managers and close friends knew otherwise. He and her mother ignored her bulimia. And Fielder-Civil admits he first introduced Winehouse to crack.
Interviews with her old friends Lauren Gilbert and Juliette Ashby, and former manager Nick Shymansky provide a brief glimpse of a time, despite pain that was evident from a young age, when it seemed that Winehouse might have had a chance to become something other than another member of the 27 Club. As a child Winehouse was so defiant, yet so charmingly self-aware, she had to tell her mother to be harder on her, to not let her get her way so much. As a teenager she had an attitude the size of her hoop earrings, but an equally giant talent, glimpsed in footage of her playing the guitar in Shymansky's office for the first time, and on stage in jazz clubs all over England after the release of her first album, Frank. One of the true thrills of the documentary is the studio footage from the Back to Black recordings with Ronson where she first records the vocals for the title track. "It's bleak, innit" she says to the camera, a bit sheepish, eyes and head weighed down with that epic beehive. It's also breathtaking, so much so that I wish, despite enjoying the footage of her goofing around with friends on vacation, and driving to early gigs, that the movie had spent even more time on the music. I especially wish that Kapadia had chosen not to have the written her lyrics across the screen like a karaoke video. While aiming to highlight the power of her songwriting, it ends up distracting the viewer from truly connecting with it.
"The more people see of me, the more they'll realize that all I'm good for is making music," Amy Winehouse says in an early interview clip recorded just after the release of her first album, Frank. After watching the ensuing avalanche of tabloid coverage, I wondered what would have happened if she had only believed just a little bit more, not only in her raw musical talent but in her own self-worth outside of her relationship to Fielder. Perhaps we'd be enjoying a third album instead of watching a documentary.
"Amy," directed by Asif Kapadia, opens in New York on July 3rd, and in wide release July 10th.