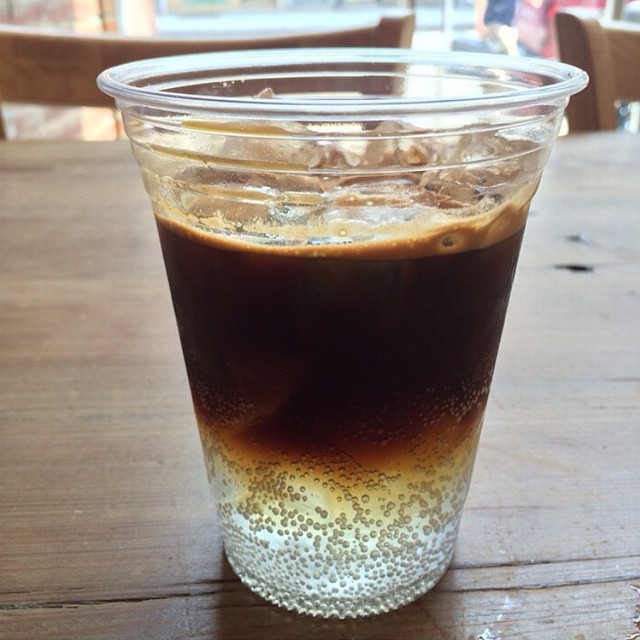 Remember a few years ago when a sign screaming "cold brew" was enough to make a coffee shop stand out as super-serious? Yeah, not anymore. Brooklyn baristas have been seriously upping the summer coffee game, churning out iced inventions that keep outdoing each other. Here are five Brooklyn iced coffees you shouldn't get through the summer without trying.
---
1. Swedish Tonic at Konditori
This rapidly proliferating coffee bar (now with locations in Williamsburg, Cobble Hill, Greenpoint, Prospect Heights, Park Slope and across the river in Manhattan, too), adds some much-appreciated Scandinavian fizz to their iced coffee concoction. Two shots of espresso are poured over ice and tonic water for a simple but genius way to make iced coffee twice as refreshing as usual. Various locations; konditorinyc.com
---
2. Espresso Julep at Toby's Estate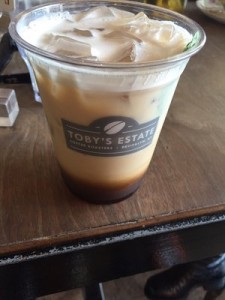 This seasonal option served at Toby's Williamsburg location gets credit for being inspired by a cocktail while resisting the urge to just add booze and drown out the coffee. Two shots of espresso are mixed up with milk and basil/mint-infused simple syrup–a fresh mix that is a serious step up from those syrupy sweet bottles you'll find at mainstream coffee shops. If you try one "flavored" coffee this summer, have this one.
125 N 6th St (near Berry); tobysestate.com
---
3. Cococano at Cup
The name of this drink may sound like a horrible chain restaurant on Waikiki Beach, but the idea is pure Brooklyn genius: an Americano brewed with rejuvenating coconut water instead of just plain old New York City tap water. There's also a  Mocha Cocoano version at this excellent East Williamsburg spot (there's a Greenpoint outpost as well). If this elixir won't get you moving in the morning, you seriously need to go back to bed.
221 Montrose Ave. (near Bushwick Ave.); 79 Norman Ave. (near Manhattan); Photo: Yelp / Bharat W.
---
4. Nutella Monster at The Coffee Lab
If you're the type of Brooklynite who aspires to be a coffee snob but secretly just wants a 1,200-calorie Frappucino milkshake…boy, you are in luck. Bay Ridge's hippest coffee shop serves this thick-thick offering made from Toby's Estate single-origin beans, a hefty dollop of Nutella and plenty of whipped cream goodness. Treat yourself to one at The Total Bay Ridge Immersion on July 18.

6903 3rd Ave. (Near Bay Ridge Avenue); photo: Yelp / Fatima M.
---
5. Nitro Iced Coffee at Putnam's Pub & Cooker
Another coffee creation that could easily be mistaken for booze, this trend is coming west to Brooklyn from (where else?) Portland. Stumptown Roasters has been distributing kegs of their cold brew coffee pressurized and infused with nitrogen so that it comes out with a thick and creamy head like a pint of Guinness. Putnam's in Clinton Hill is one of the first spots in Brooklyn we've seen get their hands on a keg of this delicious stuff.

419 Myrtle Ave. (at Clinton); putnamspub.com
---